What do you know about pasta? Did you all know that Pasta is actually a type of noodle? Or that there are over 300 shapes of pasta that have more than 1300 names? Some noodle, isnt it? I really dont know when pasta took the world by storm. All i know is that i love pasta. In any form. But then, i hardly make any at home. I satisfy that deep urge to gorge on some creamy pasta only with outside food. One of those things that we eat out. Mind you, we hardly eat out and when we do, its either pasta or barbecue.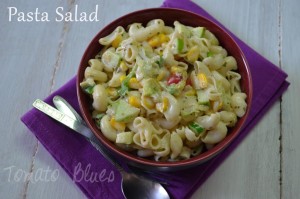 That said, i knew that i must learn how to make pasta. What s the point of loving a food if you dont know to make it? Right? I never follow any particular recipe to pasta. While i do enjoy eating pasta, i feel the traditional italian style of cooking pasta is a little overboard for me. So, i try to tweak most of the pasta that i make. But today s green apple pasta salad recipe is not any italian stuff. Its something that you can rustle up quickly and put your tummy pangs to rest. How about some pasta salad, everyone?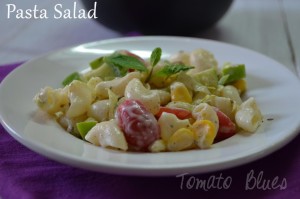 Recipe For Green Apple Pasta Salad
( An easy salad with macaroni and assorted veggies in a creamy dressing)
Prep Time: 10 mins
Cook Time: 30 mins for boiling the pasta
Serves 4
Ingredients
Macaroni pasta 1 cup
Cherry tomatoes 10 to 15 halved
Bell pepper 1 chopped finely
Green apple 1 peeled, cored and cubed
Sweet corn kernels 1/2 cup fresh or frozen
Red Onion 1 medium sliced thinly
Dressing
Mayonnaise 1/2 cup
Olive oil 2 tbsp
Dried basil 1 tbsp
Dried dill 1 tsp
Fresh mint 3 to 4 chopped finely
Vinegar 1 tsp ( cider or white) or lemon juice from 1/2 lemon
Sugar 1 tbsp
Salt to taste
Mint leaves for garnish
Directions:
Cook the macaroni in boiling water till soft and tender. Takes 20 to 25 mins.If the water is not boiling, pasta may take longer to cook. And make sure you add plenty of water. Pasta needs a lot of water.
Once cooked, drain the water and wash the macaroni under running water. This is to make sure that they dont stick to each other.
In a large mixing bowl, put together all the ingredients for the dressing and using a whisk, incorporate the mixture well.
Now, add the chopped veggies to the dressing and mix well.
Next add the washed pasta to the veggie dressing mixture and combine gently.
Chill for an hour.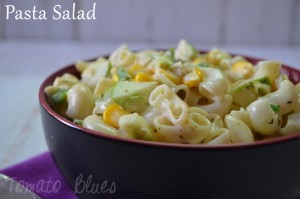 Garnish with a sprig of mint and serve with any bread or soup of your choice.