Its summer here and it wont be long before we start sweating like a stream of water. The temperature is mercurial and there s no respite at all during the days inspite of the AC. The best way to beat the heat is to replenish the body with as much as fluids as one can. And to make the best of the fruits available during the season.
Well, its almost the end of the grapes and the orange season here in Baroda. And I wanted to get my dose of Citrus while I could. I did make some popsicles the last week. With all that tangy refreshing orange juice. And then I had a few more oranges left that I combined with grapes to make a mocktail sort of thing to relish in the afternoons after our lunch. It was well received or I should say, well gulped by Mr.P. So, I thought, why not share my tall glass with you all.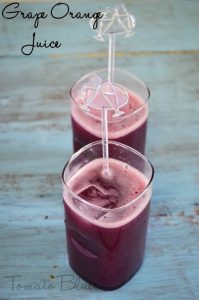 ( freshly squeezed oranges and juiced grapes)
Prep Time: 20 mins
Cook Time: Nil
Makes 2 largish glasses
Level: Easy
Ingredients
Black grapes 1 cup seedless variety. ( the oblong ones work wonders)
Oranges 3
Mint leaves 4 to 5
Lemon juice 1 tsp
Cold Water ½ cup
Salt a pinch
Sugar 3 tbsp
Ice cubes to serve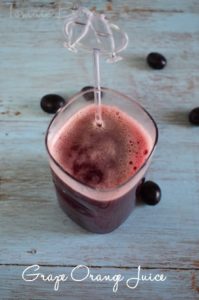 Directions
Peel the oranges and discard the pith and seeds from the segments.
In a blender, add the grapes and the sugar first and blend to a smooth puree.
Strain the grape juice and add the water to this.
Now, add the orange segments and mint leaves along with the salt to the blender and blend.
Strain into the grape juice.
Mix well.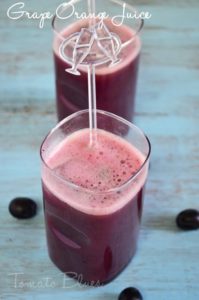 Serve chilled with ice cubes.