While its customary to offer
sundal
to guests frequenting homes during
navratri
, my mom used to pack some sweet treats for the little kids and decked up girls who come to take thambulam. I also remember my mom giving small trinkets along with the thambulam. These sweet treats usually were some kind of ladoo, a rava ladoo or some kadala urundai or this
godhuma ladoo
that my grandma used to make so well.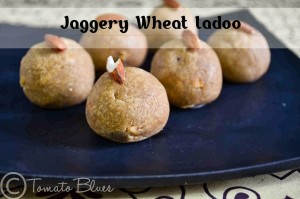 I still remember the delicious ladoos that grandma used to roll out. Her version used to have little bits of coconut, some nuts and raisins. All flavored with a good amount of cardamom. My version of godhuma ladoo is only a paltry attempt to recreate that magic. For, no one in this whole wide universe can make godhuma ladoo like my grandma. I made a small batch a few days back as i was not sure how Mr.P would receive it. But he surprised me by finishing off the batch in two days. This ladoo keeps well for 3 to 4 days when kept outside. It makes a perfect treat to pack off for your little guests.
Recipe For Godhuma Ladoo
( Ladoos with whole wheat flour, jaggery and ghee)

Prep Time: 10 mins
Cook Time: 25 mins
Yields 12 ladoos

Ingredients
Whole wheat flour 1 c
Jaggery 1 c powdered
Water 3 tbsp
Cardamom powder 1 tsp
Cashews 3 tbsp broken
Raisins 2 tbsp
Ghee 1/4 c melted
Almond slivers for topping
Directions
In a pan, heat all of the ghee except 1 tbsp.
Add cashews and fry till golden.
Remove and set aside.
Add raisins next and fry till they fluff up. Drain and set aside.
Now, add the whole wheat flour to the pan.
Swiftly combine ghee and wheat flour until well incorporated.
Now, turn down the flame to a low medium.
Saute the wheat flour until golden brown and aromatic.
This takes 15 to 20 mins. Make sure the flame is always low and keep stirring continuously.
Keep stirring and dont move away from the pan or the wheat flour will burn quickly.
Once done, transfer the wheat flour to a pan.
Add cardamom, nuts and raisins to this wheat flour and mix well.
In the same pan, add jaggery and 3 tbsp of water.
Heat the jaggery until melted completely.
We are not making jaggery syrup here. We are only melting the jaggery.
Remove the jaggery immediately once it melts completely.
I get very good jaggery here. So i dint bother filtering the jaggery.
You may filter it if you are not sure about your jaggery quality.
Add the melted jaggery to the wheat flour.
Using a spoon, mix the jaggery and wheat mixture until it all comes together into a dough.
Dont panic if the mixture is a bit loose and shaggy.
It will harden as it cools down.
Once the mixture is warm enough to handle, apply ghee on your palms.
Take some mixture and shape into a ladoo.
Repeat for the entire mixture.
Place the ladoos on a parchment paper lined plate.
Gently place some almond slivers on the ladoos.
Let sit for 2 hours.
It will harden once cool completely.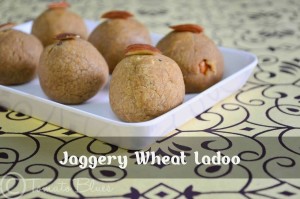 Wheat ladoos are ready to pack for your guests.