I dont make curries that require a lot of time at home. I am a person who believes in little efforts but producing great food. So, when i came across the
Gobi Musallam
recipe, i was piqued. But at the same time, the efforts that would go into it were simply not like my style.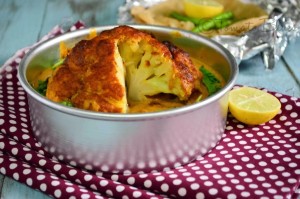 But you know how you get up and feel like doing something right away. That s how i felt the day i made Gobi Musallam. I woke up and it just felt like a Gobi Musallam day. And that sort of did it. I immediately set to work, making the gravy and cooking the cauliflower. We are cauliflower fanatics here. Plus its loaded with nutrients. This Gobi Musallam is something that will make a fine centerpiece on your table when you are hosting a dinner. But for the baking time, the efforts are actually minimal. I realised that when i had finished making the gravy in 15 mins flat. You can veganise it by subbing the cream with coconut cream. And you will have a beautiful deep red cauliflower on your table. I almost didnt have the heart to slice through.
Recipe: Gobi Musallam
Prep Time: 10 mins Cook Time: 40 mins Cuisine: North Indian Course: Side Dish Allergy Info: Gluten free, Soy Free, Egg Free, Can be Made Vegan
__________________________________________________________________________________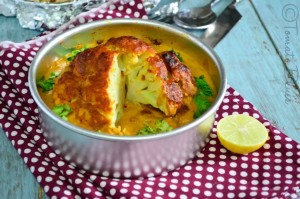 Ingredients
For The Gravy
Onions 2 medium chopped finely
Tomatoes 3 medium chopped finely
Garlic 4 cloves
Ginger 1 tbsp grated
Coriander cumin powder 1 tsp
Garam masala 1 tsp
Red chili powder 1.5 tsp
Turmeric powder 1 tsp
Kasuri methi (dried fenugreek leaves) 1 tbsp crushed
Cashews 7 to 8
Milk 1/2 c ( add diluted coconut milk for vegan version)
Cream 1/4 c ( add coconut cream for vegan version)
Salt to taste
Oil 2 tbsp
Coriander leaves for garnish 2 tbsp chopped finely
For The Cauliflower
Cauliflower 1 large head leaves and stems discarded
Deep baking dish 6″X3″ ( I used a 6″ cake tin)
Water 5 to 6 cups
Turmeric powder a large pinch
Salt 1/2 tsp
Directions
Bring 5 to 6 cups water combined with salt and turmeric to boil in a large pan that can sit the cauliflower easily without the water spilling over.
Place the cauliflower in the boiling water and blanch for 7 to 9 mins turning around once in a while.
Once done, drain water and set aside.
Heat a pan with 2 tbsp oil.
Add chopped onions, garlic and ginger and saute till onions turn pink.
Now, add all the spice powders and saute for 30 secs.
Tip in the tomatoes next along with cashews and kasuri methi and cook till tomatoes turn mushy and oil begins to separate. Takes 5 mins.
Let cool.
In a blender, blend to a smooth paste along with 1/2 c milk.
Once done, transfer to the same pan and simmer for 3 mins.
Add salt and cream and mix well.
If you find the gravy too thick, add 1/2 c water and simmer for another 3 mins.
Once done, check for seasoning and adjust if required.
In the meanwhile, preheat oven to 200 C.
In a deep baking dish, place the cauliflower head up.
Spoon the gravy over the cauliflower generously making sure it coats the entire head. It will flow down but that s absolutely fine. Make sure you reserve 1/3 of the gravy to pour in later.
Now, bake in the oven open for 25 mins until top turns golden.
You will find that the gravy turns a little brown. No need to panic at all!
Once done, remove from the oven and pour the remaining gravy over the baked cauliflower.
Garnish with coriander leaves.
Serve hot with some garlic herbed naan. Tuck in some lemon wedges and onion rings on the side.
Yumm……… delicious. I m already dreaming of making this again. ( wink! wink)
P.S Make sure you blanch the cauliflower well.
Its also important to pick the right cauliflower because they tend to have worms at times.
In case you dont have an oven, separate the florets, blanch and deep fry till golden. Then proceed with the gravy. Finally, drop the fried florets in the gravy. In case your cauliflower head is small, you can also fry it as a whole without the leaves and stems.