HOW TO MAKE GOBI BUTTER MASALA OR GOBI MAKHANI?
Gobi Makhani or Gobi Butter Masala- Shallow fried cauliflower florets cooked in a buttery silky tomato based gravy.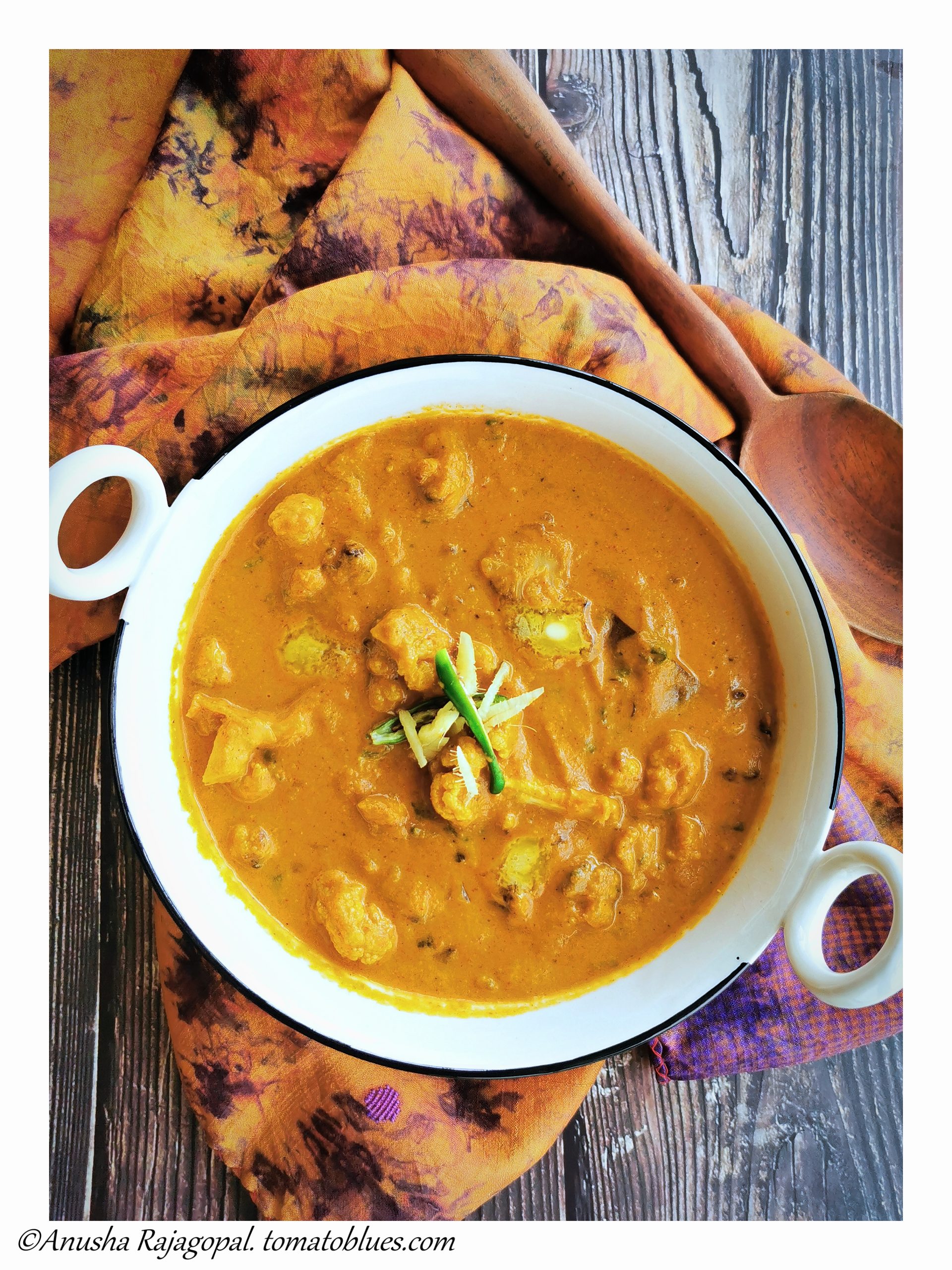 Gobi Makhani or Gobi Butter Masala is the thing for you if you are someone like me, someone who is bored out of her mind when there is a mention of Paneer butter masala. This Gobi Makhani makes a fantastic side dish for chapati, naan, poori and rotis. The gravy is as smooth as silk. The cauliflower florets fried in butter add a dose of heaven to this curry.
So let s now talk more Gobi Makhani
Gobi Makhani means Cauliflower in a buttery sauce. So, the butter is the key ingredient in this gravy. Also, this Makhani gravy sauce can be used as a sauce and more curries like Peas Makhani and Tofu Makhani can be made. This Makhani gravy sauce also freezes well.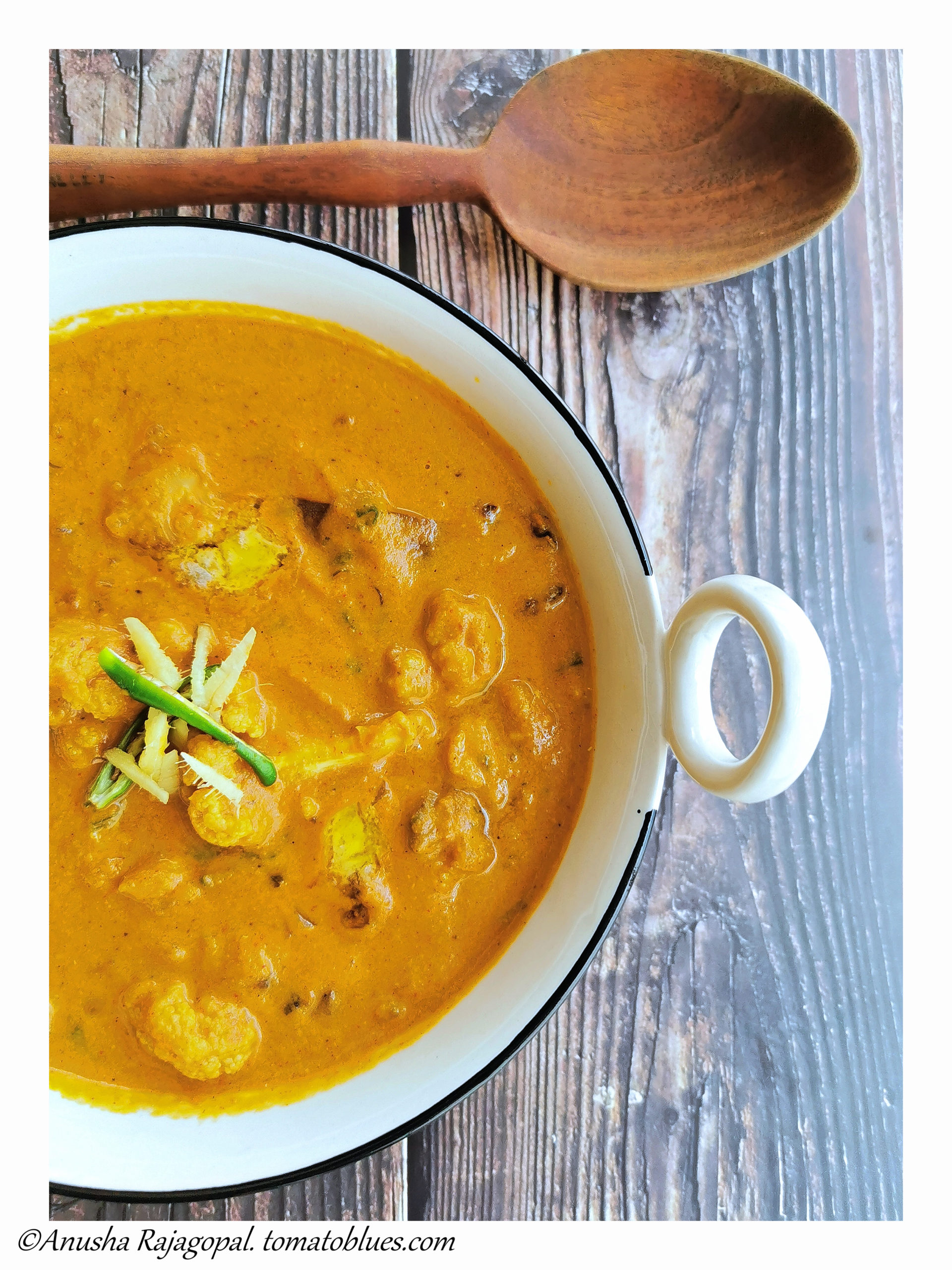 How much butter?
Just because the name has butter doesn't mean this is chock full of butter. I have used a mix of butter and oil to make this Gobi Makhani today. You can also use only butter. Any neutral flavored vegetable oil works for this side dish.
The Cauliflowers
We are going to be using separated cauliflower florets to make this Makhani today. I have shallow fried the florets but you can also grill them or deep fry them and add them to the gravy later.
The Makhani Sauce
This is the base for this Gobi Butter Masala. The key things to remember before making the Makhani sauce is that the ingredients must be ground to a really fine paste. If you are not sure about how smooth the paste is, i suggest that you strain it through a sieve and then proceed.
The cashews are added for thickening the gravy. If you are conscious about your calories, feel free to substitute it with 1 tbsp melon seeds. I prefer using low fat milk for making the Makhani gravy because the flavors are subtler and the gravy doesn't feel heavy. If you feel like a celebratory Gobi Makhani, round off the dish with a splash of cream in the end after you garnish with coriander leaves.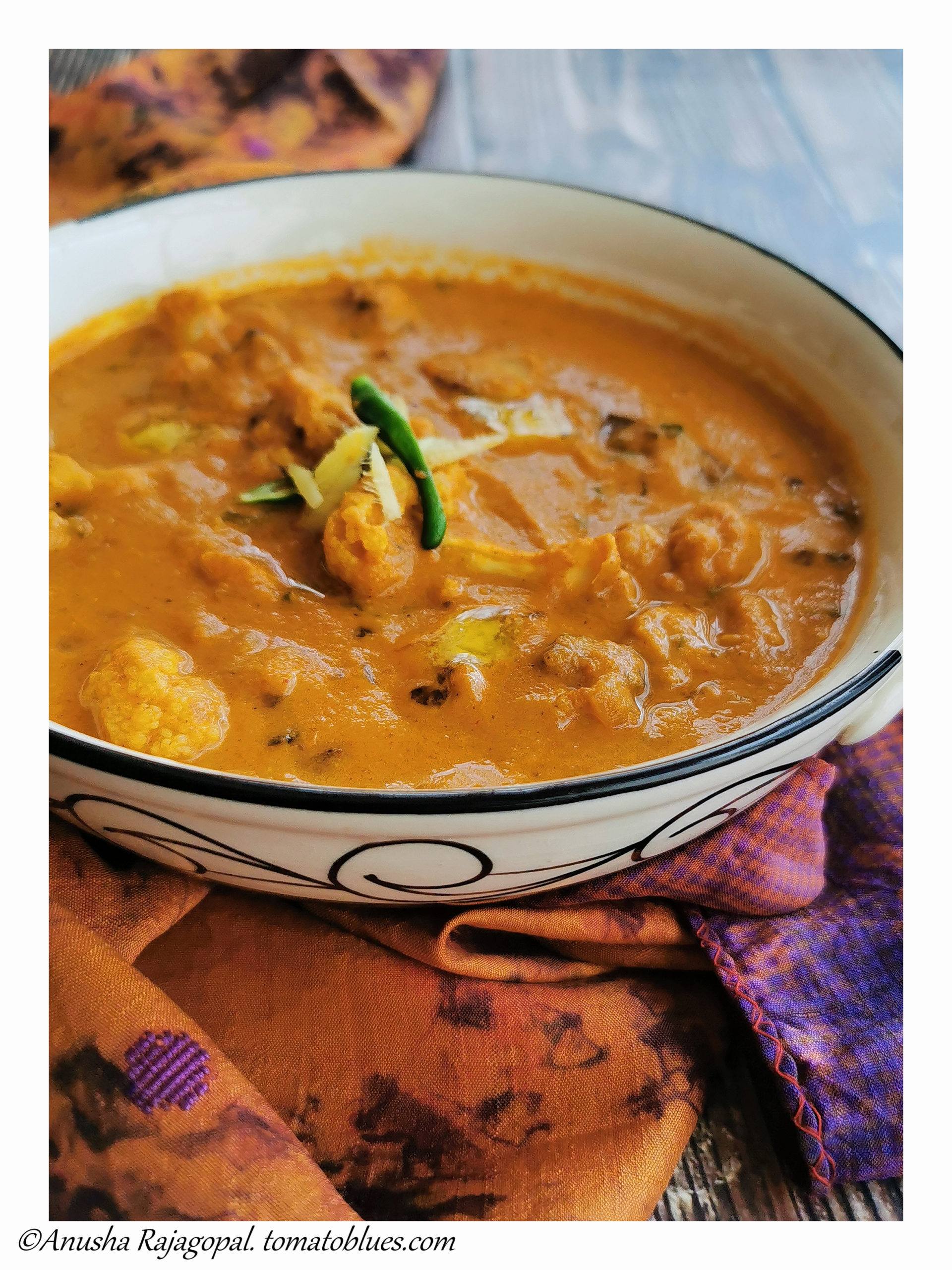 Vegan Substitutes for Gobi Makhani
This Makhani can easily be made vegan. Substitute butter with extra virgin coconut oil and use 1 c almond milk in place of the regular dairy milk. The end result will be a soothing and light curry that pairs well with almost everything. You can even it with zoodles!
More Cauliflower Recipes Here
If you are nuts about cauliflower just like us, then check out our
Gobi Pakoda and
Gobi Paratha recipes.
Here s the video on how to make this fantastic Gobi Makhani or Gobi Butter Masala
You can find more recipe videos and vlogs on your Youtube channel.
Click here to subscribe to our channel and enjoy some great content!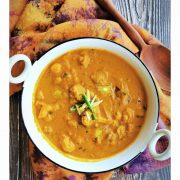 Print Recipe
Gobi Makhani Recipe (Gobi Butter Masala)
Gobi Makhani is a delicious silky and subtly spiced gravy made with cauliflowers and a tangy tomato based curry sauce.
Ingredients
For The Makhani Sauce
1

medium

onion chopped finely

2

medium

tomatoes chopped finely

10

numbers

cashews

soaked in warm water for 15 mins

4

cloves

garlic sliced

2

tsp

ginger chopped finely

1

tsp

Kasuri methi crushed

1/2

tsp

turmeric powder

1.5

tsp

Kashmiri Chili Powder

2

tsp

Coriander Powder

1

tsp

Garam masala

1

tbsp

oil

1/2

cup

low fat milk

Salt to taste
For the Cauliflower
1

tbsp

butter

1

tbsp

oil

200

g

caulilflower florets

cleaned and separted
For The Gobi Makhani
1

recipe

Makhani sauce

1

recipe

shallow fried cauliflower florets

1

tsp

butter

1

piece

bay leaf

1/2

cup

low fat milk

1

tbsp

tomato ketchup

1

tsp

sugar

1

small

onion chopped finely

1/2

tsp

Kasuri methi

1

c

water

Adjust consistency by adding more water if gravy is too thick.

1

tbsp

coriander leaves chopped finely
Instructions
For The Makhani Sauce
Heat a pan with 1 tbsp oil in a pan. Add the garlic and ginger. Quickly tip in the onions

Fry the onions, ginger and garlic till onions become soft and pink. Take care not to brown the onions.

Now add all spice powders along with salt and mix well.

Saute on low flame for 30 secs.

Tip in the chopped tomatoes and mix well.

Drain the water from the soaked cashews and add this to the tomatoes.

Cook the mixture till tomatoes are completely mushy.

Once done, switch off flame and let it cool.

Transfer the cooled mixture to a blender jar. Add 1/2 c milk to this.

Grind to a smooth mixture. If you are not sure about its smooth texture, run this mixture through a strainer and get rid of all lumps.
Cooking the Cauliflowers
Heat a tbsp butter and oil in a pan.

When hot, add the cauliflower and toss well. Cover and cook till cauliflower becomes brown around the edges. This takes roughly 5 to 6 mins.

Make sure to open the lid a couple of times and give it a good mix.

Once done, remove the florets and put the pan back on the flame.
Making The Gobi Makhani
Heat a tsp butter in the same pan.

Add 1 bay leaf. Once the bay leaf pops, add the cauliflower and mix well.

Now add the ground paste and mix well.

Keep flame to a low because this sauce burns fast. At this point, add a splash of water if you find the sauce sticking to the bottom. Mix well.

Now add 1/2 c milk and 1 tbsp ketchup. Mix well. Adjust consistency with 1/2 c water if the gravy is too thick.

Add 1 tsp sugar and mix well.

Simmer for 5 mins to allow the cauliflower to absorb all the flavors.
Rounding off our Gobi Makhani
We are going to add a restaurant touch to our Makhani.

Heat a tsp of oil in a pan.

Add 1 small onion chopped finely and 1/2 tsp kasturi methi.

Fry till onions turn pink and soft.

Add this to the simmering gravy.

Garnish with 1 tbsp coriander leaves and mix well.

Our silky smooth and buttery Gobi Makhani is ready to be served with Chapati, Naan or Phulkas.
Video
For Instant Pot & Air Fryer Recipes
Instant Pot timings may vary based on your geographic location. Air fryer settings and timings may vary based on the capacity and the model of the Air fryer.
Disclaimer
Nutrition values are provided here as a courtesy and are only a rough guide. Please consult a health care provider if you have any concerns.