If you all think this is a regular fruit in custard salad recipe, wait a moment. Because, all fruit salads need not be drenched in cream or custard to be yummy. This fruit and nut salad is a fine example of that. I am not a big fan of custard. And i owe that to a few people who have made runny custards and dunked their fruits in. I like my custard rich, thick and creamy. Correction. I used to like it that way. But ever since i made my
filipino fruit salad
, i ve never looked at a fruit salad that has custard. I like mine the filipino way or this way. Now, if you are wondering what this way is, then read on.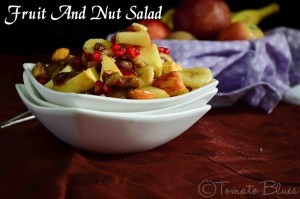 Recipe For Fruit And Nut Salad
( Fruits and nuts in a hot and sweet dressing)

Prep Time: 10 mins
Cook Time: Nil
Serves 2 generously
Allergy Info: Gluten Free

Ingredients
Apple 1 small cored and cubed
Banana 1 sliced thinly
Sapodilla 1 peeled and cubed
Pomegranate pearls 1/2 cup
Plum 2 pitted and chopped
Orange 1 small segmented and seeds removed*
Dates 7 pitted and chopped into pieces
Raisins 2 tbsp
Roasted nuts a handful ( I used a combo of almonds, pistachio and walnuts)
For The Dressing
Honey 3 tbsp
Lemon juice 1 tsp
White pepper powder 1/2 tsp
Directions
In a mixing bowl, combine honey, lemon juice and pepper and mix well till emulsified.
Add the fruits and nuts and toss well.
Refrigerate for an hour.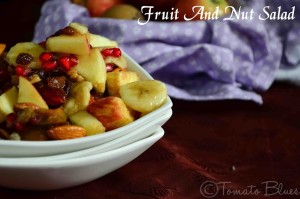 Serve cold as it is or with some ice cream.
* I dint have an orange on hand when i made this salad last time. But i ve tried using orange in this and it gives a real kick.
You can omit the plums if you want.
Addition of a few berries would also be a good idea.
Use molasses for a vegan version.