I am a voracious reader. I ve been known to devour books at an alarming speed. Why, some even say, i donned the blinkers early because of my appetite for books. A few others opine that my puniness is an aftermath of the aforementioned statements.Well, it is true to a certain extent. There are days when i ve read with such a zeal that i ve skipped a meal or two many a times.
Like every zealot of a reader, i too have my favorites. And among the so many wonderful books that i ve read, the books writted by Enid Blyton continues to thrill me even today. I must say, i have a quite a thing for the author s imagination prowess. Her books were written during the war and nevertheless, she uses such a picturesque way to describe all that sumptuous food in The Secret Seven Series, The Five Find Outers and The Malory Towers series. The Famous Five is also a favorite and the food that appears in the books make me very hungry. When the
Avant Garde Cookies
picked week 3 s theme as cooking from your favorite story book, i did a somersault in the air. I instantly knew what to make. And i felt like making so many things. I did make a few things before making this muffin bread. I made a cucumber sandwich first, then some lemonade and both somehow dint win me over. I mean, it dint make enough justice to the theme. And i was sure that a loaf of fresh home made bread will do more than enough justice.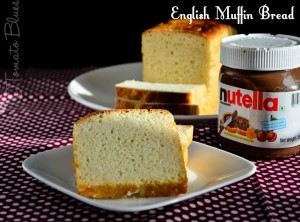 Recipe For English Muffin Toasting Bread
( A soft fluffy muffin bread that makes the best french toasts and grilled cheese sandwiches)
Prep Time: 5 mins
Cook Time: 30 mins
Source: Adapted from Tracey s Culinary Adventures
Level: Easy Baker
Yields one 8″ X 5″ inch loaf
Ingredients
All purpose flour 3 c
Milk 1 c ( I used full fat)
Water 1/4 c ( warm enough so that you can dunk your fingers in and keep it in there for 10 secs)
Instant Yeast 1 tbsp
Sugar 2 tbsp
Salt 1 1/2 tsp salt
Baking soda 1/4 tsp
Vegetable Oil 2 tbsp
Directions
In a large bowl, combine flour, salt, sugar, soda and yeast and thoroughly whisk.
Microwave milk, water and oil on high for about 40 secs. It should be warm enough that you can dunk in your finger for 10 secs and keep it in there.
Now, pour the milk mixture into the flour mixture and mix until it all comes together in a mass. Dont knead the mixture too much. You just have to mix it until it is incorporated well. The dough will be sticky but that s absolutely fine.
Now let it rise until double. Takes anywhere between 45 mins to 1 hour depending on the weather.
Once done, grease a 8″ by 5″ loaf pan generously with oil.
Preheat oven to 200 C.
Pour the batter into the pan and gently even out the mixture with a rubber spatula.
Bake for 20 to 22 mins until the crust is golden.
Let cool in the pan for 10 mins before inverting.
Cool completely before slicing.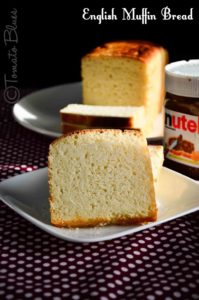 Use as you desire for french toasts or sandwiches.
This also goes to Baked With Love at Roxana s Home Baking and its being yeastspotted