Ok you get this immense craving for pancakes when you wake up in the morning. Or you hate roasting that semolina or grinding the urad dal. But you still want a breakfast that will leave you feeling divine. Or you have a husband ( just like mine) who doesnt eat eggs but still likes pancakes. What can you do?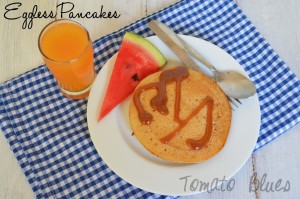 You must definitely make this pancake that s egg free. But the real brownie points are one, they are amazingly fluffy and two, they taste out of the world. Well the first few lines of this post exactly depict my state of mind a few days back. I had this huge craving for a pancake. Well i eat eggs. So no issues there. But Mr.P doesnt. But i knew i had to make pancakes. So i turned to google as always and i found my answer too. I just tweaked the recipe a little bit. That s it.
Recipe For Egg Less Pancakes
( Pancakes made with flour, milk and vanilla)
Prep Time: Under 10 mins
Cook Time: 2 to 3 mins
Source: Cooks.com
Yields 2 to 3
Ingredients
All Purpose flour 1/2 cup
Milk 1/2 cup
Baking powder 1 tsp
Butter 1 tbsp soft and unsalted
Vanilla 1 tsp
Cinnamon powder 1 tsp
Sugar 2 to 3 tbsp ( it really depends on how sweet toothed you are)
Water 1 tbsp
Butter for cooking 1 to 2 tbsp
Any fruit of your choice and
Maple or caramel syrup to serve.
Directions
In a mixing bowl, place the dry ingredients and combine well using a balloon whisk.
Make a well in the center of the dry ingredients.
Add softened butter, water, milk and vanilla and stir until you see small bubbles. But make sure the batter is a teeny weeny bit lumpy too.
Once done, heat a cast iron skillet.
Add butter to the skillet and once it melts, add a ladle of the batter and spread to a circle to 8 to 9 cms in diameter.
Cook on medium flame until bubbles appear on the surface of the pancakes.
Now flip over and cook until golden brown on the other side too.
Repeat for the remaining batter.
Stack them on a plate.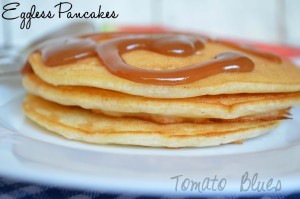 Add any fruit of your choice, get as evil as you can with your choice of syrup ( I became evilly evil with caramel)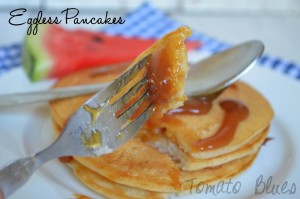 and relish your pancakes with a tall cool glass of orange juice. Hmm……….bliss.