HOW TO MAKE EGGLESS MAWA CAKE?
Eggless Parsi Mawa Cake- Eggless Mawa cake is a classic Parsi style dessert made with unsweetened Khoa/ Mawa.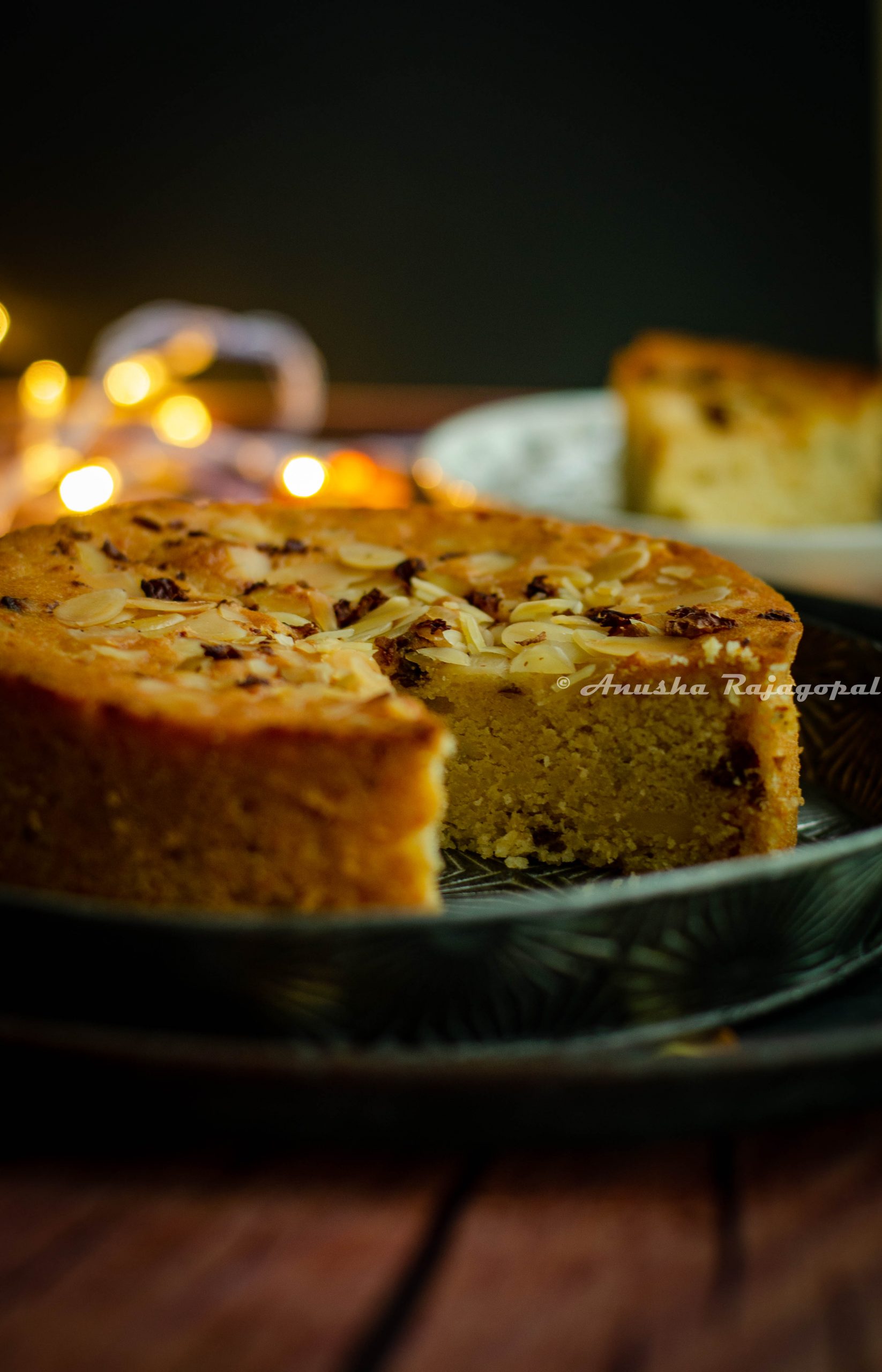 Wishing you all a very happy new year! Let us all pray for a brighter year ahead, one filled with happiness, good health and prosperity. And what better way to usher in the new year than with cake, eh?
Now, I have a thing for plain cakes. A frosted cake with all its frills and fancies will easily thrill anyone but it takes a lot for a plain cake to be appreciated. A well made plain cake is my favorite dessert.
A plain cake relies on its flavors and textures to please your taste buds. And it s beauty lies in its simplicity. A few basic ingredients and techniques come together in most plain cakes to be baked into a fabulously tasting dessert. While frosted cakes are for occasions, it is a slice of plain cake that lights up an otherwise quotidian day.
And that is exactly why this eggless Mawa cake has my heart, soul and taste buds in it.
Jump to:
What is Eggless Mawa Cake?
Well, this gorgeous Indian inspired cake scores on many levels. Mawa cake is a classic Parsi style dessert cake that is rich and decadent in terms of flavors and calories. No judgement, here, ahem… And this makes such a great High Tea dish.
What is Mawa?
Like the name suggests, this is an eggless Mawa cake. So, what is Mawa? Mawa is nothing but milk solids. This is also called as Khoya or Khoa and this recipe calls for the unsweetened Mawa. Khoya or Khoa or Mawa are all the same. This is basically dried evaporated milk. They make this by heating milk on low heat over an iron pan for a long time.
Where to buy Mawa?
If you are living in Singapore, you can buy unsweetened Khoya or Mawa from Mustafa. You ll find this on level 2 in the frozen foods section where they stock Paneer etc.
You can buy Khoya or Mawa in stores like Namaste Plaza in San Jose if you live in USA. Most Indian grocery stores have this.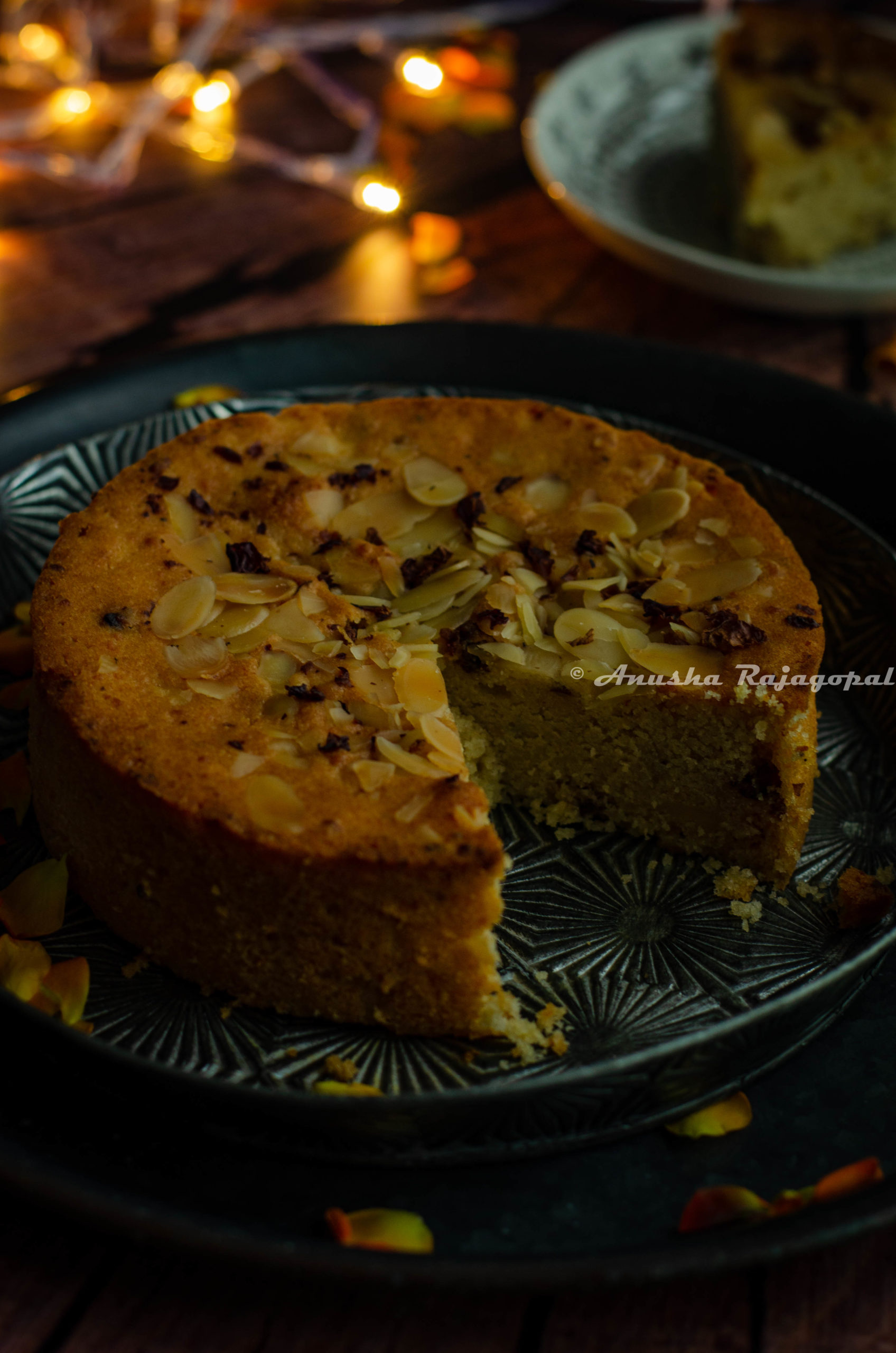 Ingredients- Substitutes and Replacements
As a rule, i don't recommend substituting or replacing any of the ingredients except the flavoring agents in a baking recipe.
This cake uses very basic pantry staples.
Flour, yogurt, Mawa, saffron, cardamom , sugar and such are used.
A classic Mawa cake calls for white sugar. And i like to keep it that way in this recipe.
Mawa cake with Whole Wheat flour
While the authentic Parsi Mawa cake uses Maida fully, i have used half whole wheat flour and maida in this recipe. Whole wheat flour bakes are generally denser and also calls for more liquid in the recipe. This is why we are going to use a combination of both yogurt and milk here.
Eggless Mawa Cake- FAQs
What is creaming butter and sugar?
Eggless Mawa cake uses the creaming butter sugar technique to achieve a beautiful light crumb. Creaming butter and sugar means whisking them well together until the mixture becomes light and fluffy. You will also see that the color of the mixture becomes whiter than before.
Can i skip saffron or cardamom?
Yes, the flavors are completely your choice. Feel free to use whatever feels like your favorite.
How to use Mawa in Eggless Mawa cake?
If you are using frozen Mawa, then make sure to thaw it and let it soften fully. Once it is soft, either crumble it well using your hands or grate it using a grater.
Why does my wet mixture look grainy and curdled?
If you add cold yogurt to the mixture, then the mixture will look grainy and curdled after whisking it with the creamed butter+sugar mixture. This is perfectly normal. Please don't panic.
Prep Work 
As always, let me quickly share my prep work pattern for this recipe too.
Soften butter and mawa- Grease pans- set out the ingredients- preheat the oven- get started on the cake.
Eggless Parsi Style Mawa Cake step by step
Preheating and prepping the pans
Preheat the oven at 180C for 10 mins. Grease two 6 inch round pans with butter. Set aside.
Step 1- creaming butter and sugar
Add the softened butter and sugar to a bowl. Whisk this using a hand mixer until the mixture becomes pale, light and fluffy. This takes approximately 3 to 4 mins on high speed when you use a hand mixer.
Step 2: Adding yogurt and flavors
Now, add smoothly whisked yogurt, saffron and cardamom. Whisk all of this together until well incorporated. This is our wet mixture.
Step 3: Prepping the flours
In a mixing bowl, add the whole wheat flour, all purpose flour, desiccated coconut, baking powder, baking soda and salt. Whisk well using a balloon whisk to make sure that the baking powder and soda is evenly distributed into the flour.
Step 4: Mixing the batter
Now, add the dry mixture to the wet mixture. Whisk well until you can see no streaks of flour in the batter. There s no need to whisk vigorously. Just use a gentle hand and mix well. 
Step 5: Adding milk and khoa
Now add the milk and mix well. When done, add the crumbled khoa and mix well but gently. Make sure the khoa is well incorporated into the batter. You can see that the batter is thick now.
Step 6: Filling the cake pans
Divide the batter into two portions. Fill each greased pan till 3/4th full. Now lightly drop the filled pans on the surface to level the batter.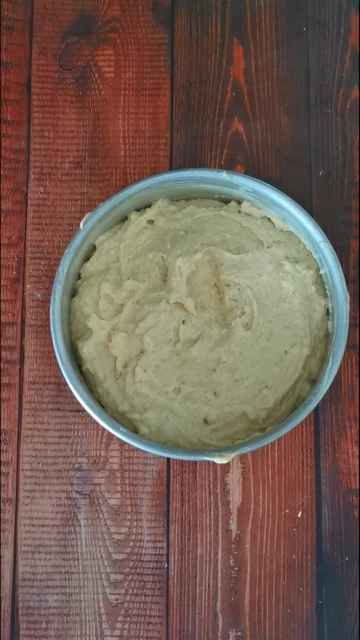 Step 7: Garnishing
Sprinkle the slivered almonds and dried rose petals over the cake batter.
Step 8: Baking the Eggless Mawa Cake
Bake the cakes in the preheated oven at 180 C for 45 to 50 mins or until a skewer inserted in the middle comes out clean.
Step 9: Unmoulding
Once baked, remove the cakes and let it cool before removing them from the pans. When cool, invert the pans and tap out the cakes. Let cool on a wire rack. Slice and serve.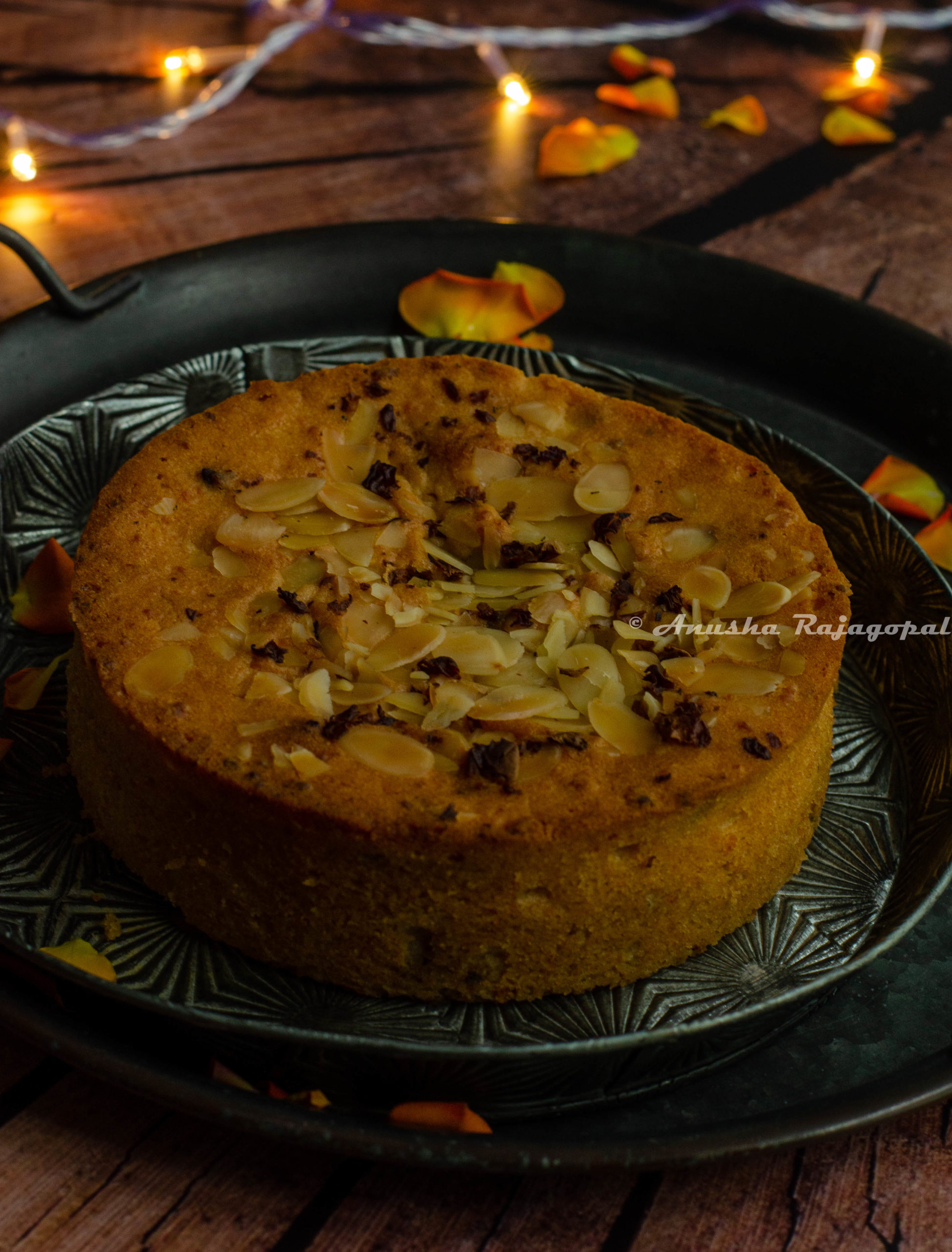 In case you have any questions regarding this recipe, leave a comment and I'll respond at the earliest possible. If you tried this recipe and enjoyed it, click a picture and share it on Instagram by tagging us @tomatoblues.
Follow me on Instagram or Facebook for regular cooking updates and short videos. Follow me on Pinterest for delicious content. Tried our Thinai Ven Pongal? Then please rate this recipe and tell us why you loved our recipe!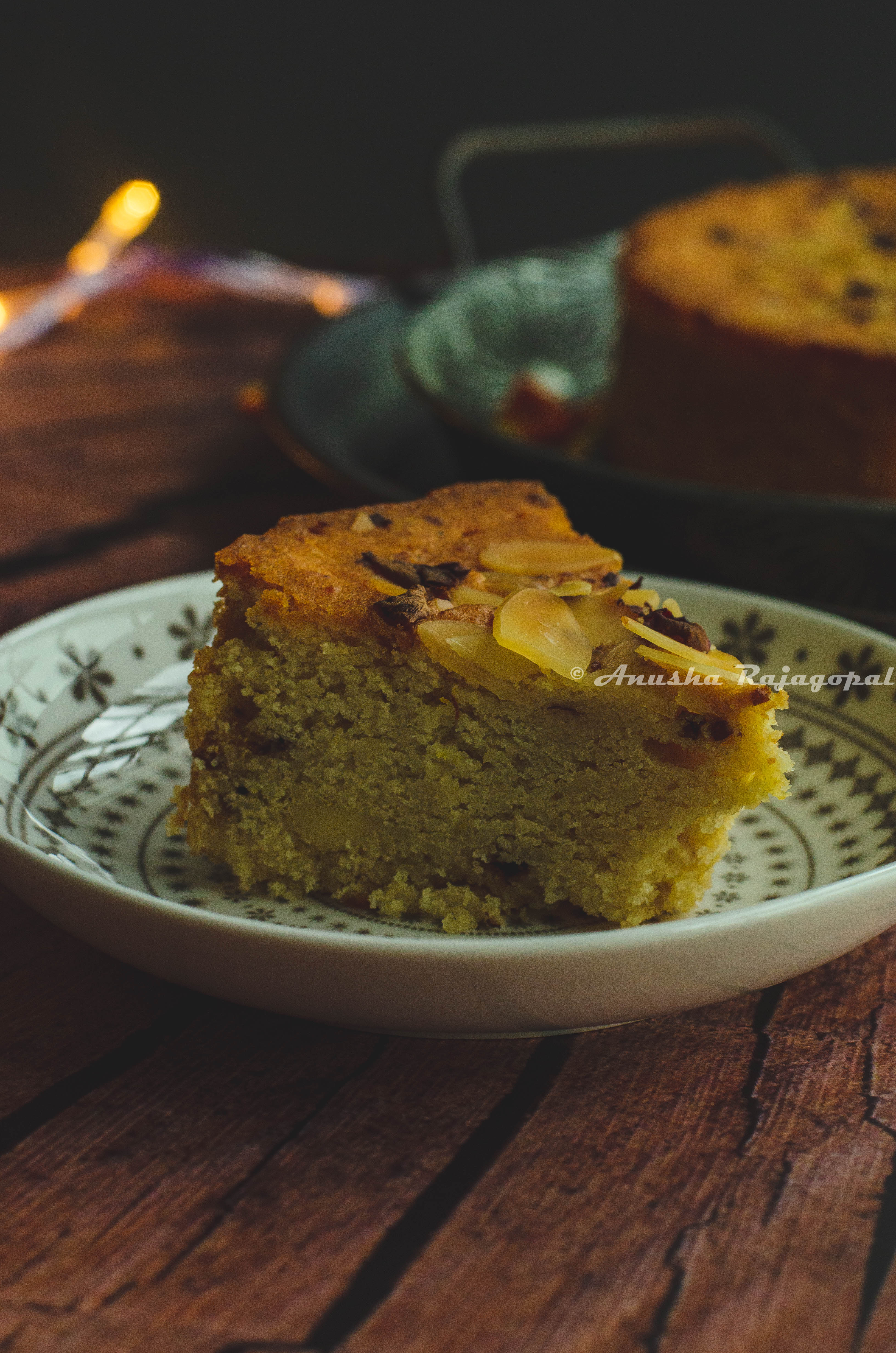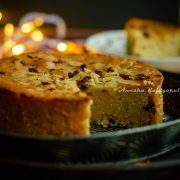 Print Recipe
Eggless Parsi Mawa Cake
Eggless Mawa Cake is an easy Mawa cake that uses grated unsweetened khoa. This is a rich decadent Indian inspired dessert that pairs well with Vanilla ice cream.
Ingredients
1/2

c

Butter softened at room temperature

115 g approximately

1/2

c

Sugar

1

c

Smoothly whisked yogurt

at room temperature

3/4

tsp

Saffron strands

1.25

tsp

Powdered cardamom

1/2

c

All purpose flour

60 g approximately

1/2

c

Whole wheat flour

65 g approximately

1.5

tsp

Baking powder

1/2

tsp

Baking soda

1

tsp

Salt

2

tbsp

Dessicated coconut

1.5

tsp

Crushed dried rose petals

1/2

c

finely crumbled Unsweetened Mawa

100 g in weight ( softened Khoya at room temperature)

1/4

c

Milk

at room temperature

1

tbsp

Butter

for greasing the cake pan

2

tbsp

slivered almonds
Instructions
Greasing the cake pans
Grease two 6 inch round cake pans with butter well. Set aside.
Preheating
Preheat the oven to 180 C for 10 mins.
Creaming butter and sugar
Add softened butter and sugar to a mixing bowl.

Using a hand mixer, whisk together the butter and sugar until fluffy,light and a pale yellow.
Adding flavors and yogurt
Now add the smoothly whisked yogurt.

Add the saffron and cardamom powder.

Whisk the creamed butter sugar mixture with these ingredients until smooth and well incorporated. The mixture may look curdled at this point. Please dont panic. Its absolutely normal.
Prepping the dry ingredients
In a mixing bowl, combine wheat flour, all purpose flour, baking soda, baking powder, dessicated coconut and salt.

Whisk well using a balloon whisk.
Making the batter
Now add the dry ingredients to the wet mixture.

Whisk well using a balloon whisk until you see no streaks of flour on the surface.

Add the milk at this stage.

Mix well again until the batter is smooth and has no lumps.

Now add the crumbled Mawa.

Mix well, making sure the Mawa is well incorporated into the batter. The batter will be thick now.

Divide the batter into two portions. Fill each cake pan until 3/4th full

Lightly tap the filled pans to release the air bubbles and level the batter
Garnishing
Garnish the batter with slivered almonds and some more crushed dried rose petals.
Baking the eggless Mawa cake
Bake the cakes at 180 C for 45 to 50 mins or until a skewer inserted comes out clean.
Slicing
Once they are baked, let cool on a wire rack.

When cool, slice and serve.
Notes
Please note that the timings and settings may vary for different ovens.
Keep an eye out for the cake after 42 mins. To test the doneness, insert a skewer in the middle. If it comes out clean, its done.
Please wait for the cake to cool down before unmoulding it.
All measures mentioned here are in the US metric.
For Instant Pot & Air Fryer Recipes
Instant Pot timings may vary based on your geographic location. Air fryer settings and timings may vary based on the capacity and the model of the Air fryer.
Disclaimer
Nutrition values are provided here as a courtesy and are only a rough guide. Please consult a health care provider if you have any concerns.