HOW TO MAKE EGGLESS GINGERSNAPS COOKIES?
EGGLESS GINGERSNAPS COOKIES- CHEWY AND SOFT COOKIES MADE WITH FRESH GINGER AND MOLASSES.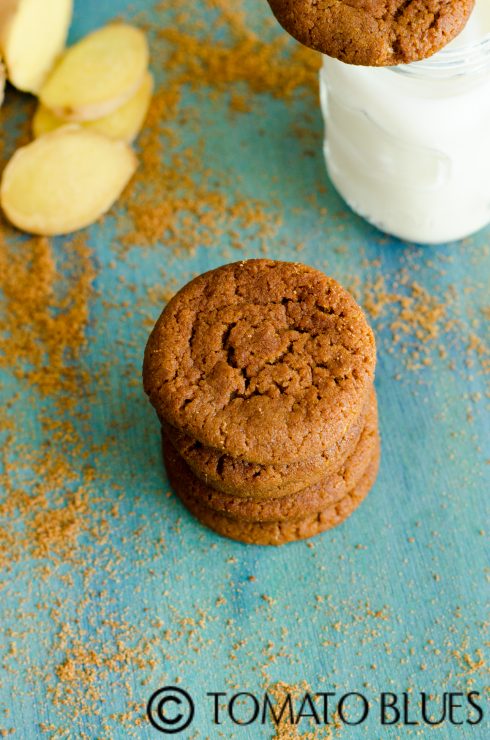 Eggless Gingersnaps or Gingersnaps cookies are my dream cookies. I know. I know. Most of you here will grab a chocolate chip or oatmeal raisin but my cookie is the Gingersnaps. I love how the sweet, spicy and pungent, all come together in one cookie and instantly fill you with warmth on a cold winter's evening. I need coffee for dunking these eggless gingersnaps cookies in. I m not a coffee person. It does not agree with me and i have never bothered to find out why. But eggless Gingersnaps are something . So i make an exception.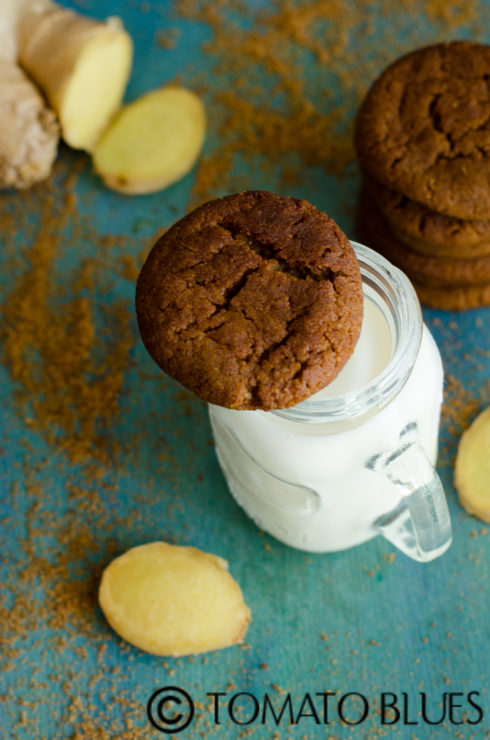 Now, a good Gingersnaps needs molasses and brown sugar, my friends. I will not recommend attempting this recipe if you do not have both. That deep dark color of these chewy yet soft cookies come from molasses. And brown sugar rounds off the flavors well. I used freshly grated ginger in this. And i love it that way. If you feel you cannot handle the pungency, please use powdered dried ginger.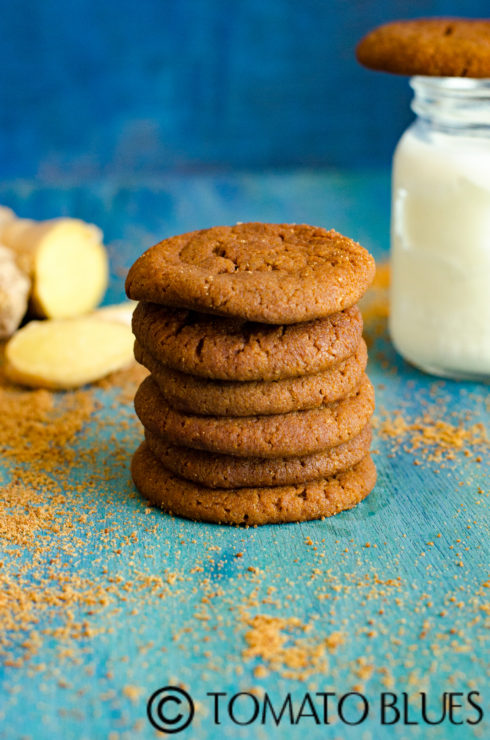 If you love baking and are looking for more cookie recipes, do check out recipes for checkerboard cookies, chocolate chip cookies, tutti fruity cookies, and coconut cookies.
Recipe For Eggless Gingersnaps Cookies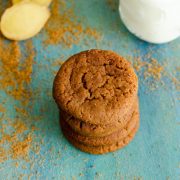 Print Recipe
Eggless Gingersnaps Cookies Recipe
Eggless Gingersnaps Cookies - Soft, chewy ginger flavored cookies that are a great treat on a cold winter's evening.
Ingredients
All purpose flour 1 c

Baking soda 1/2 tsp

Baking powder 1/2 tsp

Freshly grated ginger 1 tbsp

Ground cinnamon 1/2 tsp

Ground nutmeg a large pinch

Ground white pepper 1/4 tsp

Unsulphured Molasses 1/4 c

Dark brown sugar 1/4 c

Salt 1/4 tsp

Vanilla 1/4 tsp

Unsalted butter 100g softened

Cold water 1/2 -1 tbsp
Instructions
Sift together the dry ingredients except the sugar and set aside.

In a large bowl,cream together butter and sugar until light and fluffy. The mixture must look cream in color.

To this, add molasses and vanilla and mix well.

Add the dry ingredients and mix well until well combined.

Refrigerate the dough for 10 -20 mins and not any longer.

Once done, preheat oven to 180 C.

In a baking sheet, place a scoop each of the dough about 2 inches apart.

Bake for 12 to 14 mins or until cookies turn a deep brown.

Let cool on a wire rack for 30 mins.

Serve warm or store in air tight jars.
For Instant Pot & Air Fryer Recipes
Instant Pot timings may vary based on your geographic location. Air fryer settings and timings may vary based on the capacity and the model of the Air fryer.
Disclaimer
Nutrition values are provided here as a courtesy and are only a rough guide. Please consult a health care provider if you have any concerns.