My house ( read Mr.P) is not the one which likes to wake up to a breakfast of cookies or
pancakes
or
a thick slice of bread
. We like our breakfasts to be full blast Indian and more often than not, we eat a huge breakfast. So all this baking shaking comes to play only during those evenings when both of us need a bite or two. That s probably why you wont find cookie and quick bread recipes crawling all over my blog.
But as is the case with any one, the other side of the pasture is always greener with me too. While i really like eating a huge Indian breakfast, i do yearn for a simple breakfast every now and then. I wouldnt mind a cookie or a slice of that
banana bread
. So while i let Mr.P indulge in his Indian breakfast ritual, i do skip town and stuff myself with a few cookies or a slice of bread.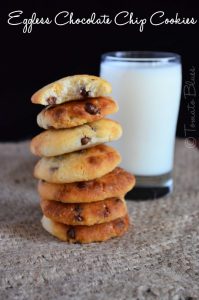 When i had a similar craving last week, ( Of course, not in the early morning), i decided to make chocolate chip cookies. But i wanted my cookies to be a little offbeat and did not want to bake those prescriptive flour, sugar and chip cookie. Plus, i wanted the cookies to be eggless. I turned to my almost apodictic friend- Google and found this cookie recipe. And i must say, what a break they were from the ho hum chocolate chip cookies.Slightly chewy and milky, the cookies were absolutely ineffable!
Recipe For Eggless Chocolate Chip Cookies
( Cookies with condensed milk and chocolate chips)
Prep Time: 10 mins
Cook Time: 15 mins
Level: Intermediate
Source: Adapted from here
Yields about 15 to 20 cookies
Ingredients
Flour 96 g
Unsalted softened butter 90 g
Granulated sugar 30 g powdered
Condensed milk 1/4 cup
Baking powder 1 tsp
Salt a pinch
White chocolate chips 1/4 cup
Dark chocolate chips 1/4 cup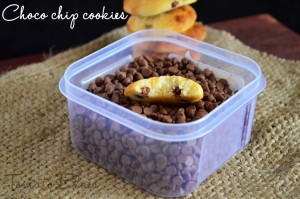 Directions
In a mixing bowl, sieve together the salt, flour and baking powder thoroughly.
In another bowl, cream together butter and sugar until fluffy.
Add condensed milk next and whisk until well incorporated.
Now, add the flour mixture and chocolate chips and gently combine the mixture with a spatula.
Refrigerate the mixture for about 2 hours. The original recipe doesnt call for this step. I did it because i dint want my cookies spreading too much. You can skip the step and instead bake the cookies immediately by dropping the batter with a spoon on a lined baking sheet. The dough is a little watery when compared to normal cookie dough but dont you panic! Its completely normal.
At the end of 2 hours, preheat oven to 180 C.
Line a baking sheet with parchment paper.
Using a spoon or a melon baller, make small balls out of the dough and drop on the baking sheet leaving atleast 2″ gap between each cookie.
Slightly flatten the cookie ball with the back of a spoon.
Bake for 15 mins or until tops are golden. Repeat with the remaining dough.
Once done, let cool completely.
Now, enjoy with a glass of milk and store away in an air tight container for a greater meal in front of the TV.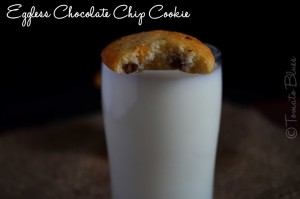 The cookies keep well for 3 days.