Its been a while since i stepped up into the Daring Baker apron. I ve been wanting to make so many recipes but simply dont find the time. This month s challenge was one that had me jumping because, not only was it creative but also a wee bit easy. Ruth from
Makey-Cakey
was our March 2013 Daring Bakers' challenge host. She encouraged us all to get experimental in the kitchen and sneak some hidden veggies into our baking, with surprising and delicious results!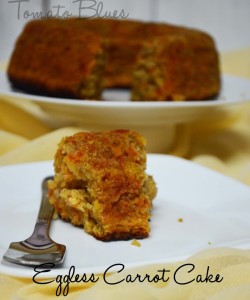 When i first heard of carrot cake on a TV show, i thought to myself, " carrot cake? seriously? carrot in a cake?" And so my hunt for a carrot cake recipe began until it eventually became an obsession. The first time i made carrot cake, it was disastrous. The cake was mushy and the texture resembled something close to that of kiddo cereal. And that sort of put me off carrot cake for a long time. But when Ruth challenged us all to sneak veggies into our sweet bakes, i was more than delighted. I challenged myself to make that carrot cake again and this time, i researched over 25 recipes before i came to this version. And my hard work did pay off. I made a bundt cake with the batter and the cake was relished to the last crumb. Thank you Ruth! for setting us up with such a creative challenge!
Recipe For Eggless Carrot Cake
( Cake with grated carrots and cinnamon)
Prep Time: 15 mins
Cook Time: 35 mins
Serves 4
Bake Temp: 180 C
Source: Adapted from
here
Ingredients
All purpose flour 100g
Granulated sugar 120 g powdered
Carrots grated 1 cup
Unsalted Butter 100 g softened
Thick fresh curd 3/4 cup or 90g whisked well
Baking powder 1/2 tsp
Baking soda 1/4 tsp
Cinnamon powder 1/2 tsp
All spice powder 1/2 tsp
Salt 1/4 tsp
Vanilla 1 tsp
Butter for greasing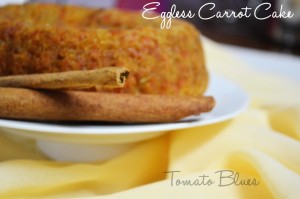 Directions
Preheat oven to 180 C.
Grease a 21 cm bundt pan with butter and set aside.
In a mixing bowl, place flour, baking soda, baking powder, salt, cinnamon powder and all spice powder.
Combine well.
In another mixing bowl, cream together the butter and sugar until fluffy. Takes about 3 mins on high speed in an electric whisk.
Now, add the curd and beat again on high speed for about 30 secs.
Add the vanilla next and whisk again for 30 secs.
Get rid of the whisk and arm yourself with a spatula now.
Add the grated carrots into the butter sugar mixture and combine well with the spatula.
Now, add the dry flour mixture and gently folding in to the wet ingredients.
Dont try to mix or whisk vigorously. This cake is as such a dense cake. The more you mix, the denser the cake.
Fold in the dry ingredients just until well combined. The batter is not free flowing unlike other cake batters. It is thick but dont be alarmed. You will have a beautiful fluffy cake!
Now, pour the batter into the greased pan and spread evenly.
Drop the pan gently on the counter twice or thrice.
Place the pan in an oven and bake for 30 to 35 mins or until a toothpick inserted comes clean. I suggest you take a peek after 30 mins.
Once done, cool for 10 mins before inverting the cake.
Cool completely before serving.
Make this a super dessert by topping with chocolate ganache or a scoop of vanilla ice cream!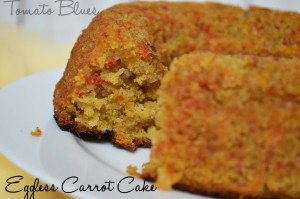 The cake keeps well in a fridge for 2 to 3 days. Bring to room temperature before serving.