I must tell you all how lazy i am becoming. As i m typing this post, my pile of done laundry is growing at an alarming speed, spiders are spinning webs like there s no tomorrow and dishes are beckoning me evilly. But all i m doing is grin sheepishly and conclude that cooking, eating, clicking and writing is my priority at the moment. And the laundry, dishes and webs are getting creepy. But who cares?
Its been 2 months since i promptly posted for Avant Garde Cookies. Risking the cookies' wrath this month was definitely not an option and i told myself sternly that i must get my lazy behind up and begin cooking and blogging. Veena chose this month s themes and she did a mighty job at it. She set us to work on untrodden waters for the first week- Sandwiches. If you are a regular at Tomato Blues and if you have browsed through my very effective very organised (ahem..ahem..) Alphabetical Recipe Index, then you all may have been enlightened by the fact that there is not a single sandwich. So to make justice to sandwiches and to fill up that void, here s my very first sandwich recipe. Oh if you all want to know why i dont have sandwich recipes, its because sandwiches are not approved by the PAFL. Want to know what s PAFL? That s Mr.P s Approved Foods List. I am a sandwich lover but i m just lazy to make them just for myself. But this time was a different story. Mr.P is not home for breakfast and lunch for these two days. And so, i succeeded in making my sandwich.
By the way, i have one more story to share. I promise this is the last leg of my intolerable jabbering. Then we shall go straight onto the recipe. Back in college, my hostel food not being so great, our girlie group used to hang out at a super sandwich place. Polar Bear was how it was known. And i ve probably eaten the best sandwiches at their store. Vivid memories of dunking in a grilled spicy potato sandwich in sweet mayonnaise come rushing to me whenever i think of sandwiches. I am still trying to figure out how to make that mayonnaise but have not been lucky so far. They also used to make egg salad sandwiches but sadly those were the only sandwiches i dint enjoy. Somehow they were too bland for me. So i went on and created my own version of egg salad sandwich here.
Recipe For Indo Western Egg Salad Sandwich
( Sandwiches with egg salad in a curry flavor)
Prep Time: Under 10 mins
Cook Time: Under 30 mins
Serves 1
What You Need?
For The Filling:
Egg 1 large hard boiled
Onion 1 small chopped finely
Tomato 1 small chopped finely
Ginger garlic paste 1/2 tsp
Kitchen king masala 1/2 tsp
Chili powder 1/2 tsp
Salt to taste
Oil 1 tbsp
Coriander leaves for garnish 1 tbsp chopped finely
For The Dressing
Dijon mustard 1 tsp
Mayonnaise 1 tsp
For The Sandwiches
Good quality sandwich bread 4 slices
Butter 1.5 tbsp
How To Make It?
Hard boil the egg by placing it in a pan and covering it in water just enough to fully immerse it. You have to boil the egg for 5 mins.
Once done, turn off the flame and close the pan and let the egg stay in the hot water for 10 mins.
After 10 mins, immerse the egg in cold water.
In the meanwhile, prepare the curry base.
In a pan, heat oil.
Add the onions and saute till light brown.
Add ginger garlic paste and saute for 30 secs.
Now, add all the spice powders and mix well.
Add the tomatoes next and cook on medium low flame for about a min or till the mixture turns dry and oil separates.
Add salt and mix well.
Remove and let cool.
Now, the egg must be cool enough for you to handle.
Peel the shell and chop the egg into small bite size pieces.
In a mixing bowl, place the egg pieces, tomato onion mix, mustard and mayonnaise.
Add the chopped coriander.
Gently mix taking care not to break the eggs further.Set aside.
Now, slice the crust off the bread slices.
On a bread slice, place half of the filling and ensure that it is evenly spread.
Cover with another slice.
Repeat the process for the remaining two slices.
Heat an iron skillet.
Butter the bread on the outside and toast on the skillet.
Alternatively, you can butter them and grill them in your sandwich maker too.
Cook the sandwiches until the bread slices turn golden brown.
Once done, serve hot with tomato ketchup and tangy mint chutney
This is my sandwich for week 1 of the The Avant Garde Cookies.
And dont forget to check out our other cookies, Veena,Jayanthy, Radhika, Roshni, Kavitha, Priya Sreeram and Priya Mahadevan.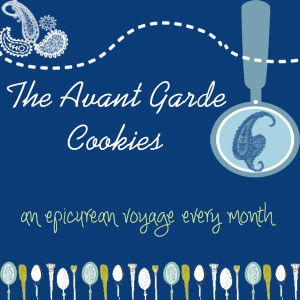 P.S You need fresh hard boiled eggs for this recipe.
You can skip the grilling part if you desire.
You have to be careful with the salt in case you are using salted butter.
And this tastes best when eaten hot. This is strictly not a lunchbox recipe but makes a great afternoon snack for the kids.