There was a time in my life when lunch meant only egg fried rice. Those were the times in my life when travel included two hours of bus journey, dried rice strongly infused with the rancidness of soda bicarb and a very affectionate roomie who took as good care of me as a gardener would of his tulips and sweet peas. With literally a lioness' appetite and aching bones, i would come back to my hostel to only find that rancid rice in the dining hall waiting to be gulped down without a second thought with an equally tart dal or sambar. I would take one look at the containers lined up messily on the table and my appetite would die a thousand deaths.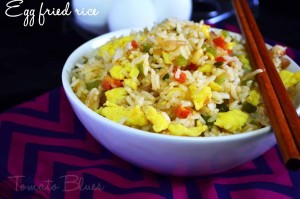 But, as soon as i enter my room, a brown paper bag would greet me heartily. A paper bag that had delicious food. Haa… i must define that paper bag as manna from heaven. A bag that held a large box of take away chinese- egg fried rice to be precise. I dont know how many of my lunches were egg fried rice. I ve sort of lost count. But then, that fried rice kept me going for more than a year of my college days and for that i m thankful to my roomie immeasurably and for that great soul who actually had the brains to make egg fried rice. So, its only natural that i share my recipe of egg fried rice with ya all.
Recipe For Egg Fried Rice
( Leftover rice cooked along with scrambled eggs and veggies)
Prep Time: 10 mins
Cook Time: 20 mins
Level: easy
Serves 2 generously
Ingredients
Leftover cooked rice 2 cups
Carrot 1 peeled and chopped very finely
Green bell pepper 1 chopped very finely
Onion 1 large chopped finely
Garlic 4 cloves chopped very finely
Spring onion whites 4 tbsp chopped finely
Spring onion greens 1 tbsp chopped finely
Soy sauce 2 tbsp
Tomato sauce 1 tbsp
Green chili sauce 1/2 tbsp
White pepper 1 tsp
Eggs 2
Oil 2 tbsp
Salt to taste
Directions
We ll begin by scrambling the eggs first. In a bowl, break the eggs and whisk along with a little salt.
Heat a pan with oil. Once heated, add the beaten eggs and stir vigorously.
Once the eggs turn yellow, break down the eggs into pieces with the help of a ladle and set aside.
Now, heat a pan with oil.
Add the onions and garlic and saute till light brown.
Add the bell pepper next and saute for a min and follow with the spring onion whites.
Next add the carrots and saute till they become fork tender. Takes about 3 to 4 mins.
Now,add all the sauces and cook for about 1 min.
Add the white pepper and salt next. Keep an eye on the salt as the eggs and the sauces already have salt in them.
Now, add the cooked rice and the scrambled eggs and mix well.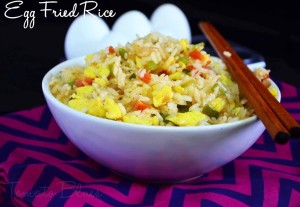 Garnish with spring onion greens and serve hot with some ketchup and veggie manchurian. And believe me, that platter will be sheer bliss.