Easy Tzatziki Dip Recipe And Tips on Making Hung Curd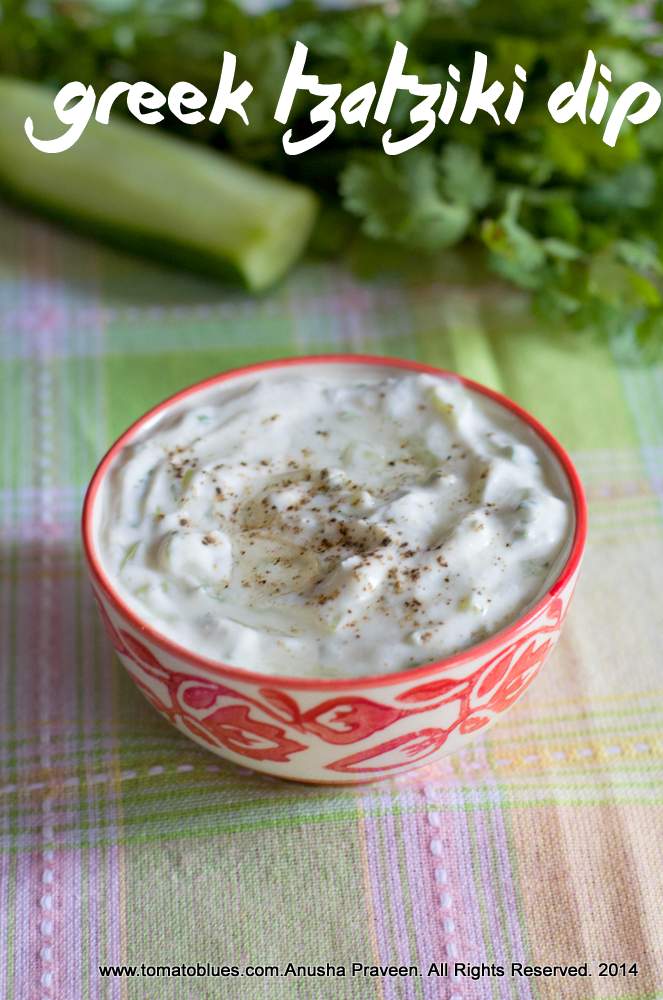 Easy Tzatziki Dip Recipe- Greek dip with yogurt and cucumbers.
Summer only spells a few things clearly for me. Watermelon, Cucumbers, Fresh and light salads and plenty of beverages to keep me going are all on that list. Crunchy cucumbers always find a way to our simple and light summer meals, either in the form of a salad or a lemonade or a simple raita. The last week, i decided to make something different with cucumbers. I had come across Tzatziki recipe many a times on Pinterest and have always wanted to make it. And summer was the perfect excuse to do just that- some creamy tangy Tzatziki to go into a wrap ( recipe coming soon) made a wonderful meal on a hot summer s evening. The authentic Tzatziki calls for fresh dill leaves. I did not have them on hand and hence made this Tzatziki recipe with fresh cilantro leaves. And i must say, we enjoyed it thoroughly.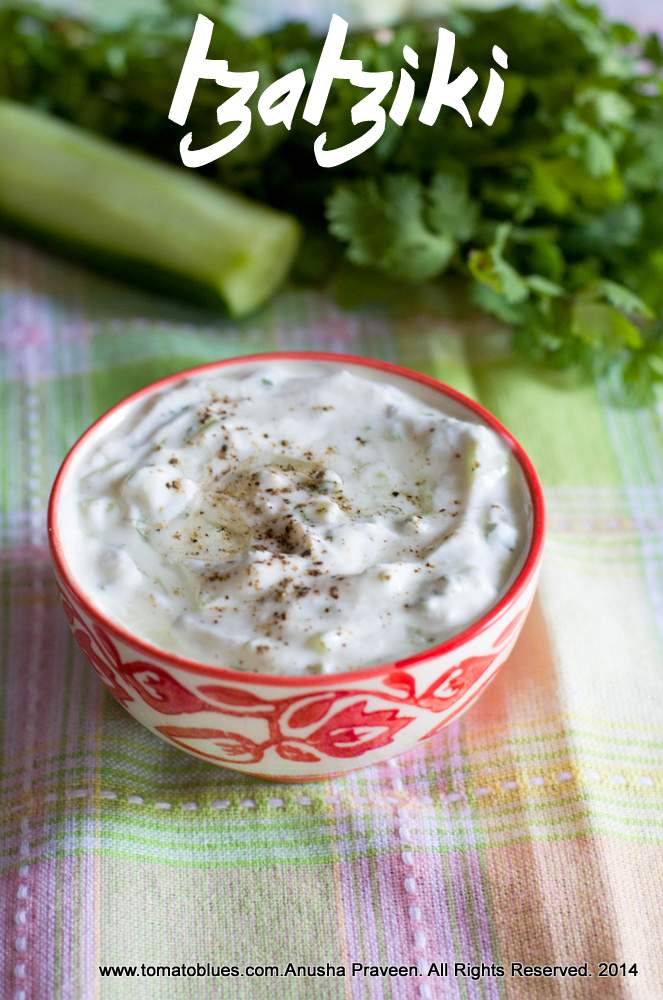 Easy Tzatziki Dip Recipe With Tips On How To Make Hung Curd.
To make hung curd, place 2 c of full fat yogurt in a fine mesh sieve. Place this over a bowl and cover loosely. Keep this in the fridge until the whey drains from the yogurt. The longer you let it sit, the thicker your curd will be. I let my curd sit in the fridge for about 3 hours. A minimum time of 2 hours will work fine too.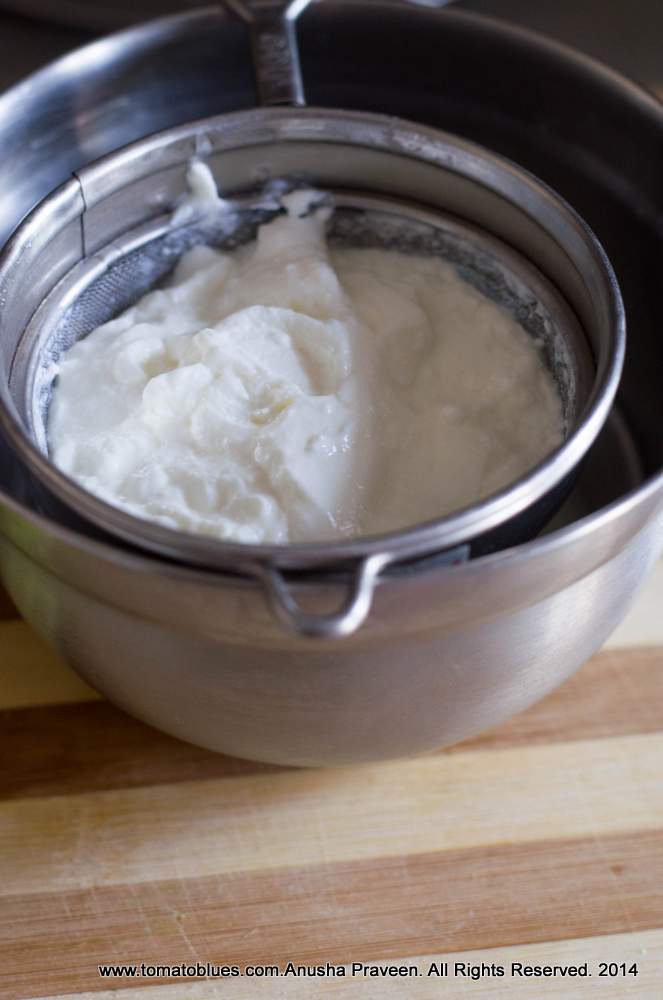 Once done, discard the whey. You can alternatively use the whey to knead dough or mix into a smoothie.
Place all the ingredients in a bowl and mix well to make Tzatziki.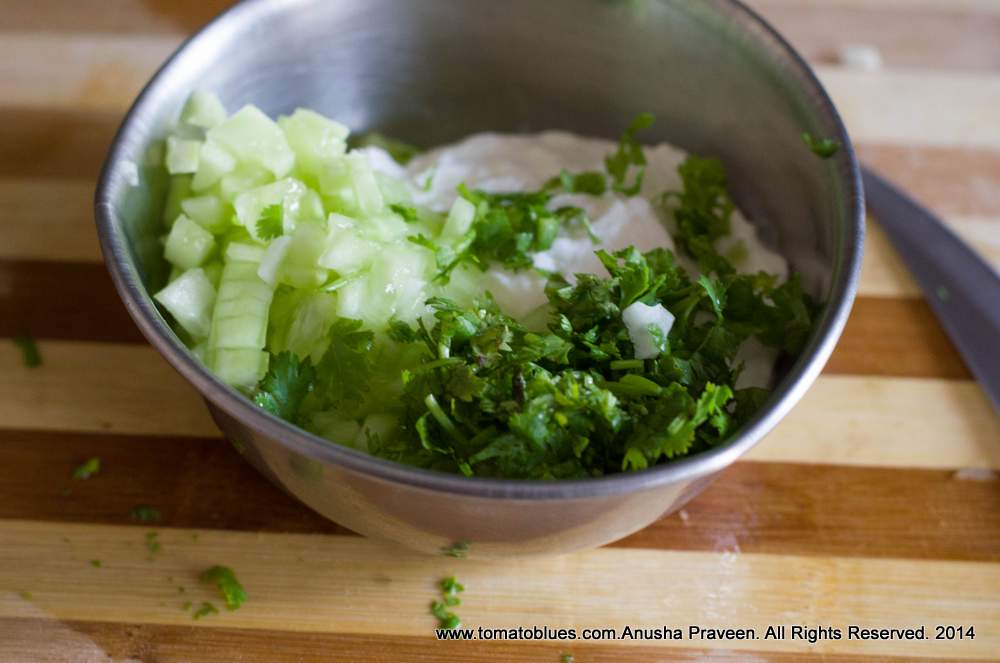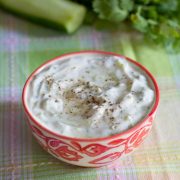 Print Recipe
Tzatziki Dip
A simple yogurt dip with chopped cucumbers and other herbs. Perfect to dunk nachos or use as a spread on wraps and sandwiches.
Ingredients
Hung Curd 1 c

Cucumber 1 medium

seeds removed, peeled and chopped very finely

Garlic cloves 2 peeled and minced

Fresh coriander leaves 2 tbsp chopped finely

Lemon juice 1 tbsp

Olive oil 2 tbsp

Freshly ground black pepper 1 tbsp

Salt to taste

For Garnish

Olive oil 1 tsp

Freshly ground black pepper 1 tsp
Instructions
To make hung curd, place about 2 c of regular full fat yogurt in a fine mesh strainer. Now place this over a bowl and cover loosely. Let it sit in the fridge until all the whey is drained.

Once done, discard whey and use the thick hung curd in the Tzatziki.

In a bowl, place all the ingredients and mix well.

Garnish with freshly ground black pepper and drizzle some olive oil on top before serving.

Serve immediately.
Notes
You can use greek yogurt in place of the hung curd here. In that case, no draining of whey is required.
Feel free to experiment with your choice of herbs like dill, mint or parsley in place of coriander leaves.
You can also add finely grated cucumber but how ever you add the cucumber, make sure to remove the seed part before grating or chopping.
Many recipes use Extra Virgin Olive Oil for this but i used regular olive oil.
For Instant Pot & Air Fryer Recipes
Instant Pot timings may vary based on your geographic location. Air fryer settings and timings may vary based on the capacity and the model of the Air fryer.
Disclaimer
Nutrition values are provided here as a courtesy and are only a rough guide. Please consult a health care provider if you have any concerns.
 Now that you have learnt how to make Tzatziki recipe, start using it in your sandwiches, wraps or rolls as a filling or better yet, get out a spoon and start devouring it right away. Delicious things must never be put off to later to eat!