Well. You all remember that luscious
garlic butter
that i made. And then i also said i ll give you some delectable ways to use up that pot of butter that you all would be making. So, here s one of those delectable recipes that you can whip up using that garlic butter.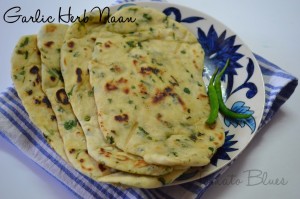 You need not buy expensive ingredients to make exotic or delicious food. That s a lesson i learnt long time ago. And that s why i wonder why a piece of naan bread is hideously expensive in a restaurant. For all that i knew, it was just flour and the rest. And its also why i learnt making everything from the scratch. And that s why i ve arrived at this garlic naan recipe. Without further ado, let me take you all to the world of naan.Let me tell you, this naan will not become as chewy as rubber once it turns cold.
Recipe For Garlic Herbed Naan
( Flatbread using garlic butter and a few herbs)
Prep Time: Under 10 mins
Resting Time: 1 hour min
Cook Time: 3 mins for a naan
Yields 5 naan breads
Ingredients
All purpose flour 1.5 cups
Salt 3/4 tsp
Sugar 1 tsp
Baking powder 1 tsp
Baking soda 1/2 tsp
Fresh curd 2 tbsp
Water 4 tbsp + 2 tsp
garlic butter 5 tbsp cooled
Cilantro chopped finely 1/2 cup
Sesame seeds 1.5 tbsp
Butter for greasing
Flour for dusting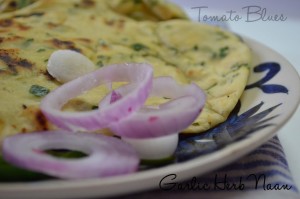 Directions
In a mixing bowl, combine the dry ingredients together.
Make a well in the middle.
Add the garlic butter and rub it into the flour until it crumbly.
Now, add the yogurt and water and knead into a smooth stretchable yet non sticky dough.
If you feel the dough is too sticky add a lil more flour. In case you feel the dough is too dry, increase the amount of water.
Once done,cover and rest for a minimum of 1 hour.
After an hour, divide the dough into 5 equal pieces.
Stretch the dough into a tear drop shape.
Dust with flour and roll as you would do for chapathis.
Once done, heat a cast iron girdle.
Place the stretched dough and cook until puffy and bubbled up on one side.
Once puffed, flip over and cook the same way.
When both the sides have bubbled up here and there, flip over and cook on both sides till dark brown spots appear randomly on the naan.
Brush with butter. In case you have some of that garlic butter remaining, feel free to brush that up on the naan.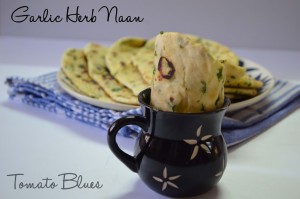 Serve hot with any curry of your choice.
This goes off to this month s Bake Your Own Bread at Roxanna s Space