Who doesnt love biting into a crunchy garlic bread? I mean, its probably the best thing that happened to garlic and bread. I sometimes find the idea of buying a few slices of greasy garlic bread from outside, ludicrous. It can be so easily made and yet, we buy it. Yes, that includes me too. Every time its pizza night, garlic bread has to be ordered. And then, a while back, i began making my own garlic bread. I experimented with different combinations, starting with good old butter and garlic. I then went on to add cheese, sometimes basil and other times, any herb that i can lay my hands on. I found my go to garlic bread in this recipe. Its wholesome, yummy and has the goodness of butter and mozarella in it. Nothing can go wrong with butter, garlic and mozarella, believe me.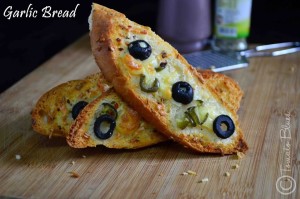 Recipe For Easy Garlic Bread
( Make your own garlic bread at home in 20 mins flat)
Prep Time: 10 mins
Cook Time: 10 mins
Makes 4 slices
Allergy Info: Nut free
Ingredients
French loaf or baguette 1 medium cut into thick slices diagonally
Unsalted butter 4 tbsp softened ( dont melt the butter!)
Garlic cloves 4 to 5 grated
Italian seasoning 1 tsp or any dried herbs of your choice
Chili flakes 1 tsp
Mozarella cheese 4 tbsp grated
Olives 4 pitted and chopped
Jalapenos 4 chopped
Salt to taste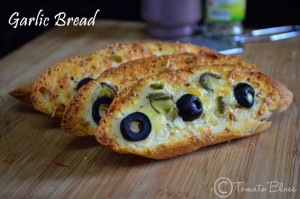 Directions
Preheat oven to 180 C.
Line a baking tray with tin foil and lightly grease it.
Slightly butter one side of the bread slices and place them on the tray.
In a bowl, combine butter, garlic, herbs, chili flakes and salt and mix well. Go easy on the salt for the cheese also has some in it.
Spread a tbsp of butter on the top side of the slice evenly.
Now sprinkle grated cheese and top with olives and jalapenos.
Repeat for all the remaining slices.
Bake for 5 to 8 mins or until the sides have turned golden. Dont let it sit there for long or you may land up with garlic rusk.
Once done, serve hot with ketchup on the side.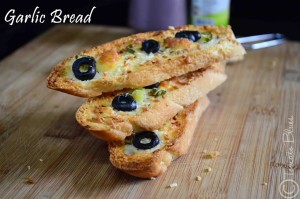 This is my dish that begins with G for week 2 for The Avant Garde Cookies
P.S Please use fresh garlic and nothing else for this. No garlic paste. No!! dont even think of it.
In case you dont have an oven, feel free to toast the slices on a tawa but make sure not to flip over to the cheesy side.
You may use any bread of your choice but the texture will vary slightly.
Dont attempt this in a microwave or you may end up with something close to rubber.