How To Make Kashmiri Dum Aloo?
Kashmiri Dum Aloo- Baby potatoes cooked in a creamy nutty curry sauce. Side Dish For Rotis. GF. Paleo.
Kashmiri Dum Aloo is a rich creamy nutty gravy that hails from the Kashmir regions of India. True to its heritage and like all Kashmiri dishes, this kashmiri dum aloo uses nuts, yogurt and freshly roasted and ground spices for the curry sauce. I am  probably the only person on the universe who is not fond of potatoes. Yes. You read right. I am not in that clique of people who start ogling at roasted potatoes. Or worse yet, people who start drooling the moment you say french fries. Potatoes simply dont turn me on. On the contrary, whenever i see a pile of potatoes, all i can do is count the calories i shall ingest, in the eventuality that i eat it. If you are wondering if i ve been this way throughout my life, no… of course not. I was a very normal kid who preferred potatoes to greens. If you asked me why i changed, honestly, i dont know. And i ll tell you what. I hate those old potatoes which have a hint of green in them and taste slightly sweet when cooked. Jeezz…. it s such a put off to any meal, may it be a banquet or a simple dal chawal. But.. but before you start wondering if i m paranoid, let me tell you. I love baby potatoes. The more tender they are, the more floored i am. When it stops raining like an ocean has been sent up above and november comes with its slightly cool breeze, i start looking forward to baby potatoes like a child who looks forward to vacations. And then, my courtship with these itsy bitsy darlings begin. Rest assured. The fling goes on till mid march. Until i manage to grab a full good bag of these babies and until i m tired of wolfing them down in the form of Baby potato fry, roasted potato pulao or kashmiri dum aloo.I am not a person who cooks a fanfare with baby potatoes. My repertoire is limited but nevertheless yummy. The last week when i bought a pack of baby potatoes  home, they met the fate of kashmiri dum aloo. Shall we now check the step by step tutorial to make kashmiri dum aloo?
Step By Step Instructions To Make Kashmiri Dum Aloo
Dry roast the spices on a pan. Let cool and grind to a powder in a blender. I used my coffee grinder for this. In the same blender, grind the pistachios to a fine paste using 2 tbsp water. Sorry, i forgot to take a picture of this step.
Pressure cook the potatoes until tender. Drain them and peel the potatoes. Heat a pan with 1/4 c of oil and deep fry the potatoes in batches until golden on the outside. Drain on a kitchen towel.
Remove the excess oil from the pan. Make sure there is about 1.5 tbsp oil left in the pan. To this, add ginger garlic paste and saute for 30 secs. Tip in the onions next and fry till light brown. Add the spice powders next and cook for 1 min on medium flame.
Now, add the ground pistachio paste and mix well. Switch off the flame and add whisked yogurt to this. Mix well. Add 1/2 c of water and salt to the gravy now. Mix again.
Switch on the flame now and the fried potatoes and mix well. Let simmer for 1 min on medium flame.
Once done, remove from flame and garnish with coriander leaves. Your Kashmiri dum aloo is ready
Recipe For Kashmiri Dum Aloo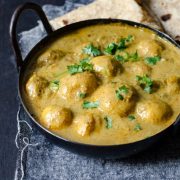 Print Recipe
Kashmiri Dum Aloo Recipe
Kashmiri Dum Aloo- Baby potatoes cooked in a nutty creamy yogurt sauce. Goes well with rice and rotis
Ingredients
Baby Potatoes 6 to 7

Onions 2 medium chopped finely

Ginger Garlic paste 2 tsp

Pistachios blanched and ground to a fine paste 1 tbsp

Thick fresh curd 3/4 cup

Salt to taste

Oil 1/4 c

Coriander leaves for garnish

Spice Powders:

Red chili powder 1 tsp

Turmeric powder 1/4 tsp

Whole Spices To Be Dry Roasted and Ground:

Cloves

2

Cinnamon 1/2" piece

Pepper Corns 5

Cumin seeds 1/2 tsp

Coriander seeds 1/2 tsp

Cardamom 2
Instructions
Heat a pan and dry roast the spices under the list of whole spices to be roasted and ground. Let cool and grind to a powder in a blender.

Place pistachios and 2 tbsp water in the same blender and blend to a smooth paste.

Boil the potatoes until cooked but firm.

Peel and keep aside.

Heat a kadai with 1/4 c of oil and add the potatoes in batches.

Fry the potatoes till they have a golden crust .

Now, remove the potatoes and drain them on a kitchen towel.

Add the onions to the kadai and saute till they are light brown.

Now, add the ginger garlic paste and saute for another 30 secs.

At this stage, add the spice powders and the ground whole spice powder.

Combine well and saute for another 1 min.

Now, add the ground pistachio paste and combine well.

Now, turn switch off the flame to the lowest heat possible and stir in the yoghurt to the mixture slowly and mix well.

Add salt and potatoes and cook closed for another 7 to 8 mins on low medium flame.

Garnish with cilantro.

Serve hot with rotis or rice.
For Instant Pot & Air Fryer Recipes
Instant Pot timings may vary based on your geographic location. Air fryer settings and timings may vary based on the capacity and the model of the Air fryer.
Disclaimer
Nutrition values are provided here as a courtesy and are only a rough guide. Please consult a health care provider if you have any concerns.