When
Kavi
set us this month s themes, i knew she was upto no good. She made us break our heads for week 3 and
Week 1 Bread Baking
was no less a task. We cookies love baking bread so we were left with too many options. Come week 3, she made us embrace a totally new cuisine The Maharashtrian. Not that we are not aware of the maharashtrian food but as all of us are South Indians, our ideas on the tags of different dishes were not so clearly defined. Thanks to
Kavi
, now we ve honed our skills in one more arena of cooking.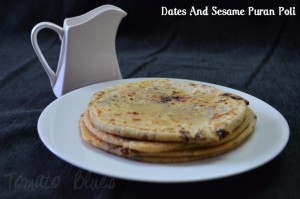 I initially thought i would do the vada pav. The famous street food of Mumbai that has slowly made its way upto Coimbatore. A cousin of mine absolutely lives on Vada Pav. I mean who can say no to soft buns stuffed with potato fritters with a chili by the side. Get my point? But my vada pav dreams quickly vanished into thin air when i learnt that Mr.P and i are on a terrible waist expansion spree. So i stuck to this healthy puran poli. The point was i forgot all about the waist expansion when i made these. And added oodles and oodles of ghee. But hey! whats puran poli without some ghee, huh?
Recipe For Puran Poli
( Wheat flour flat breads stuffed with dates and sesame)
Prep Time: Under 15 mins
Cook Time: Under 15 mins
Makes 4
Ingredients:
For The Dough:
Wheat flour 1 cup
Milk 1/3 cup
Water 1 to 2 tbsp
Ghee 1 tsp
For The Stuffing:
Dates 1/4 cup pitted and chopped
Jaggery 1/8 cup powdered
Sesame seeds 1 tbsp
Green Cardamom 1
Ghee 2 tbsp for cooking
Flour For Dusting
How To Make It?
In a large mixing bowl, place the wheat flour and add the milk completely. Mix until you get a mixture that s crumbly. Now add water little by little and knead into a smooth non sticky dough.
Add the ghee and coat the dough well. Knead again for 30 secs. Set aside.
Toast the sesame seeds in a pan and cool.
In a blender, add the dates, sesame, cardamom and jaggery and give a whizz until you get a sticky mixture. Must not take more than 30 to 45 secs. Take care lest you get a very sticky unmanageable mixture. Transfer the mixture into a bowl.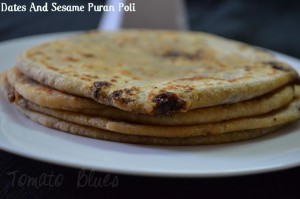 Divide the dough into 4 equal parts and make rounds out of it.
Flatten one into a disc, dust with flour and roll into a slightly thick disc. Just like you do for stuffed parathas.
Now, take a tbsp of filling and place on the middle of the disc.
Bring together the edges and pinch them together.
Dust with flour.
Roll gently into a thinner disc about 4 to 5 mm in thickness.
Repeat for the remaining dough and filling.
Heat a tawa.
Place a rolled puran poli and cook till one side is dotted with golden spots.
Flip to the other side and repeat.
Now flip again and gently drizzle ghee.
Cook for 30 secs. Repeat for the other side too.
Once both the sides are spotted with golden dots, remove them from tawa.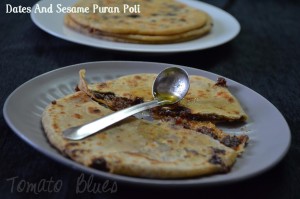 Get more wicked, add some ghee and serve hot.