My love affair with cooking dal began only after i got married. Mr.P loves dal. But the point to be noted is that he despises or rather used to despise dal cooked by me. Sigh! The affair intensified with the various dals i happened to taste in Baroda. While the traditional gujarati dal comes with a hint of sugar in it, my all time favorite version of dal is some creamy dal makhni. Recipe coming soon.But then i cant afford to make dal makhni everyday cos one Mr.P hates it ( call it non sequitur) and two because i cant remember soaking the legumes every now and then.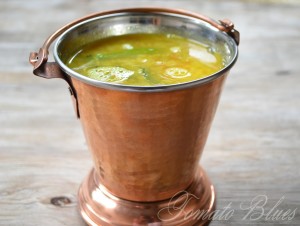 But this basic dal shows up on my table every now and then. Its easy, tasty and healthy. And gets made in a jiffy. Again this is a very versatile recipe. Each family in Baroda has its own version of this dal. And like wise, this is my version. Oh and yeah by the way, i just got a wake up call. People have been asking me why i dont post basic recipes. So for all those folks who gave me that much required nudge, thanks a million. Make this dal and prove me right!
Recipe For Basic Dal
——————–
Prep Time: Under 10 mins
Cook Time: Under 30 mins
Serves 2
What You Need?
Toor dal 1/2 cup
Tomatoes 2 small chopped finely
Onion 1 small chopped finely
Ginger grated 1 tsp
Garlic cloves 2 minced
Green chilies 4 minced
Curry leaves a sprig
Turmeric powder 1/4 tsp
Hing a large pinch
Jeera or cumin seeds 1 tsp
Ghee 1 tbsp
Salt to taste
Garnish:
Cilantro chopped finely 2 tbsp
How To Make It?
Pressure cook the dal along with turmeric powder, chopped tomatoes and salt in 1.5 cups water until completely cooked and mushy.
Once done,drain the water and preserve it.Now, mash the dal well.Add the drained water and mix well. Set aside
Heat a pan with ghee.
Add the cumin seeds and once they splutter, add the curry leaves and the hing.
Next, add the green chilies and saute till they turn a light brown.
Add the garlic and ginger next and saute for 30 secs.
Add the chopped onions next and saute till golden brown.
Now, add the mashed dal and mix well.
Bring to a boil.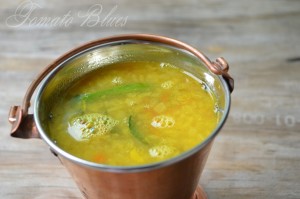 Garnish with cilantro and serve hot with steamed rice or any rice dish of your choice.
Sending this to My Legume Love Affair hosted by Desi Soccer Mom Jaya this month for Susan and
Radhi s Lets Cook Legumes And Lentils
this month.