Its going to be Christmas very soon. Its that time of the year when we all bring out those bars of dark chocolate, balloon whisks and candied peel, stock up on the flour and butter and hunt up super market aisles for cute gifting ideas.  And its also that time of the year when there is a nip in the air and you want to bring out those cozy woolens that you bundled and buried away last winter. The evenings are colder and obviously call for hot chocolate or steaming hot cups of tea and coffee. What better way to enjoy these chilly evenings and the approaching Christmas time other than with cookies?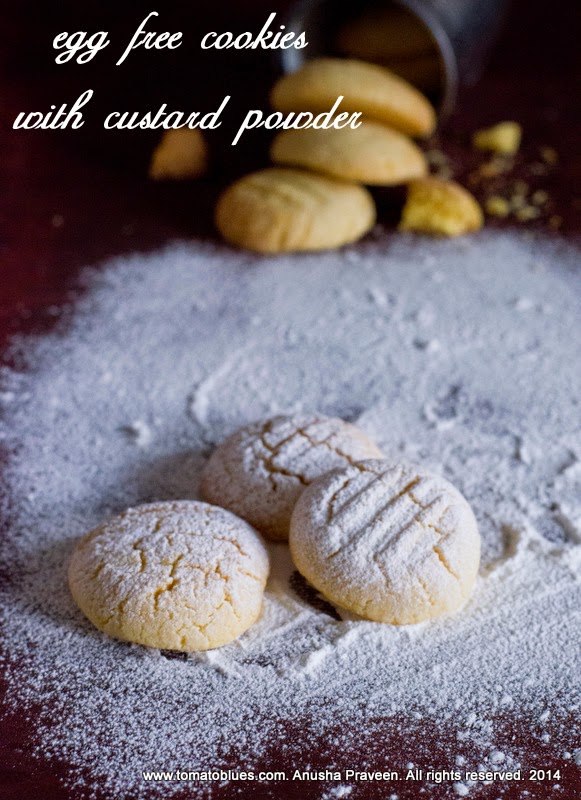 IMHO, custard powder cookies are by far the easiest, coolest and tastiest handmade gifts that you can give anyone for Christmas. You may say homemade chocolates are better but hey! have you ever tried tempering chocolate? Phew! Calls for umpteen vessels, a silpat preferably and messy hands. Gee! I like buying homemade chocolate anyday even if its not going to be homemade technically. Who cares? You want chocolate, right? But cookies. No. They are totally different. There is this amazing feeling when you get while shaping those balls of cookie dough and popping them in the oven. The fragrance that floats by your nose and in your whole house plus the nosy neighbor who peeks in to ask, " Bake kar rahe ho kya?" has its magic. Believe me.Coming to custard powder cookies, i have no idea if you get custard powder in the US or UK. Sorry but some things are so Indian. Like chai, tamarind and then custard powder. I m not even sure if there is a substitute. For all other folks, if you get custard powder wherever you live, then please make some of these cookies this Christmas. These are wonderfully crunchy with a slight chewy middle and loaded with vanilla flavors. Dust them with icing sugar for a more wicked treat or tie them up prettily with a ribbon and gift them away. Either ways, i m sure you will love them and will make them Christmas or not, Winter or not. After all, a good cookie must be made any time and enjoyed every time, right?
Recipe For Custard Powder Cookies
( Learn how to make Custard Powder Cookies, simple cookies with custard powder and butter)
Prep Time: 40 mins
Cook Time: 10 mins
Makes 16 medium cookies
Allergy Info: Vegetarian, Nut free, Soy free
Course: Dessert, Snack
Cuisine: International

Ingredients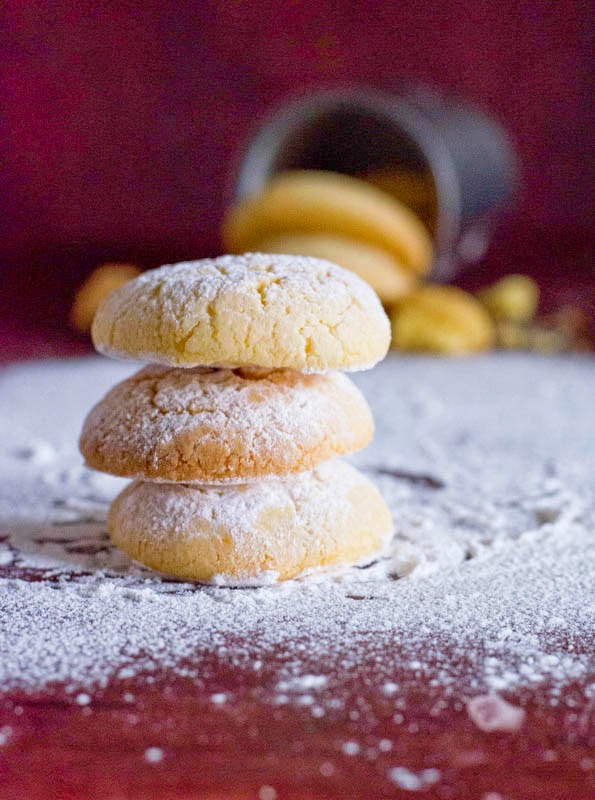 All purpose flour 1 c or 125 g
Softened butter at room temperature 1/2 c or 115g
Custard powder ( Vanilla flavor) 1/4 c
Vanilla extract 1 tsp
Powdered sugar 3/4 c
Salt a pinch
Cold Milk 1 tbsp( See notes)
Icing sugar 1/4 c for dusting
Note:
If you find the mixture too dry, add the milk and continue to knead the dough. Or skip the milk entirely.
You may also substitute milk with ice cold water.
Dont bake the cookies for more time than mentioned. The cookies look soft when you take them out of the oven but harden when cooled.
Directions
In a mixing bowl, cream together butter, vanilla and sugar until creamy.
Set aside.
In another bowl, place the flour, custard powder and salt and mix well using a fork. Actually sifting works better but i was lazy so just took the fork route.
Now, add the flour mixture to the butter mixture and mix well using a fork or a spoon until the mixture is crumbly but all the flour and all the butter have merged well into each other.
Knead the dough using your hands until smooth.
Refrigerate the dough for 20 mins.
Preheat oven to 180 C.
Divide the dough into 16 parts.
Now shape each part into a small ball by gently rolling it between your palms.
Place each ball on a cookie tray about an inch apart.
Slightly flatten the top of the ball with a fork. This step is completely optional but the fork technique gives those stripes on the cookies and make them look extra cute.
Now bake in the preheated oven for 10 mins.
Once done, remove and let cool completely.
The cookies become harder and crunchier on cooling.
Once cool, dust them with icing sugar.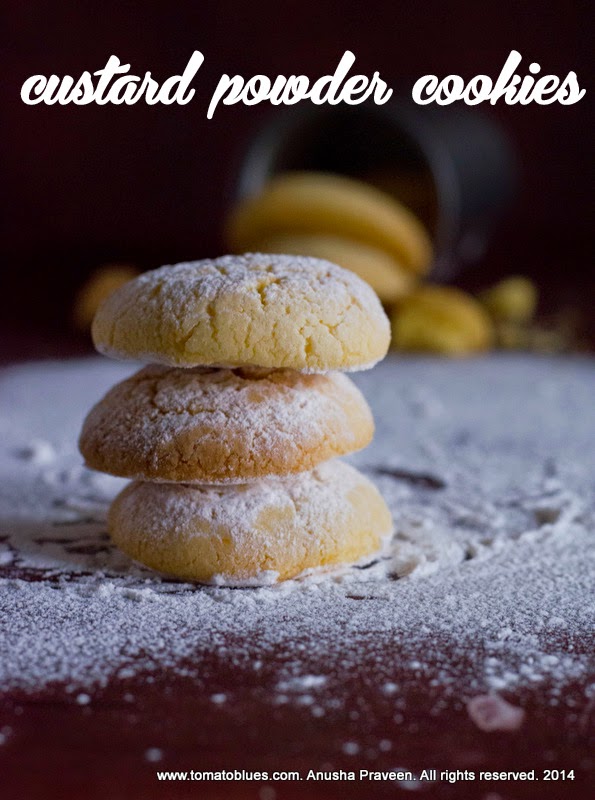 Enjoy these custard powder cookies with a cup of hot cocoa or some coffee.