Home is home. Wherever you go, whatever you do. There is an absolute sense of peace when you come back and lie down on that familiar couch of yours and nibble something. When i got back last evening, i only had the energy to soak up the warmth my kitchen offers. I realised i had missed my kitchen and that feeling can not be described with words. And that only prompted me to get back to my blog which i had dutifully ignored while on vacation. Then i realised, its gonna be wednesday and it s time for blog hopping. I must thank
Radhika
for introducing me to some fantastic bloggers through blog hop. Every blog hop wednesday is a gala experience.Its absolute delight to cook from the blogs of accomplished cooks and this time i was paired with
Vardhini Of Zesty Palette
. Now, when i first visited her space, i was left open mouthed. And that s how it has been everytime i visit her blog. May it be her baked goodies like
Oven Baked Breaded Okra
or her everyday dishes like
Methi Paratha
she definitely proves that she s an awesome cook. I badly wanted to make her
Upside down Apple Cake
but was short on time. I instead chose to try the curd vada recipe. She has a low fat version on her blog but i just indulged this time. Low fat next time. I know i m kidding myself but let s move on to the recipe.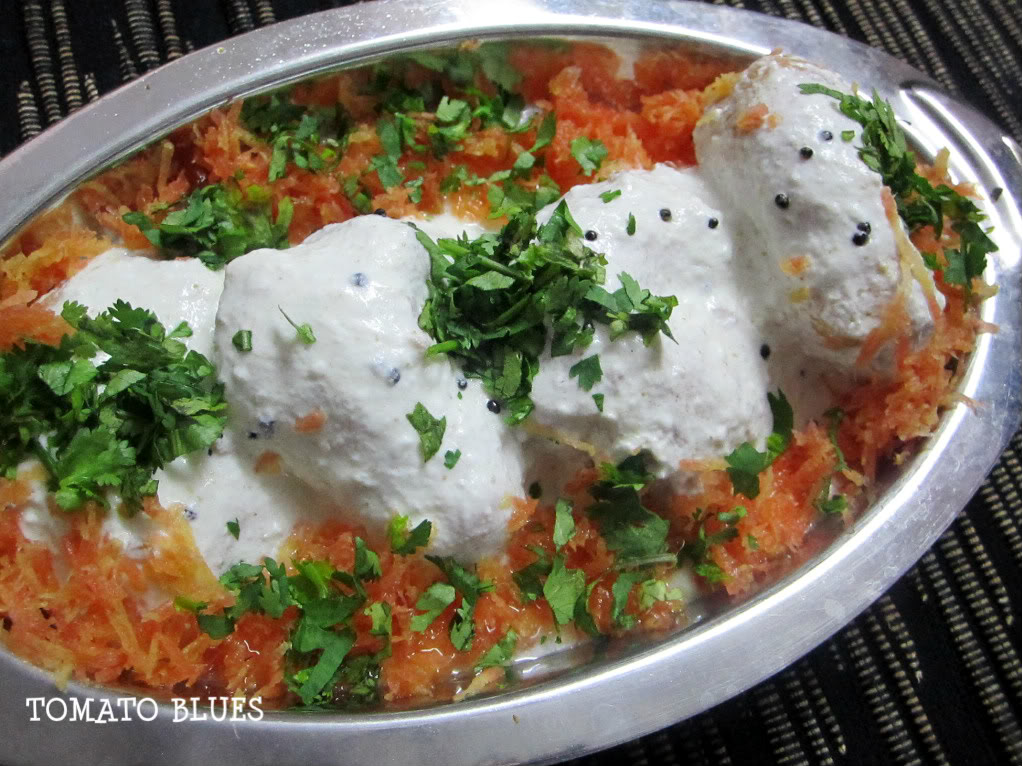 Source: Vardhini Of Zesty Palette
Soaking Time: 2hours
Cooking Time: Under 30 mins
Yields 8 medium size vadas


What you need?
For The Vadas
Whole urad dal dehusked 1 cup soaked in water for 2 hours
Green chillies 2 chopped finely
Ginger 1/2 " chopped finely
Onion 1 medium chopped finely (optional)
Curry leaves a sprig chopped finely
Salt to taste
Oil for deep frying
For dunking:
Fresh curd 2 and 1/2 cups
Cumin powder 1 tsp
Mustard seeds 1 tsp
Urad dal 1 tsp
Hing a large pinch
Salt to taste
Hot water 3 cups
For Garnish
Carrot grated 1/4 cup
Cilantro chopped finely 3 tbsp
How to make it?
I couldnt take step by step pics cos i dint have much time. And i think vardhini s pics are so awesome. So mine wouldnt have made justice anyway.
Lets get the curd ready first, shall we?? Whip the curd well. Add a little salt and cumin powder. Mix well. Temper with mustard seeds, urad dal and hing. Mix and keep aside.
Off to the vadas
Addiction Warning !!! Make a few extra because you are sure to munch a few as you make them.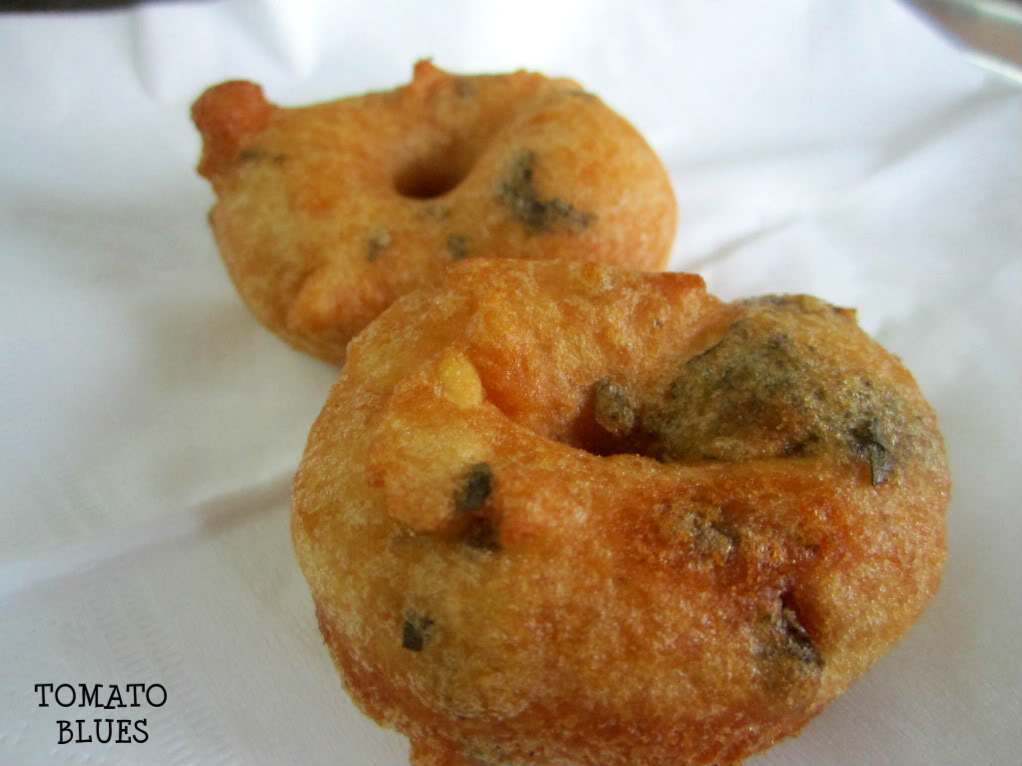 First, wash the urad dal thoroughly and drain the water.
Next, grind the urad dal in a grinder for about 8 to 10 mins until thick and fluffy.
Add water by the teaspoon to move the grinder. I would not recommend a blender to grind the dal. You wont get the desired results. I added about less than 1/4 cup of water in all.
Once you have the batter ready, add salt,curry leaves, green chilies and ginger to the batter and mix well.
If you think the batter is too runny, then add about a tbsp of rice flour or refridgerate for 20 mins before frying.
Keeping it in the fridge also means less absorption of oil.
Now, place a flat bottomed kadai and heat the oil. The kadai should be a lil less than 1/2 full with oil.
Fellow bloggers and cookie loves, now comes the tricky part. Making the vada. If you are not picky about the shape just make lil balls out of the batter and deep fry them.
If you are one of those people who cannot eat odd shaped delicacies, then take a zip lock pouch and place it on a flat surface.
Coat your hands with water, take a small ball of the batter, place it on the zip pouch and flatten it a little. Now, make a hole in the center with your finger. Carefully transfer this to the oil using your hands.
Fry on medium low flame till it s golden brown on both the sides.
Once done, place them on a paper towel.
Now, after the excess oil has drained, drop the vadas in the hot water for 30 secs.
Take it out, squeeze the extra water by placing them in between 2 spoons. Do this gently.
Now, dunk them in the curd and put them in the fridge.
Garnish with grated carrot and cilantro while serving.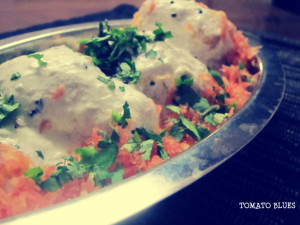 Note: Fry the vadas in batches. I did 2 at a time. And dont fry them on a high flame. They dont become crispy that way and the insides dont cook evenly.
If you are going to add onions, add them just before frying cos they make the batter watery.
This goes off to this week s blog hop at Radhika s Tickling Palates