We decided to make
salads
this month for our
palooza
this month. Four salads. Healthy ( ahem) and at the same time, delicious, is what we aim for this month. I wanted this salad to happen the last month when our theme was legumes. But it dint happen because of various reasons, the primary one being that i m a lazy goose.
I made it a point to soak my
garbanzo
this time. I also remembered to buy
mint
and lemon. So, the salad was almost done, atleast in my case, where i forget to buy five things out of ten in a grocer s list. So it was not such a mess this time to whip up this salad. And i must say, apart from being healthy and yummy, its also filling. Its the perfect answer to that 11'o clock pangs in the tummy.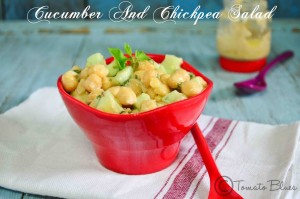 Recipe For Cucumber Chickpeas Salad
( Cucumber and chickpeas in a tahini dressing)
Prep Time: Overnight for soaking the chickpeas
10 mins for the rest
Cook Time: 20 mins
Serves 2 generously
Allergy Info: Vegan, Grain free, Gluten free and Eggless
Ingredients
For The Salad
Cucumber 1 small peeled and cubed
Chickpeas 1/2 c soaked overnight and pressure cooked till tender**
Mint leaves a handful chopped finely
Garlic 1 clove grated
Juice of a lemon
Pepper 1/4 tsp
Salt to taste
For The Tahini Paste
Sesame seeds 2 tbsp
Olive oil 1 tbsp
Garlic cloves 1
Salt to taste
For The Dressing
Tahini paste 1 tbsp
Honey 1/2 tbsp
Olive oil 1 tbsp
Directions
To make the tahini, dry roast the sesame seeds and cool.
Blend to a smooth paste in a blender. Add more olive oil if necessary. Or a tsp of water.
This makes about 1.5 to 2 tbsp of tahini.
Pressure cook the chickpeas and drain all water completely.
In a bowl, combine chickpeas,garlic, cucumber, mint leaves, lemon juice, pepper and salt.
In another small bowl, whisk together honey, tahini and olive oil until smooth and emulsified.
Add this dressing to the chickpea mixture and toss well.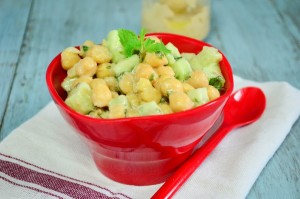 Garnish with a few mint leaves and serve.
This is recipe 1 of this month s Palooza!!