HOW TO MAKE CORN FLAKES MIXTURE?
Corn Flakes Mixture- A super addictive vegan and gluten free snack ideal for Diwali Namkeen.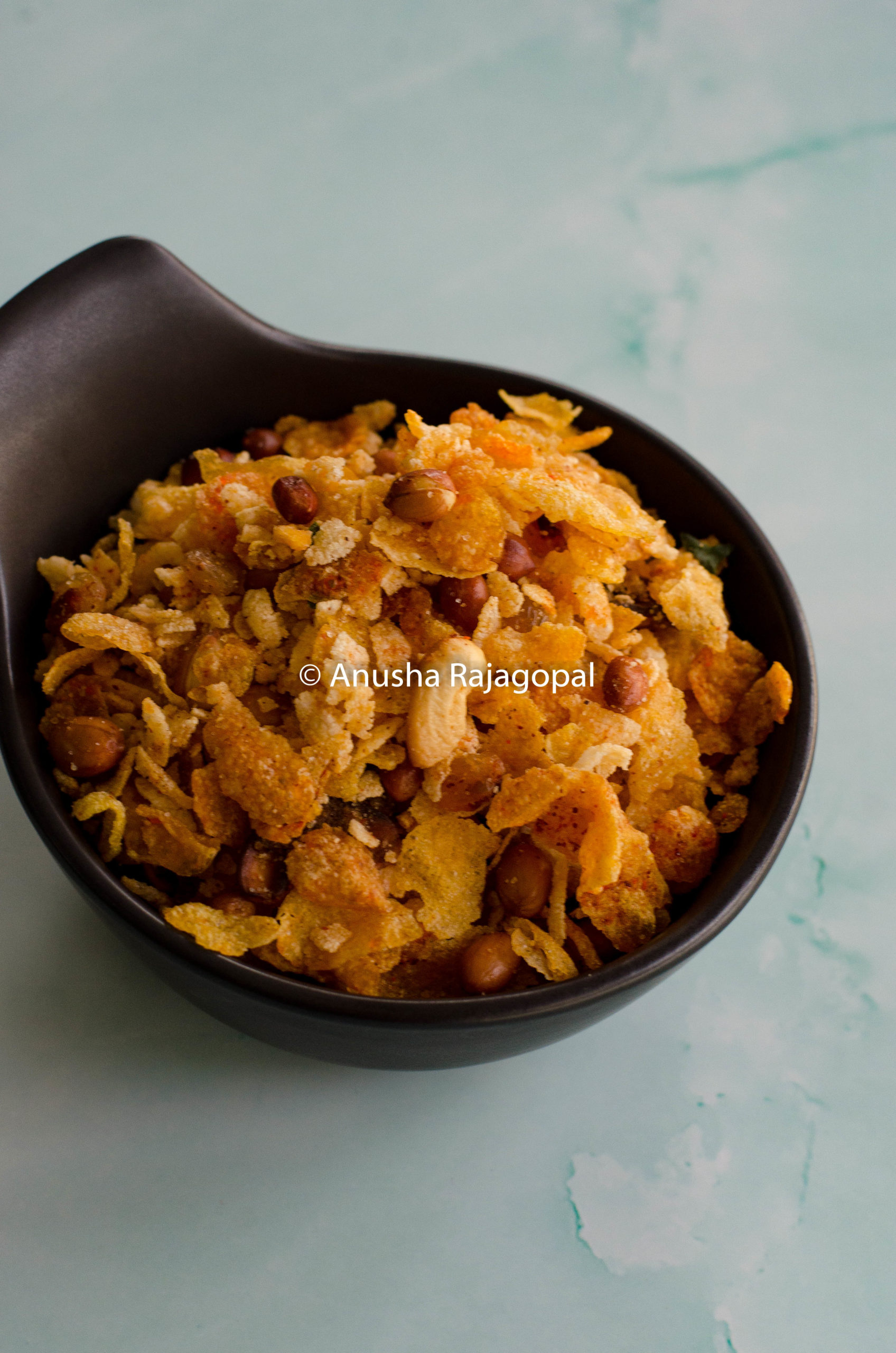 Corn Flakes Mixture- Corn flakes Chivda
This is also called as Corn flakes chivda in many houses. This is a crunchy tea time snack. You can make this under 1 hour and this also keeps well for a week.
You can think of this as an indulgent granola or trail mix.
I have used a combination of cashews, peanuts and raisins in this recipe but you can also use slivered almonds.
At the Praveen household, we are conscious and constant calorie counters. We dont indulge in deep fried foods and ghee laden desserts very often. With the exception of those instances where Mr.P will declare his abstinence from all divine food ( read deep fried and sweet) and go and gorge on samosas in office.
Lets leave that man in peace, shall we? Its best if we remain oblivious to such things.
But very rarely, i mean really rarely, i do fry a thing or two. Ok. My monthly kowtowing to  poori is excusable. Usually this frying exercise happens in a scheduled way. Yes! dont pop your eyes. That s how it happens at my place. And that s how i like to keep it.
This month, when the time for frying came, i decided to make something that i can store in a tin and munch away the weekend. And i dint have the patience to make murukkus. Nah. They are too demanding. So, i made this mixture. With all the crunchiness of corn flakes and roasted nuts, they are a perfect accompaniment to TV nights.
If you are looking for more cornflakes based snack, check out our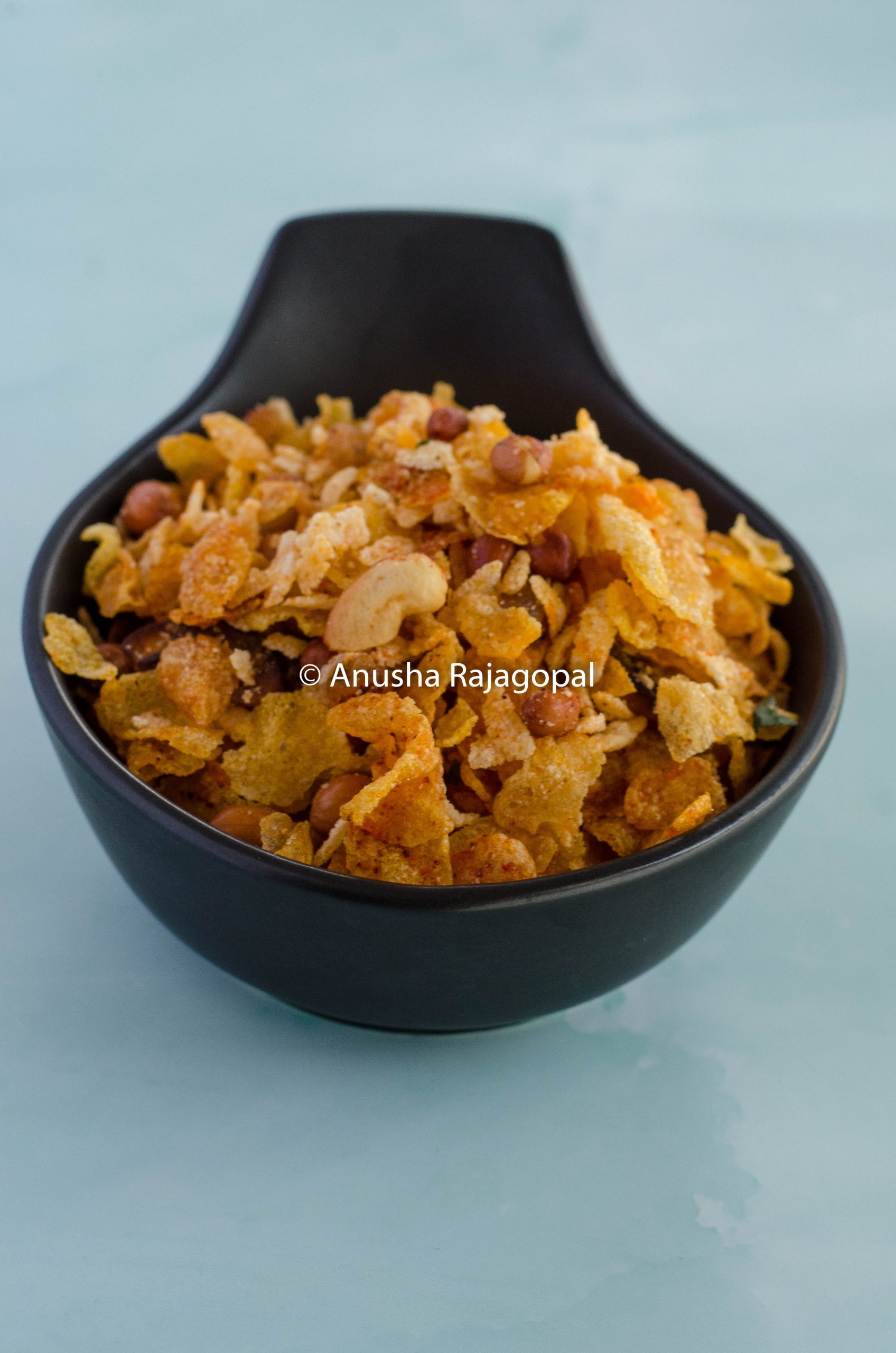 Recipe For Cornflakes Mixture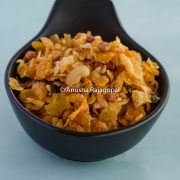 Print Recipe
Corn Flakes Mixture- Corn Flakes Chivda
Corn Flakes mixture, also called as corn flakes Chivda. This is an easy vegan and gluten free Diwali Namkeen that can be made quickly.
Ingredients
250

g

Cornflakes

1/2

c

Aval or parched rice or poha

1/4

c

Peanuts

1/4

c

Roasted gram dal

1/4

c

Cashews

1.5

tbsp

Red chili powder

2

tbsp

Powdered sugar

1

sprig

Curry leaves a sprig

2

tsp

Salt

or to taste

400

ml

Oil to deep fry
Instructions
Heat a deep frying pan with about 400 ml of oil.

Once the oil is really hot, deep fry the corn flakes for about 5 secs.Do this in batches. The flakes will fluff and float up immediately. Dont fry them for longer or they will burn. Drain on a kitchen towel.

In  another big frying pan, heat about 2 tbsp of oil.

Add the nuts and fry them till golden brown.

Drain and add to the fried cornflakes.

Now, add the curry leaves, chili powder, sugar and salt to the heated oil.

Switch off the flame.

Add the fried cornflakes and roasted nuts to this oil spice mixture and mix gently.

Transfer to another large mixing bowl and toss the mixture really well.

Store in an airtight container.
For Instant Pot & Air Fryer Recipes
Instant Pot timings may vary based on your geographic location. Air fryer settings and timings may vary based on the capacity and the model of the Air fryer.
Disclaimer
Nutrition values are provided here as a courtesy and are only a rough guide. Please consult a health care provider if you have any concerns.