This is one of those recipes which happened in my kitchen after my recent purchase of Chandra Padmanabhan s Dakshin. I must tell that i m not at all disappointed with the book. I mean can i be after my stunning success with the
Mysore Pak
? Its easy. Its simple and it has comfort food written all over its face. It was absolute heaven to mix the earthy flavored chutney with hot steamed rice and drizzle a generous amount of sesame oil over it. Hmmm… that s what i shall call unadulterated bliss. Haa..the joys of eating. And not to forget, the joys of cooking…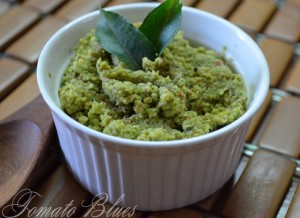 When i made this in the afternoon, amma fell in love with it. And i was surprised to see that the chutney vanished along with a dozen dosas in the evening too. It tasted divine with dosas and i hope you all try it too.
Recipe For Coriander Coconut Thogayal
( A chutney made with grated fresh coconut, cilantro and a few spices)
Prep Time: Under 10 mins
Cook Time: Under 10 mins
Serves 2
What You Need?
Freshly grated coconut 8 tbsp
Bengal gram dal or channa dal 1 tbsp
Urad dal or black gram dal 1 tbsp
Cilantro leaves a small bunch chopped finely
Green chilies 5
Dry red chilies 2
Tamarind the size of a small marble
Salt to taste
Oil 1/2 tsp
To Temper:
Mustard seeds 1 tsp
Curry leaves a sprig
Hing a small pinch
Oil 1 tsp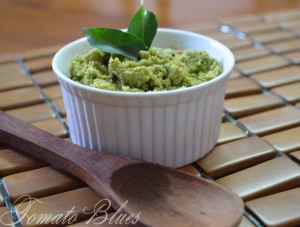 How To Make It?
In a pan, heat 1/2 tsp oil.
Add the dals and chilies and saute the dals till light brown and aromatic.
Set aside to cool.
Place the coconut, cilantro, tamarind, salt, sauteed dals and chilies in a blender and grind to a coarse paste adding very little water at a time.
Heat 1 tsp of oil and add the mustard seeds.
Once the seeds splutter, add the curry leaves and hing.
Now add the tempering to the ground chutney and combine well.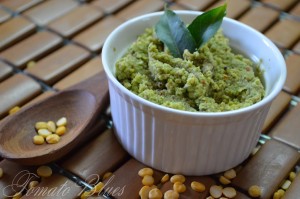 Serve hot with hot steamed rice and some poppadoms.
This is my entry to this month s Hush Hush Week for the Avant Garde Cookies. Priya Sreeram set me the secret ingredient as greens and i m keeping my fingers crossed that she accepts Cilantro as greens. 🙂 In the meanwhile, if you are wondering what the other cookies are cooking up, check out Roshni, Priya Sreeram, Radhika, Jayanthi,Priya Mahadevanand Veena.