I cant believe its half the month gone by already. Boy! i can never get too much time. Its week 2 of our anniversary month in the
cookies group.
For the first week, we all made delish cakes. Do check our delicious cakes-
Jamaican Banana Layer cake
from me, a classic
vanilla sponge cake with chocolate frosting by Radhika
, a beautiful creative
dino cake
that roshni baked for her son's birthday,
tres leches cake
that Jayanthi made with full of whipped cream goodness and an
Oreo Cream Cake
that s such a cool cake by Kavi. We decided to bake cookies for week 2 to justify our Avant Garde Cookie selves completely. Keeping in tune with that, i baked some
coconut cardamom cookies
. Something that i ve been wanting to make for so long and this anniversary was a perfect time for that.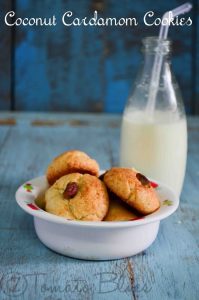 Recipe For Coconut Cardamom Cookies
( Egg less cookies with coconut and cardamom flavors)

Prep Time: 10 mins
Cook Time: 15 mins
Yields 15 cookies
Allergy Info: Nut free, Egg free
Source: Loosely adapted from here
Ingredients
Flour 64 g (1/2 c)
Unsalted Soft Butter 50 g (3 tbsp+ 1 tsp)
Caster sugar 60 g
Dessicated coconut 50 g
Cold milk 1 tbsp
Cardamom powder 1 tsp
Vanilla extract 1/2 tsp
Baking powder 1/2 tsp
Salt a pinch
Pistachios 15 shelled for topping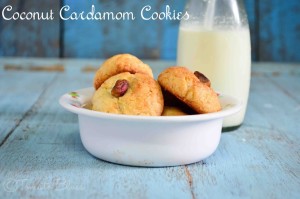 Directions
Preheat your oven to 180 C.
In a mixing bowl, cream together sugar and butter until fluffy.
Add vanilla to this and whisk again.
Now add cardamom powder, milk,coconut and flour. Mix well until the dough just comes together.
If you find the dough crumbly, add some more milk but not more than 1/2 tbsp.
Grease a baking tray with parchment paper.
Now, scoop portions out of the dough using a cookie scoop or a tablespoon.
Shape into balls.
Place on baking tray.
Gently press a pistachio each on a cookie dough ball.
Bake for 15 mins or till tops turn golden.
Let cool completely before removing from the baking tray.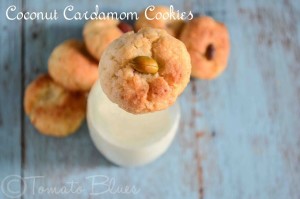 Serve with hot tea or cold milk.