I know its awfully early for diwali but then the festive spirit is infectious and so i thought i might as well get a hands on over the entire festive scenario. Starting this week, you will have delicious diwali delights on my blog either posted by me or a wonderful guest blogger. On that note, let me introduce you to a splendid blogger with some amazing talents. She s Nupur of UK Rasoi and she takes away the credit of being my first guest blogger. Uhhh what can i say about Nupur? Calling her versatile or fabulous or a brilliant photographer wont suffice. She s one of those people who makes sensible food but blogs about it in an exceptional way with an extra ordinary sense of photography. All her pictures are drool worthy and she s one of those bloggers who will make you run into the kitchen and start cooking pronto. I wont say anything more. I ll let Nupur herself wow you all with her post. Over to the utta gal!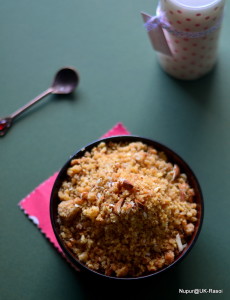 This Blogging world is amazing !! Only those who resides in can understand the thrill of posting something you have prepared and seeing the world appreciating your work. Meeting fellow Bloggers "virtually" and befriending them is one of those exciting bonuses it provides you. Participating in events and contests keep the fun going, and similarly the honor of writing Guest Posts for other Bloggers maintains the serenity and blooming relations. Hence when Anusha of Tomato Blues asked me to write a guest post for her Blog, I was more than glad to do that for her.
Anusha has a wonderful Blog ( Of Course, now since you are here reading this, you already are aware of it by now :). I especially like the captivating name and fascinating layout. Anusha wanted some post related to the festive theme going around and I recently had prepared this Choorma as a dessert for my Husband's birthday Party.
Choorma is basically a Rajasthani/Marwari dessert traditionally eaten along with the Combination of Daal & Baati. Its a very fulfilling and heavy dessert honestly and requires a lot of Ghee to prepare. Usually eaten in the form of Laddoos, I enjoy it just as it is. This might be the second time in my life ever that I made this, first being the time when Mum showed me how to. Although it does take a little more time and effort than the usual list we have, but then once in awhile its worth. And yes, the list of Ingredients is short, if that helps 😉 Recipe For Churma
Ingredients:
2 cup Whole Wheat Flour

½ cup Milk

2 cups Ghee

½ cup of Oil

2 cups Caster Sugar

1 tsp Cardamom Powder

½ cup chopped/ pound nuts (Almonds, Cashews, Pistachios)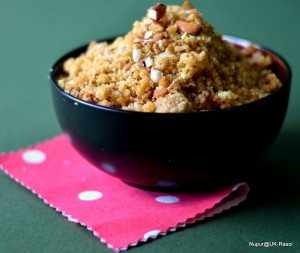 Sift flour in a bowl and mix ½ cup Ghee with fingers it till it gets all crumbly. Start kneading it in the form of a semi-soft dough with the help of milk. Avoid water if you can and use greased palms to knead for a soft dough. Keep aside for half an hour at least.

Now, make small balls or cylinders out of this dough. Heat 1 cup ghee along with oil in a Wok and start frying these cylinders into it until light brown. Fry them in 3-4 batches and keep on a paper towel to absorb extra oil. Allow them to cool a bit so that you can handle by naked hands.

When the chunks gets cooler, run them in a mixer to crush them in a powder, like semolina but courser. It should not be like a powder, its important.

Now heat the remaining ghee into the same wok and pour in this powder into it. Cook this mixture at low-medium flame for 10-12 minutes. This will turn further brown and will start giving nicer aroma.

At this point, add sugar and cardamom powder to it along with the chopped nuts and keep stirring till next 8-10 minutes till all sugar gets dissolved completely.

Turn off the heat and serve with a spoonful of Ghee on top…. And then run extra 15 minutes everyday for a month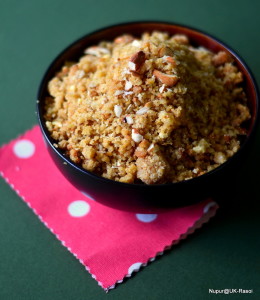 Although I have clicked the pictures with just the powdered Churma, I did mould it into Laddoos after the Party. For Laddoos, just grease the palm and use warm Churma Powder to make round balls. They will get harder when cool down hence take care and do not reduce the quantity of ghee in the preparation.

This can be preserved uptil 10 days in an airtight container and upto a month in the fridge. Do not forget to warm it up before eating, it tastes best like this