How To Make Chocolate Raspberry Banana Bread?
Chocolate Raspberry Banana Bread- Healthy Banana Bread With  Fresh Raspberries &Chocolate. Eggless Baking.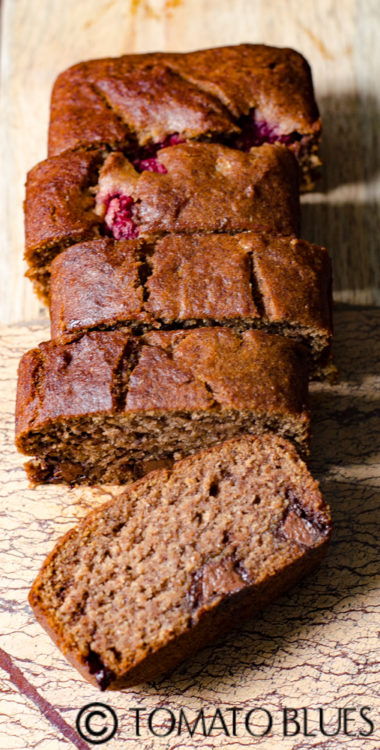 Chocolate Raspberry Banana Bread is an egg free quick bread that can be made in ten mins. Ok, it takes a while to bake. But i m just talking about the prep time here. Agreed? Good.  So, this means this banana bread is a super quick snack and it doubles up as a breakfast on the go. Literally all over ripe bananas meet the fate of a banana bread or some nice cream in my house. I ll talk about nice cream some other day. You see, we cant discuss everything delicious in one single day. After all, you need to soak up the flavors of this chocolate raspberry banana bread. I never tag my recipes as healthy. But i ll make an exception in the case of this chocolate raspberry banana bread.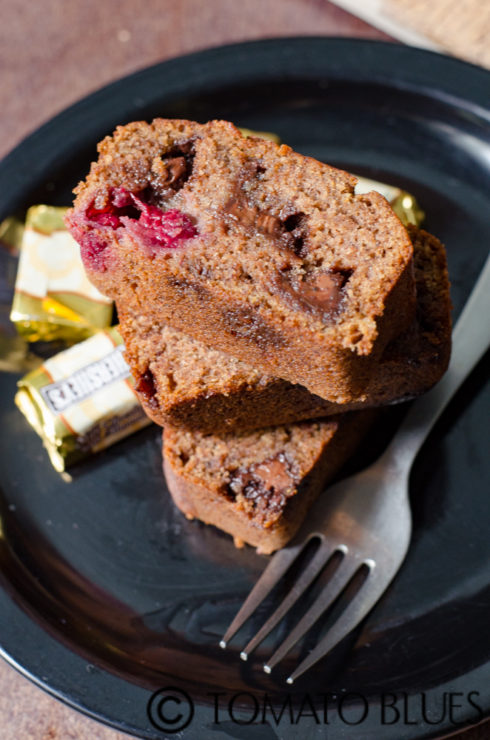 The second new ingredient that i tried this month is barley flour. I love barley. The grain is full of nutritive value and yet is so under utilized. Many people are under the notion that barley is meant for people who are recovering from illness. Let us not forget that barley is a great diuretic. While many Indians use pearl barley as a whole, very few people walk that extra mile to explore the goodness of barley flour. Barley flour is a wonderful substitute for regular flours in baking. Yes, it may call for a little more moisture because of its dense texture but nevertheless, it lends a rustic and an almost homey feel to your baked goodies. I used barley flour in place of the regular wheat and All purpose flour here in this chocolate raspberry banana bread and i must admit the flavor and the texture simply was wow. We did not miss anything and this made a fantastic breakfast for us for three days back to back. If you live in India and are looking to buy good quality barley flour, then check out the  Godrej Nature Basket website. If you are in Singapore and would love to buy barley flour, then Bob's Red Mill flour in available in NTUC  Fairprice outlets and Mustafa
This recipe has been adapted from here. There are many things that i want to share before i begin writing the recipe for this chocolate banana raspberry bread. When i began baking, i forgot to bring out chocolate chips. When i had finished mixing the batter, i realised that the chocolate chips were not around. And i frantically searched for that bag of chips for nearly ten mins, all the while blaming Mr.P and Lil  A for the prospective banana bread disaster in the eventuality that the bread does not get into the oven in the next ten mins. Sigh! But somehow those chips did not appear. They still have not appeared yet. And so, i used up my stash of Hershey's chocolate nuggets in place of regular chocolate chips. And believe me, that is the best banana bread thing that ever happened to me. However, you are free to add whatever form of chocolate you choose. But please, let there be chocolate. I have used fresh raspberries here in this chocolate raspberry banana bread. Frozen may not work well. However you may use other types of berries like strawberries. Also, this banana bread does not have the regular sugar but uses coconut sugar instead. So, the result was this amazing dense, moist and rustic almost tropical chocolate raspberry banana bread. Use any non dairy milk and vegan chocolate to make this a vegan chocolate raspberry banana bread. This is my first attempt using flax eggs in baking. And i m absolutely charmed by the results! And now, because i believe that i have yapped enough about this banana bread, shall we check the recipe?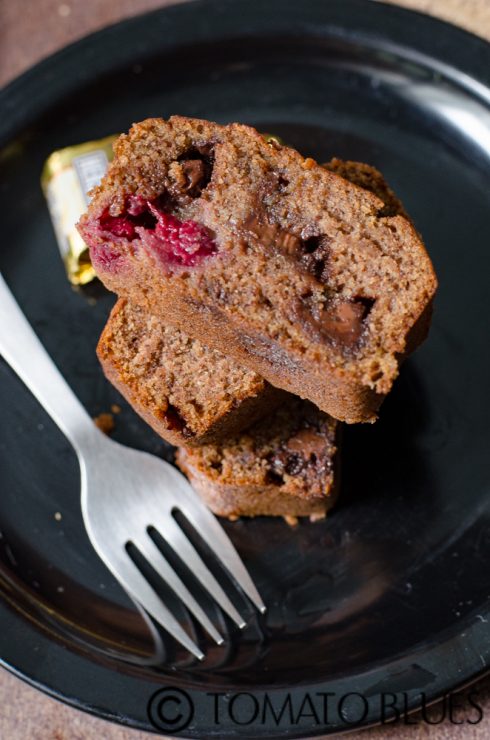 Recipe For Chocolate Raspberry Banana Bread With Barley Flour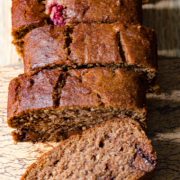 Print Recipe
Chocolate Raspberry Banana Bread With Barley Flour
Chocolate Raspberry Banana Bread - A healthy banana bread using barley flour and fresh raspberries. Can be made vegan. Freezes well. Thaw overnight in the refrigerator and bring to room temperature before serving.
Ingredients
Barley flour 1 cup

Bananas 4 medium mashed with a fork

Flax meal 1 tbsp

Fresh thick yogurt 2 tbsp

Vanilla extract 1 tsp

Cinnamon powder 1/2 tsp

Water 3 tbsp

Baking soda 1/2 tsp

Baking powder 1/8 tsp

Coconut sugar 1/2 c

Raspberries 1/2 c

Canola oil 1/4 c

Hershey's chocolate nuggets 10 broken or

Chocolate chips 65g

see notes
Instructions
Preheat oven to 180 C.

Grease two mini loaf pans with oil or butter. I used non stick pans for this.

Combine flour, baking soda, baking powder, cinnamon and salt in a bowl and mix well using a whisk.

Place the raspberries in this and toss well.

In another large mixing bowl, place the mashed banana, sugar, oil, yogurt and vanilla and mix well until you see no streaks of yogurt. I recommend using an electric whisk for this.

Mix 1 tbsp flax meal with 3 tbsp water using a whisk and add this to the banana mixture.

Mix well.

Now, add the flour and raspberries mixture to the wet mixture and fold in gently using a spatula until you see no more streaks of flour.

Add chocolate nuggets to the batter and mix well.

Pour the batter into the greased pans till 3/4th full.

Bake in the preheated oven for 30 mins or until a skewer inserted comes out clean. This will not take more than 35 mins.

Let cool completely once done.

Slice and serve.
Notes
1. You may use normal white sugar in place of coconut sugar. My bread is brown because of the sugar i have used.
2. If you choose to bake this as a single loaf in a regular 9" by 11" pan, this will take longer to bake, that is, anywhere between 40 to 50 mins. The bread may also brown too much if you bake it this way. I suggest covering the pan with foil after the 30 min mark if you choose to bake this in a large loaf pan.
3. Use 3 tbsp of any non dairy milk and 65g of vegan chocolate chips to make this a vegan bread.
4. I insist on tossing the raspberries in the flour to prevent them from sinking.
For Instant Pot & Air Fryer Recipes
Instant Pot timings may vary based on your geographic location. Air fryer settings and timings may vary based on the capacity and the model of the Air fryer.
Disclaimer
Nutrition values are provided here as a courtesy and are only a rough guide. Please consult a health care provider if you have any concerns.