Chocolate and cupcakes. No one can beat that. I mean, chocolate cupcakes!! Cant get any better, right? Anyway, coming to the point, I somehow do not believe in Mother s day or Father s day or husband s day. I mean if that exists. I m not sure. But i mean do we really need a day to celebrate our loved ones. Especially your mom. Every individual thinks the world of her mom.Correct me if i am wrong. Oh! but i m doubly sure here. In fact more than doubly sure!! For me every single day of my life is Mother s day, Father s day and Husband s day. I think of them every moment. And i thank God everyday for blessing me with an abundance of love. I ve never felt love lost in my life. Oh.. its not like i dint have my teenage tantrums or something. I was stubborn as a mule and as rebellious as an army of soldiers when my mom did tell me something. Those telling me off occassions were rare. And i ve had my share of duels with my mom over a pink frock or a sleeveless top. But at the end of all that, my mom still manages to be a beautiful soul who touches my life in every way possible. In spite of the zillion rows we have, we still talk on the phone for hours on end. With my father in the background reminding us that the phone service provider may get annoyed and disconnect our connections. Fat chance of that happening! She was a working mom but that did not stop her from teaching me to do the right things or bringing me up as a good human being who respects others' feelings. Sure, i dont have a fat pay check. But like amma says, every one s special in some way and you neednt bring home a hefty pay check to be special. I am widely admired by a lot of people in the circle of my friends and family. While my mom stands back and watches me with a smile, i know that its my mom who deserves all that oohing and aahing. I may not tell her that she s the bestest mom everyday. But i love her and i am grateful beyond words to her for her timely bits of wisdom, for holding on to the rocky boat,for her thoughtfulness to pick up a bundt pan for me and then some more scrunchies and earrings. Even though she knows i have a treasure chest full of them.And for letting me wail and cry!! I am proud of my mom and i admire her for bringing me up as a decent human being. Above all that, i m thankful to God for giving me a mom who manages to be there for me all the time. No matter i want to cry or laugh.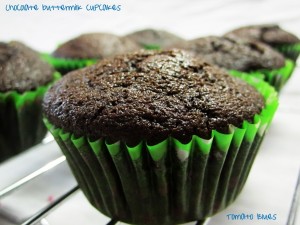 My mom doesnt go gaga over cakes and cookies. Not that i do. But then, i made them because my mom s like this cake. A lil sweet, a lil sour, a lil bitter and a lil salty. All in the right amounts. That you simply cant ignore any of the bits and yet you will get a taste of every bit of flavor there s in the cake. All moms are like that in their own way. And we dont need a day to celebrate motherhood. We just need to make the time.
Recipe For Chocolate Cupcake
( Learn how to make Chocolate cupcake, a flavor loaded easy cupcake recipe)

Prep Time: 20 mins


Cook Time: 20 mins


Yields 12 to 14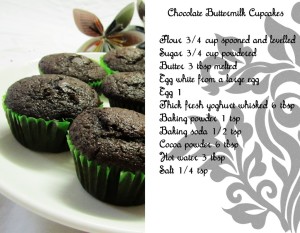 ( The original recipe calls for buttermilk. But i replaced it with yoghurt and it worked like a charm. The cakes were moist, soft and lovely. They rose beautifully too.In case you want to use buttermilk, use 6 tbsp of it instead of the yoghurt. You can frost these with whipped cream or cream cheese or even some dulce de leche.)


What You Need?
Flour 3/4 cup spooned and levelled
Sugar 3/4 cup powdered
Butter 3 tbsp melted
Egg white from a large egg
Egg 1
Thick fresh yoghurt whisked 6 tbsp
Baking powder 1 tsp
Baking soda 1/2 tsp
Cocoa powder 6 tbsp
Hot water 3 tbsp
Salt 1/4 tsp
Muffin cups for lining the tray
How To Make It?
Preheat the oven to 180 c.
In a mixing bowl, add the flour, salt, baking soda and baking powder along with the sugar and combine well. I sieved this twice. Set aside.
Now, combine the cocoa and hot water to make a thick paste.
In another bowl, add the melted butter, cocoa paste, yoghurt, egg white and egg and whisk until just combined.
Now add the flour mixture to this cocoa mixture and slowly combine until well incorporated. You can do this in an electric mixer on low speed for about 2 mins.
Spoon about 2 tbsp of batter in to each muffin cup.
Bake for 20 mins or until a skewer inserted comes out clean.
Let it cool on a wire rack completely before removing them.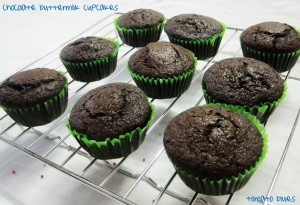 Once cooled, enjoy them with a scoop of ice cream or eat them up as they are.
Sending a bite of these to I Love Baking 4