Being a south Indian, no one can ever drive home the concept of eating an energy bar when hungry, to me. Especially being hungry in the evenings. No. For me, being hungry augurs platefuls of idlies or vadas or sometimes, a bonda or two.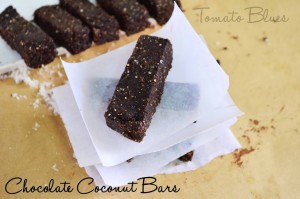 I can never, ever satiate my hungry tummy by nibbling on a piddling sweet bar. Well. That would have been the case a few years ago. You know how the story is, dont ya? You grow up. You start to act responsibly. And so you start eating responsibly too. That s what happened to me too. Only i realised that eating responsibly doesn't necessarily mean eating tasteless food and that i can always satiate my tummy with an energy bar. I dont make such stuff very often. But when i do make it, i walk an extra mile to make sure that the bars are made yummy in every which way possible. This month, The Groovy Gourmets went public. 21 of us gourmets are cooking along and we are all being inspired by all the vegan deliciousness on Roxana s Home Baking. Considering that Roxana s actually an avid baker, i must have baked these Pani Popo, a hawaiian bread recipe. But then, i had had too much bread the last week and i really wanted a no cook recipe. So i picked these chewy chocolate coconut bars, which is probably the easiest recipe on her space and the yummiest no cook recipe i ve come across. So, i have to say, all in all, a win win situation. As for the bars, they are all gone.
Recipe For Chocolate And Coconut Bars
( No cook raw energy bars made with vegan ingredients)
Prep Time: 20 mins
Cook Time: Nil
Level: Easy
Source:Adapted from here
Makes about ten to fifteen 4″ bars
Ingredients
Freshly grated coconut 1/2 cup
Pitted dates 3/4 cup chopped finely
Almonds 1/2 cup
Walnuts 1/2 cup
Raisins a handful
Cocoa powder 2 tbsp
Coconut oil 2 tbsp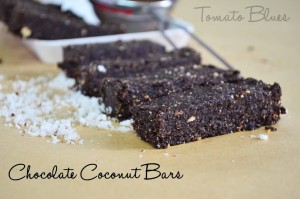 Directions
Toast your nuts. I did this on the microwave and totally, totally enjoyed the aroma of the nuts toasting. So, please do yourself a favor and toast your nuts on high for about 2 mins in the microwave. And let them cool completely. Make sure you toast a few extra for you will munch on them too. And please feel free to pick your nuts but i wouldnt recommend cashews.
Once cool, place them in a blender along with coconut and grind coarsely.
Remove and set aside.
Now, add the pitted dates, raisins and cocoa and grind till the mixture comes into a ball.
Once done, add the coarsely ground nut mixture and coconut oil to this and blend again till the mixture comes into a ball.
Will take a few mins, this grinding to a ball thing, but rest your blender in between, scrape and blend for 4 to 5 mins and you must be done.
Once done, line small baking tray or a deep dinner plate with parchment paper.
Spread the mixture on to the tray evenly.
With the help of a flat bottomed plate or a bowl, gently press down the mixture to even it out.
Refrigerate for about 6 hours to set.
After 6 hours, remove from tray, cut into squares.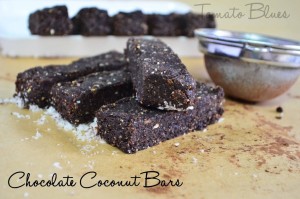 What are you looking at? Start digging in!
Here s the link up of all the gourmet posts that we did this month.