The first time i ate
Chili Idli
back home, i was twelve and i did not fancy idlies much. Had i known they were idlies, i wouldn't even have bothered to take a look. But idlies disguised in fiery indo chinese flavors sure did flatter the twelve year old me. Chili idli is something that i still order when i go to Annapurna, probably my favorite restaurant in the whole universe. Of course, they cater very well to that south indian in me. I recently made more
idlies
than i could manage to eat. Mr.P wanted dosas that day and so we were left with more idlies than two could eat at once. While i did want to make scrambled idli upma, this chili idli craving kicked in and so i caved.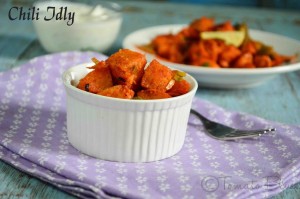 I made it for a lunch thali that i served. And Mr. P dint even realise that its idli. Lets recall for the millionth time that Mr.P religiously hates idlies. It tasted delicious with some onion raita and it even complemented the other dishes in the thali.
Recipe For Chili Idli
( Rice and lentil cakes stir fried the chinese way)

Prep Time: 10 mins
Cook Time: 20 mins
Serves 2 generously
Allergy Info: Vegan

Ingredients
Idlies 4 to 5 cut into 8 pieces each
Onion 1 large chopped finely
Tomato 1 large chopped finely
Green bell pepper 1 medium chopped finely
Spring onions 1 stalk chopped finely ( both white and green)
Ginger garlic paste 1 tsp
Soy sauce 1 tbsp
Chili sauce (red or green, both work well) 2 tbsp
Fennel seeds 1 tsp
Coriander powder 1/2 tsp
Oil 1/2 c
Salt to taste
For Garnish
Spring onion greens 1 tbsp
Onion rings a few
A lemon wedge
Directions
Heat 1/2 c oil in a pan.
Fry the idli pieces till golden. Drain on a kitchen towel and set aside.
Remove all of the oil from the pan except for maybe a tbsp.
Add the fennel seeds and once they crackle, add the onions and spring onions now..
Fry the onions till transparent and add the capsicum.
Saute for 30 secs.
Now, add the ginger garlic paste and saute for another 30 secs.
Follow with coriander powder and cook for 30 secs.
Now, add the tomatoes and mix well. Cook till oil separates from the mixture.
Add the sauces and mix well.
Add the fried idlies and salt.
Mix well.
Cook further for a min.
Garnish with chopped spring onion greens.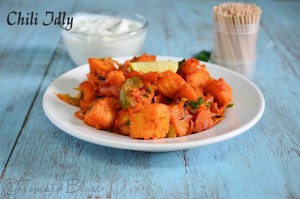 Serve hot with a lemon wedge and onion rings. We enjoyed it with some onion raita on the side.