I am going to sound like a politician in my next few sentences but i really dont know how else to put it. India is a country that accepts things fast and this applies to everything from clothes, gadgets to food. Food, mainly. I still remember the time when pizzas became all the rage and it still is one of the most liked foods by many Indian children. While we welcomed Italians and their pizzas, we dint say no to the Chinese either. We have chinese everywhere here. Only, it s not the way a Chinese would really eat. It s the way Indians would eat Chinese. The original recipes have been tweaked ( God knows how many times!) to suit Indian palates and needless to say, the word chinese is etched strongly in all food lovers' minds. Today, Indo Chinese food is widely sought and the most common of all are the
hakka noodles
. While everyone thinks that making noodles calls for a list of ingredients that is as long as an elephant s trunk ( Ok, so i dint want to mention the Nile, i wanted something realistic this time.), it s definitely not that complex. You will be surprised that you can make an equally good bowl of noodles without much chopping, a million sauces and kinds. This recipe for Chili Garlic Noodles is going to prove just that.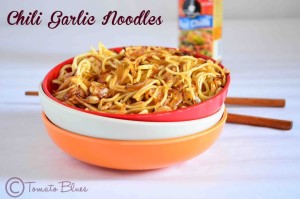 Recipe For Chili Garlic Noodles
( Noodles flavored with red chilies and garlic)

Prep Time: 10 mins
Cook Time: 15 mins
Serves 2

Ingredients
Vegetable Hakka Noodles 1 packet ( I used Ching s)
Onions 2 med sliced thinly
Garlic cloves 2 minced finely
Red chili sauce 1/2 tbsp
Dark soy sauce 1 tps
Schezwan fried rice masala 1 tsp ( I used Chings, 5 bucks for a sachet)
Sesame Oil 1 tbsp ( Feel free to use vegetable or olive oil)
Salt to taste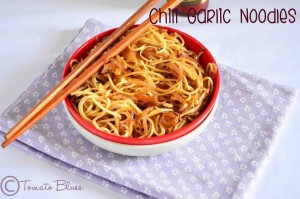 Directions
Cook noodles according to packet instructions. Remember all noodles are al dente. So cook them for a maximum of three mins and not more that.
Drain the water and wash the noodles under running water.
Now, wash the noodles with cold water and let the water completely drain.
Heat oil in a pan. I used sesame oil to give some enhanced taste but feel free to use any oil.
Add onions and garlic and fry till light brown.
Now add the schezwan fried rice masala and cook for 30 secs.
Add the sauces and mix well.
Add salt keeping in mind that the sauces already have some salt in them
Now, toss the noodles into this and turn the flame to the lowest.
Mix well until the mixture coats the noodles well.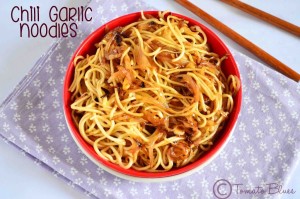 Serve hot with ketchup. Tastes best when eaten hot.