How To Make Chia Berry Popsicles?
CHIA BERRY POPSICLES- HEALTHY BREAKFAST STYLE POPSICLES WITH CHIA SEEDS AND BERRIES. VEGAN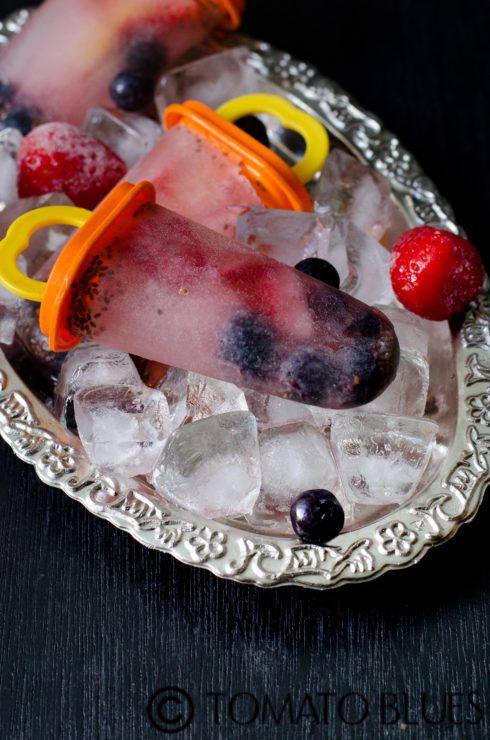 Chia Berry popsicles are something that i froze on a whim. It has been very hot here in Singapore for the last couple of weeks. As such, i m a cold breakfast lover. I would opt for a bowl of overnight oats or chia pudding on a hot day in place of the customary idli and dosa. These chia berry popsicles are the result of smoothie bowl leftovers. I put together a vegan smoothie bowl with some refreshingly sweet tender coconut water and berries. It was a detox smoothie of sorts. And i was left with a cup of the tender coconut water. As for berries, i freeze strawberries and blueberries to last me a year. You can also freeze strawberries easily at home using this method.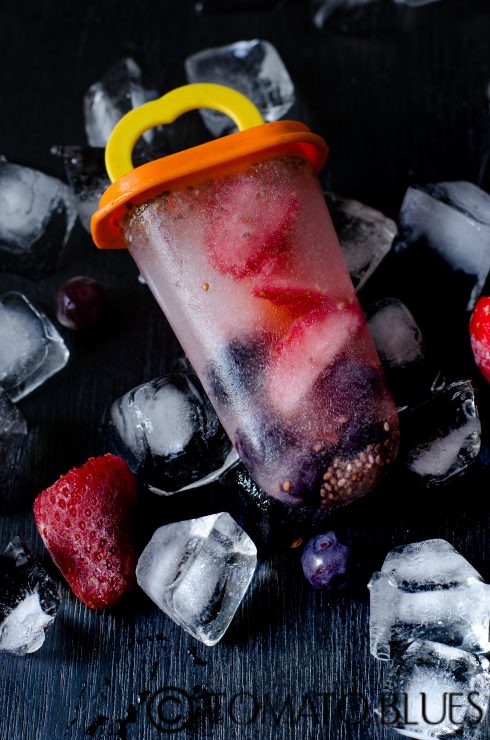 And so when i really did not know what to do with the tender coconut water( because i had had enough of smoothies and i did not want to drink it as is), i decided to make some chia berry popsicles. These popsicles are a breakfast kind of popsicles. Once Mr. P makes his exit from the house and i have a quiet house to myself, i simply open my freezer, pry these pops out of their vibrant orange moulds and begin licking away. Ah! Bliss. These were enjoyed by the little Miss in the house too. So i m sure kids will love this too. Needless to say, these berry chia popsicles make a wonderfully healthy no sugar added snack.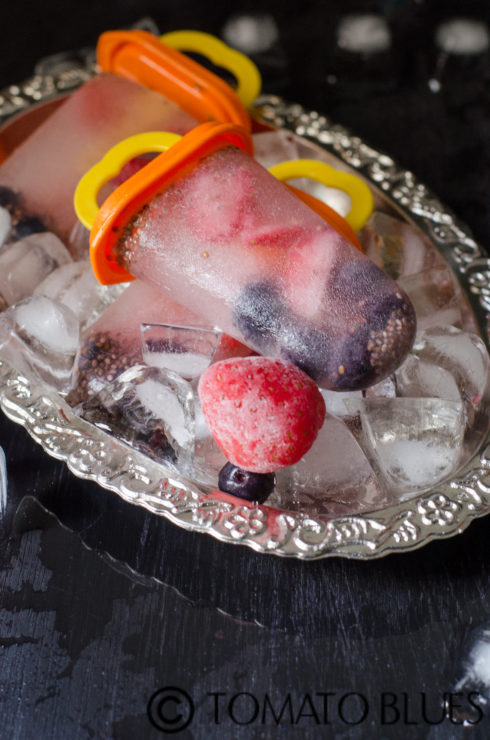 Recipe For Chia Berry Popsicles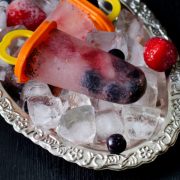 Print Recipe
Chia Berry Popsicles
Berry Chia Popsicles-Delicious and refreshing popsicles with the goodness of chia, flavors of berries and sweetness of tender coconut.
Ingredients
Strawberries 6 sliced thinly

Blueberries 1/4 c

Chia seeds 1 tbsp

Lemon juice 1 tbsp

Tender coconut water 1 cup
Instructions
Combine chia with 1/4 cup water and let rest for an hour to make chia gel.

Once done, combine the remaining tender coconut water, lemon juice and chia gel.

Place a couple of blueberries and strawberry slices in each popsicle mould.

Pour the tender coconut water mixture into the moulds till 3/4th full.

Place in a deep freezer and let freeze till completely frozen.

Enjoy cold.
For Instant Pot & Air Fryer Recipes
Instant Pot timings may vary based on your geographic location. Air fryer settings and timings may vary based on the capacity and the model of the Air fryer.
Disclaimer
Nutrition values are provided here as a courtesy and are only a rough guide. Please consult a health care provider if you have any concerns.