We,
cookies
, have been blog hopping into each other s space the past few weeks. The last time, i cooked off from
Jay
. I made these amazing
Microwave milk peda
from her space. Its a month gone by now and its time for one more cook off from Roshni s space.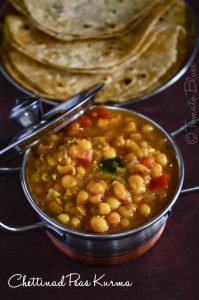 Roshni s space is a treasure trove of recipes from across the globe. But then, living in UK, has made her a global desi and she s got an array of traditional Indian recipes in her repertoire. I found each of her traditional take on food delightful and made quiet a few dishes from her blog. While the No oil Naga chutney tickled our tongues, her
broccoli poha
gave a much needed respite from the ho hum poha that s usually made. But what left us licking our fingers copiously was this
chettinad style green peas masala
. Full of flavors and mildly spicy, it was such a treat to tuck into.
Recipe For Chettinad Peas Kurma
( Dried peas cooked in indian spices- vegan and gluten free)
Prep Time: Overnight to soak the peas
10 mins for the rest
Cook Time: 30 mins to cook the peas.
15 mins to do the rest
Level: Intermediate
Serves 3 to 4
Ingredients
Dried peas 1 cup
Onion 2 medium chopped finely
Tomatoes 2 medium chopped finely
Garlic 4 cloves minced
Ginger 1″ piece grated
Green chili 1 minced
Curry leaves a sprig
Oil 2 tbsp
Mustard seeds 1 tsp
Cumin seeds 1 tsp
Salt to taste
Spice Powders
Coriander powder 2 tsp
Cumin powder 1.5 tsp
Chili powder 1 tsp
Turmeric powder 1 tsp
Pepper powder 1 tsp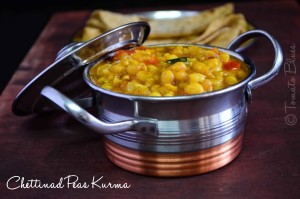 Directions
Soak the peas overnight with 5 cups of water.
The next day, drain the water and pressure cook the peas with 3 cups of water and salt until fork tender or slightly mushy
Once done, drain the water and reserve.
Heat oil in a pan.
Pop the mustard and cumin seeds and add the chopped onions, green chili, ginger, garlic and curry leaves,
Saute till the onions turn a golden brown.
Now, add all the spice powders except the pepper powder.
Mix well and cook for a min.
Add the chopped tomatoes next and mix well.
Cook till oil separates from the mixture.
Add the pressure cooked peas and mix well.
Add about 1/2 cup of the reserved water and salt and mix.
Simmer for 5 mins.
Add the pepper powder, mix and simmer again for 3 mins.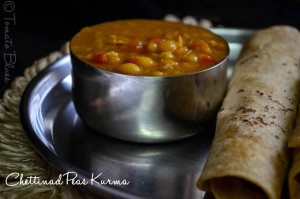 Serve hot with rice or rotis or even puris.