A while ago, i was making all single serve breakfasts. Mr.P was out on some official work and he was not around. So it was the perfect excuse to make something that satisfies my palate. After making this delicious
roasted cherry tomato pesto
, i had some tomatoes left over that i wanted to use up. And this thought came upon me only that morning when my tummy was growling for a scrummy breakfast. I decided to make a frittata for one. I enjoyed the
frittata
so much that i immediately regretted not making more. This frittata can easily be doubled or tripled and makes a delicious brunch too.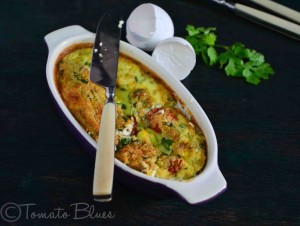 Recipe For Cherry Tomato Frittata
( Frittata with roasted cherry tomatoes and veggies)

Prep Time: 10 mins
Cook Time: 40 mins
Serves 1
Allergy Info: Nut free

Ingredients
Eggs 3 medium
Bell pepper 1 small chopped finely
Roasted cherry tomatoes 1/4 c
Milk 1/4 c
Parmesan cheese 2 tbsp grated
Pepper 1/2 tsp
Salt to taste
Coriander leaves 2 tbsp chopped finely
Oil 1 tsp
Directions
Preheat oven to 180 C.
Grease a deep baking dish with oil.
In a bowl, add eggs, milk, cheese, pepper and salt and whisk till frothy and light. Add coriander and mix well.
Place bell peppers and tomatoes in the baking dish and spread evenly.
Now pour the egg mixture over the bell peppers and tomatoes.
Bake in the oven till completely cooked and brown on the top.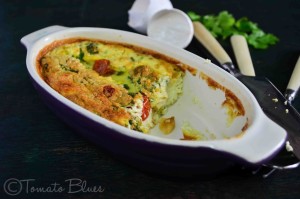 Serve hot or warm with some toast.