Cherries. For some reason they cheer me up.May be its got to do with the name. And the color too. Yeah color definitely. And then that sweet sour zing that you get when you bite into one of them. Well, isnt it obvious that i m a cherry lover. I eat them by the boxes. Everytime i open the fridge, i pop a few of them into my mouth. There was a time when i ate 3 boxes of them in a day. That much s how much i love them.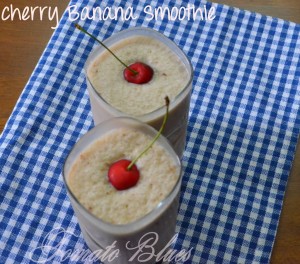 Cherries having become ubiquitous in Baroda, Mr.P picked up a huge box for me the other day. And immediately i was delving myself into a world of gastronomical utopia. Cherry cobbler, cherry pie, cherry smoothie. What not? So here comes cherry and banana smoothie.Quick recipe. Breakfast menu. And will be gone in a shot.

Prep Time: Under 20 mins


Cook Time: Nil


Makes 2 tall glasses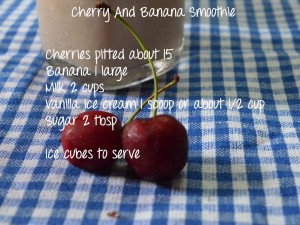 ( This s a versatile smoothie. You can skip the ice cream and add condensed milk. Replace about 1/2 cup of the milk with 1/2 cup of yoghurt. You can even add a mango instead of a banana. See what i mean?)


What You Need?
Cherries pitted about 15
Banana 1 large
Milk 2 cups
Vanilla ice cream 1 scoop or about 1/2 cup
Sugar 2 tbsp
Ice cubes to serve
How To Make It?
Place the cherries, banana and ice cream in a blender and blend to a smooth puree.
To this, add the milk and the sugar and blend again.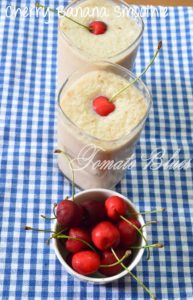 Serve chilled with ice cubes.