I had a stand in cook for a few days. I can see many a raised eyebrow but yes! i did and i am not very proud of it. I hate it when my kitchen is invaded by a soul who does not know that cooking is the only science which always makes you happy. No matter how many times i tell her that she had to make 12 rotis, she had to ask this question religiously everyday. The irony is she never made that many. She always made more. And that day, she had stretched the limit and made 20. 20 for 2 people is too too many. I mean, do i look like the kind who eats 10? Please say no, atleast think no. Otherwise i ll be heartbroken. So what does one do with leftover chapathis? Search the web for leftover recipes and make Chapathi Masala Noodles. So down to business.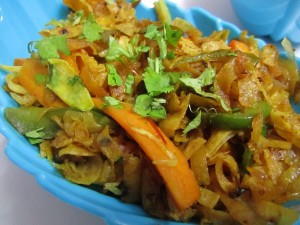 Preparation Time: 10 mins
Cooking Time: 10 mins
Source: www.tarladalal.com
Serves: 2


What you need?
6 to 8 leftover chapathis cut into thin long strips
1 big onion cut into half slices
2 medium size tomatoes chopped finely
1 medium size carrot cut into thin long strips
1 small capsicum cut into thin strips
1 tsp ginger garlic paste
1/2 tsp turmeric powder
1 tsp pav bhaji masala
1/2 tsp black salt
1/2 tsp chilli powder
Salt to taste
Oil or butter 2 tbsp
For garnish:
Cilantro chopped fine 2 tbsp
Lemon wedges for serving

Heat the oil or butter in a pan. Saute the onion till pink. Next, toss in the ginger garlic paste. Now, add the tomatoes. Saute for another 5 mins or until oil separates. Add all the spice powders along with the black salt and salt and mix well.
Now,add in the carrots and capsicum. Mix well. Saute for another 3 mins.
Add the chapathi strips and combine well.
Garnish with cilantro and serve hot with lemon wedges or plain raitha.


Makes a nice evening snack or even breakfast.


Note: The original recipe does not call for adding carrots but i did because i wanted more veggies. Even, peas and beans can be added. Ginger garlic paste is also not in the original recipe but i liked it this way. You may substitute it with 2 cloves of garlic instead.