Sigh!  I had Cauliflower Masala Dosa dreams last night. I know i ve said it before. I know i m obsessed about it. But i m going to obsess one more time. I m from Coimbatore and Annapoorna Hotel chain makes the best dosas aka roast in the world. Sorry if you beg to differ. Lets just that keep it that way. My world of dosas is a tiny tiny world and i would like to keep it that way. I ve a million memories of eating the different varieties of stuffed dosas on their menu. While the authentic potato stuffing dosa was an all time favorite, i always used to opt for a paneer masala dosa or this cauliflower masala dosa. I love cauliflowers and i love my dosas. So when the two of them come together, do you think i ll pass up the opportunity?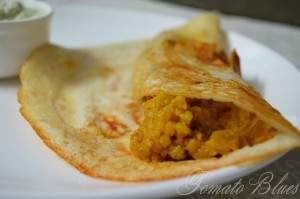 The recipe is just my attempt at recreating the dosa served at the hotel. I dont know if its made this way there but it almost tasted that way. It tasted heavenly with coconut chutney. And this makes a fabulous dinner idea.
Recipe For Cauliflower Masala Dosa
Prep Time: Under 20 mins
Cook Time: Under 20 mins
Yields 5 dosas
For The Dosa recipe, refer my previous post on Capsicum Paneer Masala Dosa.
For The Stuffing:
Cauliflower florets 2 cups cleaned,blanched and drained
Onion 1 large chopped finely
Tomatoes 2 large chopped finely
Ginger garlic paste 1 tsp
Dhania powder 1 tsp
Chili powder 1.5 tsp
Cumin powder 1/2 tsp
Garam masala 1 tsp
Turmeric powder 1/4 tsp
Fennel seeds 1 tsp
Oil 2 tbsp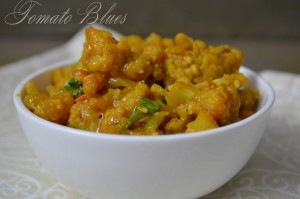 To Grind To A Paste:
Cashews 10 soaked for 10 mins in hot water
Garnish:
Cilantro leaves chopped finely 2 tbsp
How To Make It?
In a pan, heat the oil and add the fennel seeds.
Once they splutter, add the onions and saute till light brown.
Add the ginger garlic paste next and saute for 30 secs.
Next add in all the spice powders and the turmeric powder and saute on low medium flame for 30 secs.
Next toss in the tomatoes and cook till they turn mushy.
In the meanwhile, grind the cashews to a smooth paste by adding little water.
Once the tomatoes are done, add the cashew paste, cauliflower florets and salt.
Add about 1/2 cup water and cook till the water is evaporated and the mixture is thick.
Once done, garnish with cilantro leaves.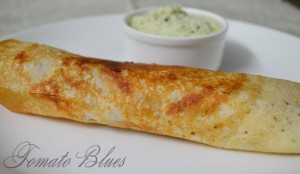 To make the dosa, spread a ladle of dosa batter on a heated tawa and cook until golden brown.
Drizzle oil and flip over and cook for about 30 to 45 secs.
Once done, spread about 3 to 4 tbsp of the stuffing on the dosa, roll and serve with coconut chutney.