How To Make Cauliflower Peas Pulao?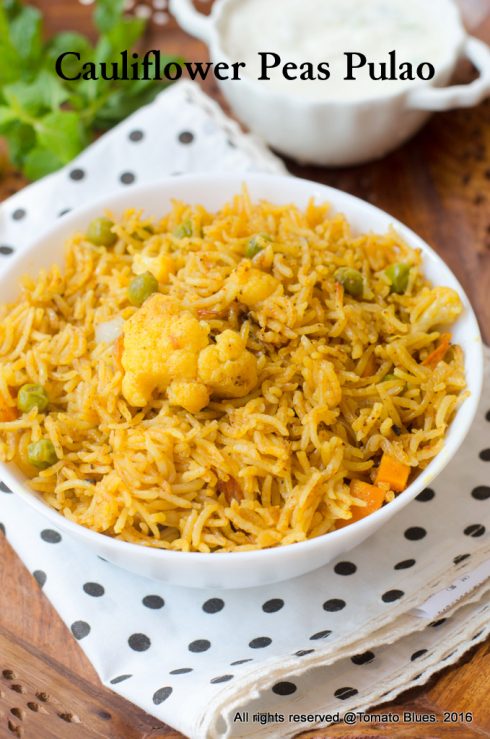 Cauliflower Peas Pulao came to my mind naturally when i opted to do this blogging marathon. Why? Because…My affair with cauliflower and peas goes way back. Like when i was 10 years old. I ve been in love with both of them, the curly haired cute head and the vibrant green round lil fella. I ve always liked eating roasted cauliflower florets by the bowls and peas… no asking.They used to disappear into my mouth in the same speed in which my mom shelled them or rather my grandma shelled them. I dont remember my mom shelling peas much. But grandma, yes i do. I can still visualize clucking her tongue in and out shelling peas, cleaning greens and sorting curry leaves in that tiny kitchen of hers. I used to sit next to her and as she admonished me fondly, pop those peas and sometimes peanuts too.. haa.. those were rare treats but yes i loved doing all that… and my affair with the florets and the green fellas has only been growing. All this literally translates to only one thing, Give me something which has cauliflower and peas and you wont hear a single word from me until i lick the plate clean. That s precisely what happened to this cauliflower peas pulao that i made as a part of the BM13. Its day 6 and zoom comes my cauliflower peas pulao for today. This cauliflower and peas pulao makes a good lunch box treat when combined with any raita and a simple salad.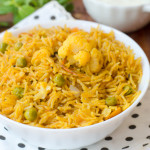 Print Recipe
Cauliflower Peas Pulao
Caulilfower peas pulao is a flavorsome one pot meal made with cauliflower and green peas and a spice paste. This pulao tastes delicious with some raita and chips
Ingredients
Cauliflower florets 1 cup

Shelled green peas 1/2 cup

Onions 1 sliced lengthwise thinly

Tomatoes 2 chopped very finely

Basmati rice or any long grained rice 1 cup soaked in water for 10 mins

Cloves

3

Cinnamon 1" bit

Bay Leaf 1

Fresh Curd 1 cup whisked well

Water 1 cup

Ghee 2 tbsp

Salt to taste

The Spice Paste:

Shallots or pearl onions 6 to 7 or 1 large onion

Green chili 1

Ginger 1/2" piece

Garlic cloves 2 to 3

Oil 1 tsp

Spice Powders:

Garam masala 1 tsp

Turmeric powder 1/2 tsp

Cilantro leaves 3 tbsp chopped finely for garnish
Instructions
Soak the rice in some water for 10 mins, drain and saute in 1/2 tsp of oil in a kadai. Keep aside.

Boil water in a large vessel with some salt. Once the water starts bubbling, add the cauliflower and the peas,turn off the stove and keep closed for 10 mins.

Now, heat the same kadai used to saute the rice and saute the pearl onions and green chili. Let it cool and grind it to a smooth paste along with ginger and garlic without adding any water. Set aside.

The cauliflower must be done by now. Strain using a colander and keep ready/

Heat a pressure cooker with some ghee. Add the cloves, bay leaf and cinnamon and saute for 30 secs.

Now, add the onions and saute till pink.

Next add the ground spice paste and saute on low flame for about 30 to 40 secs.

Add the tomatoes next and saute till they are mushy and oil separates.

Now, add the garam masala and combine well.

Add the cauliflower and peas and combine.

Now, mix the curd with 1 cup water and add to the mixture.

Gently mix and add the rice and salt to this.

Mix again, close and pressure cook for 1 whistle on low flame or alternatively, cook on stove top until done or cook in an electric rice cooker.

Garnish with coriander leaves and serve with any raitha.
Notes
You can also use any short grained variety rice for this recipe
For Instant Pot & Air Fryer Recipes
Instant Pot timings may vary based on your geographic location. Air fryer settings and timings may vary based on the capacity and the model of the Air fryer.
Disclaimer
Nutrition values are provided here as a courtesy and are only a rough guide. Please consult a health care provider if you have any concerns.
See what the other bloggers are doing on this page:  Blogging Marathon page for the other Blogging Marathoners doing BM#12