It is Pongal here. But i m posting a pulao. How off key can i get? If you have ever experienced that " Will burst out soon if i dont shout this out to the world" feeling after you cooked something which became a sell out success then you will understand my off key post. I recently went on a shopping spree. Stocked my cookbook library to the end of the racks. Dad sponsored. So a zillion thanks to him. I fell in love head over heels immediately with a few books that i bought and one of them was Malliga Badrinath s Rice recipes. As always, i had the urge to try every one of them in book but this one pushed me to the point of saturation. The book also made me think of
Lets Cook: Rice by Radhika
. I mean not that we dont eat rice at all. In fact its the other way round. Our day does not end without a spoon of hot steaming white rice with a little sambhar in our mouths. But an event on our favourite ingredient only excited me more.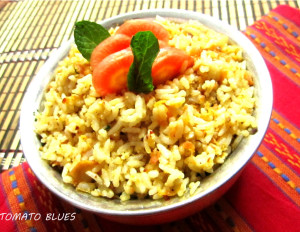 I had rice leftover from the last night. And plenty of carrots in the fridge. Which led to carrot pulao. When someone says carrots, all i can think of is the colour. The rich vibrant orange carrots makes it a delight to any kid. So off this goes to Kids Delight- Colourful Palette and Kalyani s Cooking With Leftovers Hosted By Veena
Prep Time: Under 20 mins
Cook Time: Under 20 mins
Source: Mrs. Malliga Badrinath s Rice recipes
Serves 3
What you need?
Cooked rice 2 cups
Onion 2 medium chopped finely
Carrots 4 medium peeled and grated
Cloves 3
Cinnamon 1 inch piece
Ghee or oil 2 tbsp
Salt for taste
To Grind Together:
Coriander seeds 1 tbsp
Grated coconut 3 tbsp
Dry red chilies 3
For Garnish:
Cilantro chopped finely 2 tbsp
Cashews roasted in ghee 10 nos.
How to make it?
Dry roast the coriander seeds and dry chilies in a kadai. Add coconut in the end and fry till light brown.
Let it cool and make a powder out of it. Keep aside.
Now, heat a kadai with oil.
Add cinnamon and cloves.
Add onions and saute till pink.
Next, add the grated carrot and saute till moisture goes away.
Add the ground powder next and combine well.
In a large mixing bowl, place the rice, salt and add the carrot mixture to this rice.
Combine well.
Garnish with cilantro and cashews and combine.
Serve with Tomato Raitha and Minty Raitha


Note: I ve tweaked the recipe a lil to suit our palette. You can also use peanuts for garnish
This goes to Magic Mingle 1 , Lets Cook Rice, Kalyani s Kitchen Chronicles Leftover cooking hosted by Veena and Kids Delight Colourful Palette By SriValli hosted by Veena