How To Make Carrot Peas Kurma?
CARROT PEAS KURMA- A FLAVORFUL CURRY WITH CARROT AND PEAS. VEGAN. GF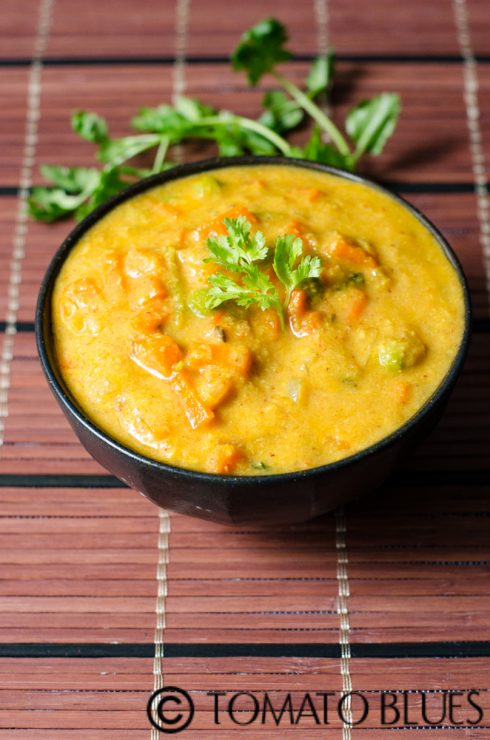 Carrot Peas Kurma happens on days when dinner is a challenge.While making breakfast and lunch is a breeze for me, the very thought of dinner sends me running into hiding like a cockroach who is quick to get out of the mistress s sight. Despite knowing around 20 accompaniment ideas, i still flounder when it comes to making something to go with those crispy dosas or those fluffed up pooris. Chapathis, however are the easiest.My job becomes a tad easier when there is coconut lying around in the fridge. Those times however are rarer in my pantry and i am always fretting and frowning, come dinner time. During the times that coconut is there. i am smiling wide because the prospects of making a creamy Kurma or a nutty chutney is brighter. This kurma came about on one of those lucky days when there was coconut aplenty in my pantry and peas were overflowing in my freezer.A handy recipe that can  beat the "What s for dinner?" stress. Go ahead and give it a shot.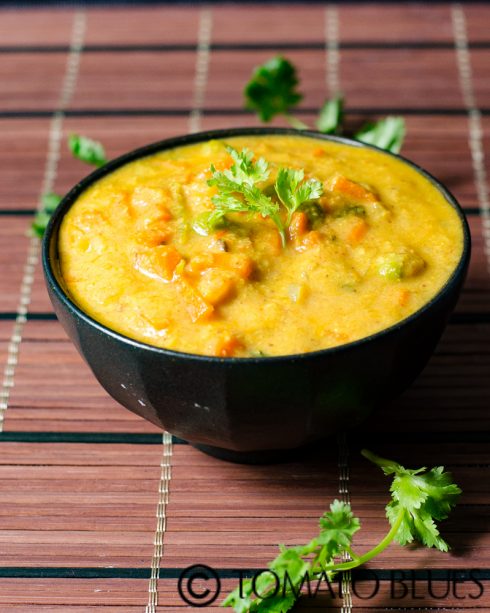 Recipe For Carrot Peas Kurma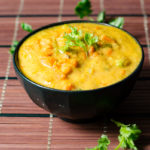 Print Recipe
Carrot Peas Kurma
Carrot Peas Kurma- flavorful robust curry with fresh carrots and peas simmered in a fragrant gravy. Vegan. GF. Tastes great with roti, chapati, poori
Ingredients
Carrots 2 medium diced

Fresh green peas 3/4 cup

Turmeric powder 1/4 tsp

Onion 1 large chopped finely

Tomatoes 2 medium chopped finely

Curry leaves a sprig

Cumin seeds 1 tsp

Salt to taste

Oil 1 tbsp

To Grind To A Smooth Paste:

Grated coconut 1 tbsp

Garlic cloves 3

Ginger 1/2"

Poppy seeds 1 tsp

Fennel seeds 1/2 tsp

Green chilies 4

Roasted gram dhal 1 tbsp

Chopped coriander leaves for garnish 2 tbsp
Instructions
Pressure cook the carrots and the peas for 2 whistles.

In the meanwhile, grind the ingredients to grind into a smooth paste adding little water.Set aside

Once the carrot and peas are done, drain the water and reserve.

Heat oil in a pan and add cumin seeds.

Once they splutter, add curry leaves and onions.

Saute till onions turn golden brown.

Now, add the turmeric and the tomatoes.

Saute till tomatoes turn completely mushy.

At this stage, add the cooked carrot and peas.

Combine well and simmer for a minute.

Next,add the ground paste and mix well.

Add salt and half of the reserved water and mix well.

Simmer for about 4 to 5 mins.

Garnish with coriander leaves.

Serve hot with pooris or chapathis. We enjoyed this creamy yummy kurma with pooris hot from the oil.
For Instant Pot & Air Fryer Recipes
Instant Pot timings may vary based on your geographic location. Air fryer settings and timings may vary based on the capacity and the model of the Air fryer.
Disclaimer
Nutrition values are provided here as a courtesy and are only a rough guide. Please consult a health care provider if you have any concerns.