We are back to soupy nights. Huh.. sorry… soupy dinners. I am always on the look out for soup recipes. Any vegetarian soup recipe in fact. I remember a friend remarking once, " Anu s ears cock up like a dog s ears when some one says recipe" and the ruthless fat goose gobbled up a very yummy dinner all made by yours truly. Well, she was not wrong so i did forgive her. I m like that. I visit a hotel. I eat something and i like it. Then rest assured that i m going to fish out the chef by hook or crook and get the recipe from him. I even had the audacity to ask a restaurant s management to give me a few pieces of their cutlery and crockery amongst which were some nice bone china ramekins and heart shaped spoons. See.. i told you earlier that i am very obsessed with bone china. You never know. I may get myself immortalised in bone china complete with a ladle and all. This soup recipe was also discovered on one of my chef fishing expeditions. Believe me, chefs are big fish. So they are definitely worth your efforts. And this recipe only proves that i m right!!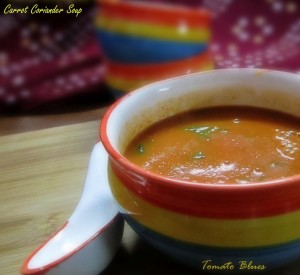 Prep Time: Under 15 mins


Cook Time: Under 20 mins


Serves 3


( This soup can be eaten hot or cold. I ate it both ways and i loved it while it was cold. Tasted like a savoury pudding. You can make this a real gourmet starter by adding basil leaves and a teeny weeny bit of parsley. If you do not have vegetable stock in hand, then use the water with which you steamed or boiled your veggies. I loved the fact that there s no milk addition involved in this soup which makes it completely vegan. You can also have this soup as one big meal instead of serving it as a starter. If you are serving it as a starter, then make sure you dilute it a tiny bit by adding a lil more vegetable stock. I dont believe in substituting vegetable stock with water. That somehow defeats the entire purpose of having a healthy and hearty soup.)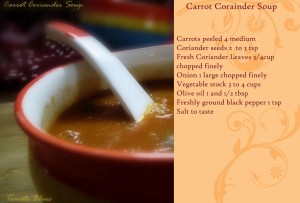 What you need?
Carrots 4 medium peeled
Onion 1 large chopped finely
Coriander seeds 2 to 3 tsp
Fresh Coriander Leaves chopped finely 3/4 cup
Vegetable Stock 3 to 4 cups
Olive oil 1 and 1/2 tbsp
Freshly ground black pepper 1 tsp
Salt to taste
How to make it?
Chop the carrots roughly into small bits. Keep aside.
Pound the coriander seeds to a coarse mixture using a mortar and pestle(No, shove that mixer away) and keep aside.
Heat a soup pot or a pan with olive oil.
Add the onions and saute till they are pink.
Now, add the carrots and coriander seed powder.
Saute for about 5 mins.
Now, add the vegetable stock to the carrots and mix well.
Cook closed on a medium flame until the carrots are tender. Takes about 10 mins.
Once done, let it cool.
Blend to a smooth puree in a blender after it cools down.
Transfer to the wok again.
Simmer on low flame for about 2 mins.
Add freshly ground black pepper, salt and chopped coriander leaves and mix well.
Simmer for another 2 to 3 mins and remove from heat.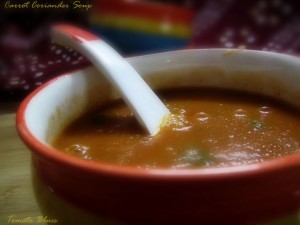 Serve hot with any bread of your choice or serve cold with a salad.
I am serving my soup at Srav s CC- Only Plant Based and Julie s EP series Cumin And Cilantro,