Even though the title reads after school, this is a fine breakfast option. For kids and grownups alike. I am sorta in a hurry to finish this post. You may ask why i m in a hurry and that the post can always wait but i m currently smitten with the recipe and my soul will not calm down until i shout it out to the whole world.The hurry is necessitated by a crime thriller that i am reading and finding it very difficult to put it down. In case, you are exclaiming to yourself, " Ha this girl reads too", i ve been reading since i was 6 years. Also, i know its the end of another year, a mixed bag of sorts and i ve that post to share with you all too. Tomato Blues made some history in a small way in 2012 and i shall delve into the milestones in detail in another post. But in the meanwhile, lets talk milkshake, breakfast and how to kick start your day healthily.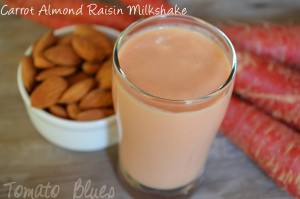 Recently, TH resorted to diet regimen. So what s new in that? you ask. Nothing new except that the man literally dint touch sugar for 9 whole days and ate just fruits and veggies to keep him going. No sugar and no salt. Imagine that? While you all think its super cool, let me grudgingly tell you all that to weave magic in kitchen without the both is quite a herculean task. His morning breakfasts were all milkshakes and i quickly got bored with the usual bananas and strawberries. And that s how this creamy uber delicious milkshake was born. And guess what s the brownie point? Its sugar free. (As if that s going to make me euphoric. Just saying..)
Recipe For Carrot Almond And Raisin Milkshake
( Milkshake with carrots, almonds and raisins)
Prep Time: Under 10 mins
Cook Time: 15 mins
Serves 2 to 3
What You Need?
Carrot 1 medium peeled
Almonds 10 blanched
Raisins 10 to 12
Cold Milk 3 cups( I used low fat but go on and use what ever you prefer)
Honey 3 to 4 tbsp depending on your taste
How To Make It?
Pressure cook the carrot for 1 whistle.
Once done, let it cool completely.
Place the cooked carrot, blanched almonds and raisins in a blender along with the honey and give a quick whizz.
Now, add 1 cup of milk and blend to a smooth puree.
Add the rest of the milk and blend some more.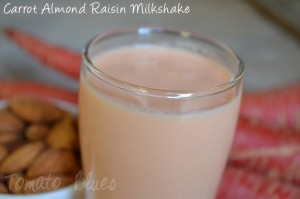 Serve immediately with breakfast or when the kids come right back after school.