How To Make Capsicum Pulao?
CAPSICUM PULAO- A SIMPLE FLAVORFUL RICE MADE WITH BELL PEPPERS (CAPSICUM).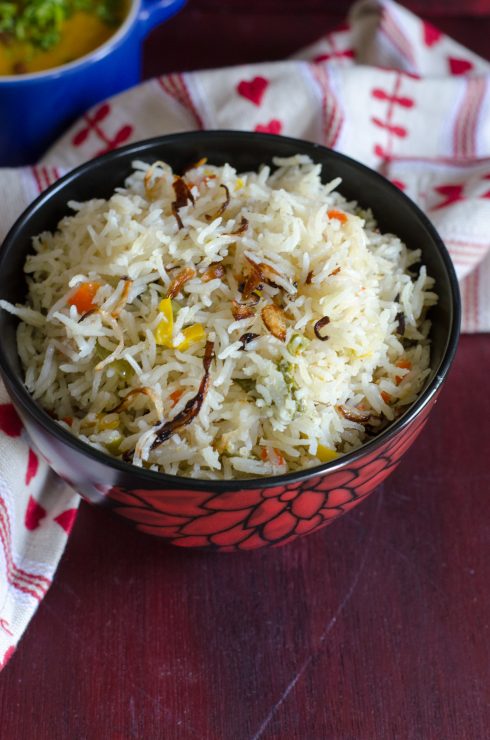 Capsicum Pulao is a simple flavor loaded pulao. I make this pulao when i have stray pieces of coloured bell pepper lurking around in my fridge. We all have those days, don't we? A quarter of a red bell pepper and a half green bell pepper, not quite enough to make anything else. So just combine everything and use it up.
This capsicum pulao happened when i was in India a while back. When i go to India, i choose cooking recipes that have poppy seeds in them, simply because we dont have access to poppy seeds in Singapore. I cook there and i click there. Oh and we eat it there too  🙂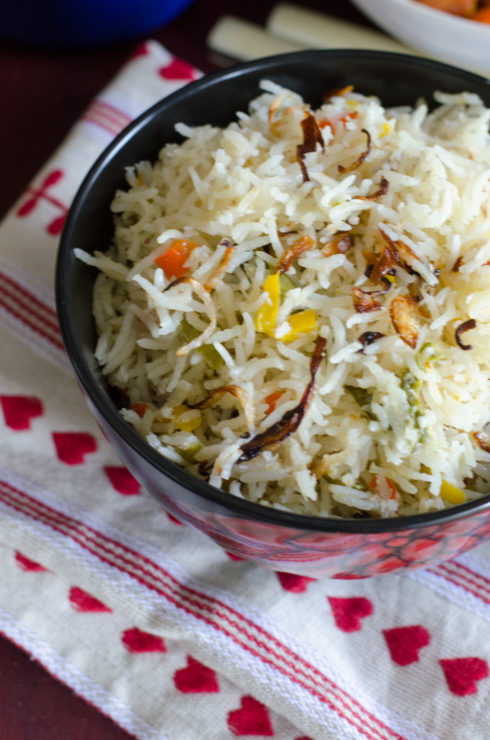 Strange as it may sound, poppy seeds impart a lovely delicate flavor to this pulao. And what makes this even more appealing is the addition of fried onions in the end. The crispy sweet onions add a lovely texture to the otherwise soft pulao. So, the next time, give your regular vegetable pulao a break and try this capsicum pulao.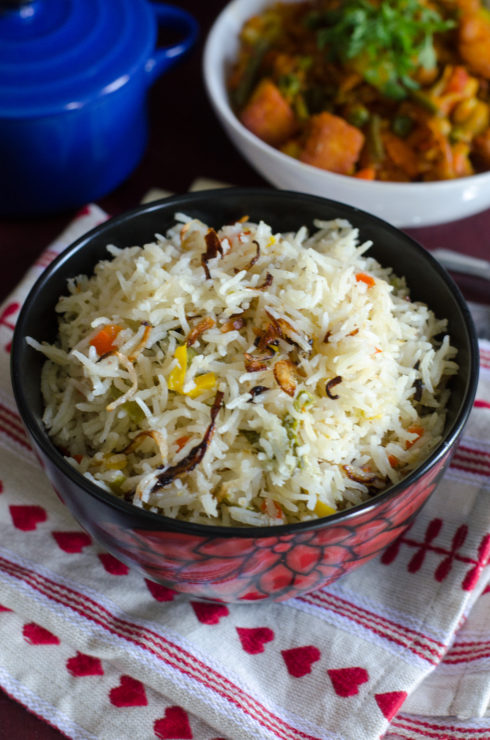 Recipe For Capsicum Pulao
Capsicum Pulao Recipe
Author:
Prep time:
Cook time:
Total time:
Capsicum Pulao- A simple and flavorful pulao made with colorful bell peppers. Goes well with spicy curries and dal.
Ingredients
Basmati rice 1/2 c
Colored bell peppers 1/2 c chopped finely ( use a mix of green, yellow and red)
Onion 1 large chopped finely
Onion 1 cup sliced thinly ( about 2 large onions here)
Cardamom 1
Mace 1
Cinnamon stick 1″
Cloves 2
Bay leaf 1
Salt to taste
Oil 2 tbsp + 2 tbsp
To Grind Together
Grated coconut 2 tbsp
Poppy seeds 1 tsp
Water 1/4 c
Green chili 2
Instructions
Soak the poppy seeds in warm water for at least an hour.
Wash the rice thoroughly and soak in 1 cup of water for 20 mins.
In the meanwhile, heat 2 tbsp oil and fry the one cup of sliced onions till golden. Drain and set aside.
Place the coconut, green chili , soaked poppy seeds and 1/4 cup of water in a blender and blend to a smooth paste.
Heat 2 tbsp oil in the same pan that you used to fry the onions.
Add the whole spices and fry for a min.
Now add finely chopped onions and bell pepper.
Fry till onions become light brown.
Add the soaked rice along with the ground paste and salt to the pan now.
Mix well.
Cover and cook till rice is fluffy and tender to the bite.
Alternatively, you may transfer the contents to an electric rice cooker and cook till done.
Or you may cook the pulao in a pressure cooker for ten mins on medium flame without the whistle.
Once done, fluff the rice gently with a fork.
Top with fried onions and serve hot.