How To Make Capsicum Paneer Masala Dosa?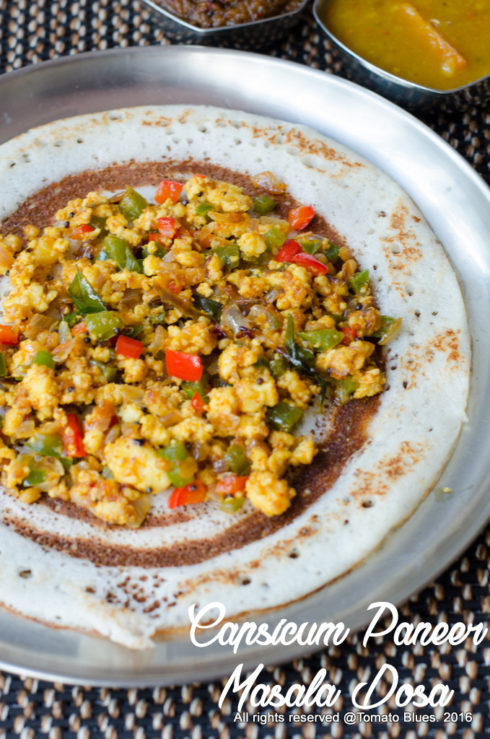 This Masala Dosa is a kid friendly stuffed dosa that uses two classics made for each other ingredients namely, capsicum and paneer.  Capsicum paneer masala dosa happened on a day when i had too little capsicum and paneer to make kadai paneer. I m a South Indian who loves her dosas like every other south Indian worth her name does. Like carrot and peas, Like son and father. That s how south Indians and dosa are.
I am proud to be that way. Healthy, filling, yummy and easy to make. Dosa, The South Indian Crepes. Amma moru morunu dosa pannu ma…. I remember telling my mom.( amma, please make crispy dosas) But, when I got married, I couldn't make a dosa without a tear or two and then I realized how mean I had been to my mom. After a year, I managed to make those beautifully golden crisp Dosas finally.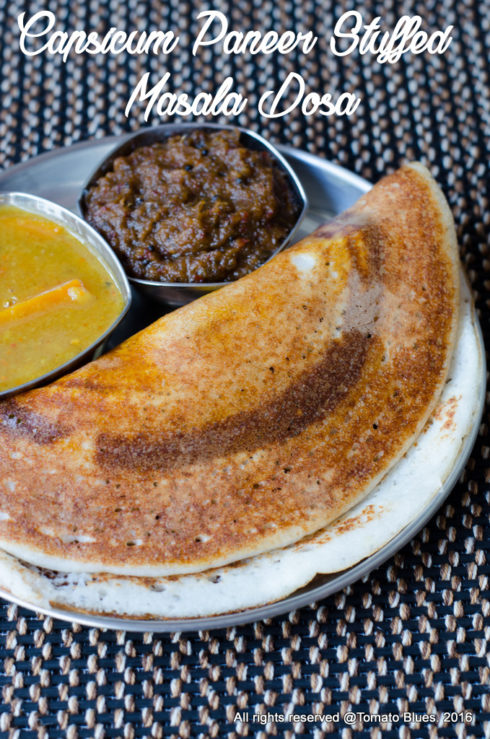 When i did master the art of making perfectly round and golden brown dosa, i went on to experiment with different fillings to create masala dosas. This dosa is something that happened on the go. I threw in what i felt like, stirred in some capsicum and crumbled paneer and that s how this wicked masala dosa was born. And so I thought why not share the recipe  here.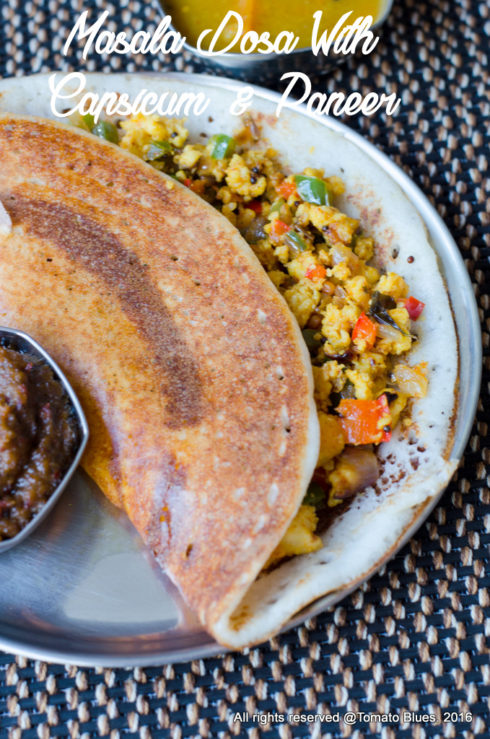 Recipe Inspiration
I must mention here that this capsicum paneer masala dosa is inspired from all those masala dosas that i have devoured at the Annapoorna restaurant back home. They make delicious dosas with all kinds of filings ranging from okra to mushrooms. But paneer is a kids favorite there and i m sure even your kids at home will love this version of masala dosa.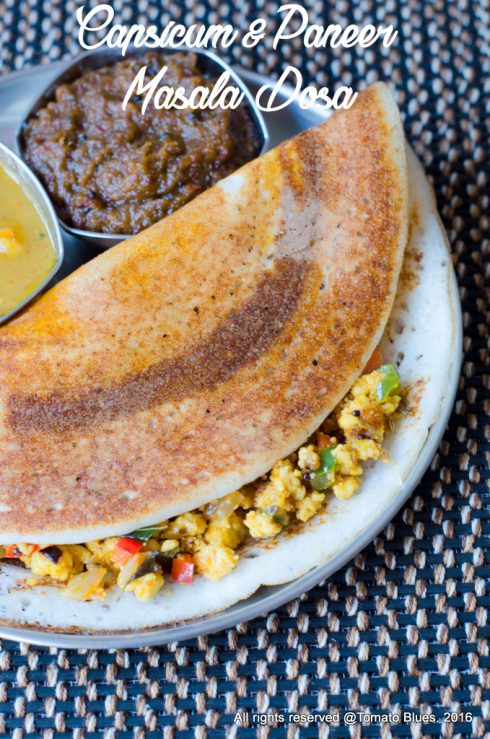 Follow me on Instagram or Facebook for regular cooking updates and short videos. Find us on  Pinterest for delicious content. Tried making this dosa? We value your thoughts and comments! Leave a comment and tell us how it worked for you. Email us your questions to anusapraj@gmail.com if you need any guidance in making this curry.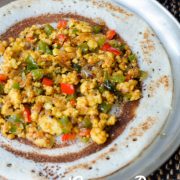 Print Recipe
Capsicum Paneer Masala Dosa
Capsicum Paneer Masala Dosa is a delicious stuffed dosa which kids love. It is a nutritious filling meal that can be served as breakfast, brunch or dinner
Ingredients
For the batter

Par boiled rice 4 cups soaked overnight in water

Urad dal whole 1 cup and a little more soaked overnight

Fenugreek seeds 3 tbsp soaked overnight

All the above must be soaked seperately.

For the stuffing

Panner 150 g crumbled

Capsicum 1 medium size chopped finely

Onion 1 large chopped fine

Tomato Ketchup 1 tbsp

Chilli powder 2 tsp

Turmeric powder a large pinch

Garam masala 1/2 tsp

Coriander powder 1 tsp

Salt

Mustard seeds 1 tsp

Fennel seeds 1 tsp

Urad dal 1tsp

Curry leave a sprig

Ginger garlic paste 1 tsp

Oil 1 and 1/2 tbsp

Cilantro for garnish
Instructions
To make the batter, Grind the urad dal and fenugreek together first. When you make a ball out of the urad dal batter, it should be able to float in water without disintegrating. It will take you 25 mins.

Then grind the rice for about 25 to 30 mins. Mix the urad dal and the rice mixture together, add salt and leave it to ferment for 8 to 10 hours. Dosa always tastes best when the batter is fermented. Now that the batter is ready, lets prepare the stuffing.

For the stuffing, heat oil in a kadai.

Pop the mustard and quickly tip the fennel seed, curry leaves and urad dal.

Once the dal begins to brown, add the ginger garlic paste and saute for 30 secs.

Add the onions and saute until pink and aromatic.

Next add the tomato ketchup along with the turmeric powder and all the spice powders.

Add salt and mix well.

Now add the capsicum and saute for 3 mins. Next add the crumbled paneer and combine gently but well. Now, garnish with cilantro.

To make the capsicum paneer masala dosa, Heat a girdle or a tawa.

Spread one ladle of dosa batter evenly on the tawa and wait for the dosa to become brown and crisp.

Make sure its well cooked and spread the required amount of stuffing. Fold the dosa and serve with coconut chutney or tomato chutney or peanut chutney.

Makes a very good breakfast or dinner meal. Filling and healthy.
For Instant Pot & Air Fryer Recipes
Instant Pot timings may vary based on your geographic location. Air fryer settings and timings may vary based on the capacity and the model of the Air fryer.
Disclaimer
Nutrition values are provided here as a courtesy and are only a rough guide. Please consult a health care provider if you have any concerns.