HOW TO MAKE CAPSICUM CURRY?
CAPSICUM MASALA CURRY- A COLORFUL BELL PEPPER GRAVY WITH A SESAME SEED PEANUT GRAVY BASE.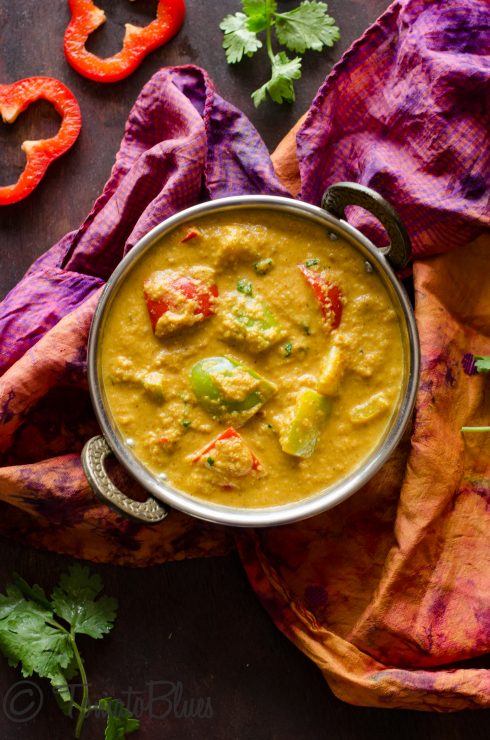 Capsicum masala curry is a marriage of a basic tomato onion based gravy and salan. Now, when i thought about posting mirchi ka salaan on the blog, i decided against it because, well, i m not a fan. Yes. I hate salaan or salan. But this capsicum masala is mid way and floats my boat.
I m usually wary of ordering curries in restaurants. I m of the opinion that they just serve the same onion tomato gravy with different names and vegetables. So, i m always experimenting new ways of making curries for the family.
This nutty gravy base has peanuts, coconut and sesame and is also wholesome in terms of nutrients.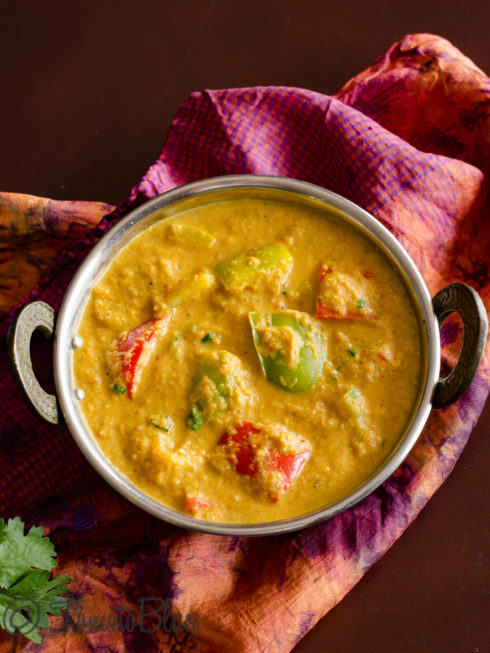 I have used all three colors of capsicums for this recipe to make it more colorful. But you can always choose to add any one. Also, i had roasted peanuts on hand and hence skipped the steps. Please roast your peanuts and add them to the gravy.
Capsicum Masala Curry Video- If you enjoy our videos, please subscribe to our YouTube Channel. Thank you.
Here are some more capsicum recipes that you may enjoy- capsicum zunka, capsicum pulao, red bell pepper chutney, capsicum rice
Recipe For Capsicum Masala Curry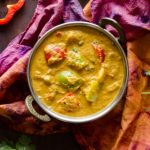 Print Recipe
Capsicum Masala Curry Recipe
Capsicum Masala Curry- A colorful curry made with a sesame, coconut and peanut based gravy.Pairs well with pulao, rotis and naan.
Ingredients
Capsicum

red, green&yellow

mixed and chopped 1 cup

Onion 2 medium chopped finely

Tomatoes 3 medium chopped finely

Garlic 2 sliced

Ginger 1 tsp chopped

Sesame seeds 2 tsp

Dry coconut

kopra 2 tbsp

Roasted peanuts 1.5 tbsp

Salt to taste

Oil 1 +1 tbsp

Cumin seeds 1 tsp

Coriander leaves for garnish

Water as needed

Spice Powders-

Cumin powder 1/2 tsp

Coriander powder 1 tsp

Red chili powder 1 tsp

Garam masala 1/2 tsp

Aamchur powder 1/2 tsp

Turmeric powder 1/2 tsp
Instructions
Heat a pan and dry roast desiccated coconut and sesame seeds till seeds begin to pop. Make sure you do this on low flame.

Also,roast peanuts until crunchy and set aside.

Now, heat 1 tbsp oil in the same pan and fry the capsicum for a min or two. Take care not to over cook.

Once done, drain and set aside.

To the same pan, add garlic, ginger and saute for 20 to 30 secs.

Now, add onion and fry till golden.

At this stage, add all the spice powders, reduce flame and cook for 1 min.

Now, add tomatoes along with salt and mix well.

Cook till tomatoes become mushy.

Once done, add roasted sesame, coconut and peanuts.

Let cool.

Grind to a smooth paste in a blender adding little water if necessary.

Return the pan to the flame.

Add remaining oil.

Now add the ground masala, reduce flame and mix well.

Cook this paste on medium flame for 5 mins.

Add the fried capsicums, adjust seasoning.

Mix well.

Simmer for 2 to 3 mins.

Once done, garnish with coriander leaves.

Serve hot.
For Instant Pot & Air Fryer Recipes
Instant Pot timings may vary based on your geographic location. Air fryer settings and timings may vary based on the capacity and the model of the Air fryer.
Disclaimer
Nutrition values are provided here as a courtesy and are only a rough guide. Please consult a health care provider if you have any concerns.