I ve seen many a kid screw up his nose when the poor thing called mommy announces that it s
lemon rice
for lunch. Seriously, i dont know what kids have against this tangy rice that can only taste delicious when eaten with
crispy roasted potatoes
. Kids. They really dont know what they want. And they definitely dont know what they are missing in all their million rejections.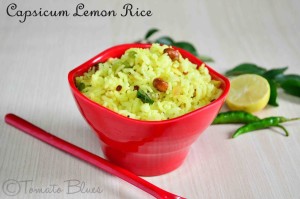 Now, i have a different way of making lemon rice. In fact more than one way. I experiment often with a single recipe, changing an ingredient here and there or adding something and removing something. This version of my lemon rice is something that i learnt from my landlady in Bangalore. This was probably the only breakfast that i ate and as well as packed for my lunch. I m sure you all have a version too. But give mine a shot if you feel bored of your version sometime or if you have a kid that screws up his nose too often.
Recipe For Capsicum Lemon Rice
( Rice cooked with capsicum and nuts and flavored with lemon)

Prep Time: 10 mins
Cook Time: 10 mins
Serves 2
Allergy Info: Vegan

Ingredients
Cooked rice 2 c
Onion 1 large chopped finely
Capsicum 1 large chopped finely
Green chilies 10 to 12 slit lengthwise
Peanuts a handful
Curry leaves a sprig
Turmeric powder 1/2 tsp
Hing a small pinch
Lemon juice from 1 lemon
Salt to taste
Oil 2 tbsp
Mustard seeds 1 tsp
Urad dal 1 tsp
Chana dal 1 tsp
Coriander leaves 2 tbsp chopped finely
Directions
In a pan, heat oil and pop the mustard.
Now, add urad dal, chana dal, peanuts, curry leaves, hing, turmeric powder and saute till dals turn a golden brown.
Add the onions and capsicum next and saute till onions turn a golden brown.
Now add cooked rice and salt and mix well.
Switch off the flame and add lemon juice.
Mix again.
Garnish with coriander leaves and mix well.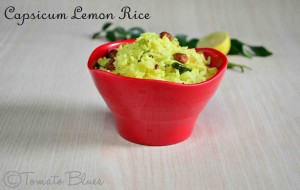 Serve hot with any curry of your choice.