Hola!! Its day 2 and guess what? Yesterday was thursday and Mr. P fasts. So no cooking. What did i do? Well its a long story. I was talking to my mom over the phone. Knowing if its a thursday then i dont cook nor do i eat much, promptly came the response from the other end, " Gudiya you cook something for yourself. You have to eat rice atleast once a day" Well that is the mantra i ve been hearing ever since i was 4 years old. I dont like it my mother knows it but still she insists cos she has always felt that i m terribly in need of some adipose and that comes only from rice for her. Not roti, not subzi, not dal, well.. not even pizza but only rice. Ok so i got subjected to this so old mantra of my mom and well… as she fired away at my eating habits, she did plant an idea in my head. Gudiya, make cabbage rice with ghee and cashews. My, my… there she caught me. If there s something that i cant resist it s hot rice, ghee and some salt with some paruppu podi. Weird na for a person who calls herself a food maniac. But in my opinion, there s nothing in the world to beat that heavenly combination of hot rice and ghee. So thanks to mom for planting this evil scheme in my head and i went right ahead and made it just like the way my mom wanted me to !!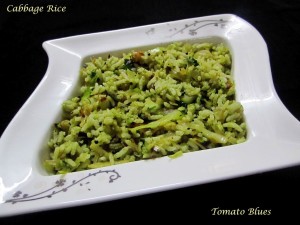 Prep Time: Under 20 mins if the rice is ready
Cook Time: Under 20 mins
Serves 2 to 3


What you need?
Cooked rice 1 and 1/2 cups cooled and separate.
Cabbage 3/4 cup shredded
Onion 1 chopped finely
Curry leaves a sprig
Salt to taste
For The Spice Paste:
Roasted gram 2 tbsp
Coconut grated 3 tbsp
Green chili 1 ( cos its a kid friendly dish but go ahead and increase the heat if you are making it for adults)
Cilantro chopped finely 2 tbsp
Ginger 1/2″ bit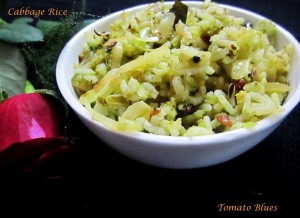 For The Tempering:
Mustard seeds 1 tsp
Cumin seeds 1/2 tsp
Urad dal 1 tsp
Cashews broken 2 tbsp
Ghee 2 tbsp
For the Garnish:
Cilantro chopped finely 2 tbsp
How to make it?
Grind all the ingredients for the spice paste with very little water to a smooth consistency and keep aside.
Heat a pan with the ghee. Add the ingredients for tempering one by one beginning with the mustard. Add the cashews in the end.
Once the cashews are a very light brown, add the curry leaves and the onions. Saute till the onions become pink.
At this stage, add the cabbage and saute till the raw smell of cabbage goes away and they shrivel up a little.
Now, add the ground paste and combine well. Cook till aromatic. Takes about 3 to 4 mins. Do this on a low flame as the paste sticks to the vessel quickly.
Once done, add the rice and salt and combine well. Wait until the rice heats up a little but again have an eye on the flame.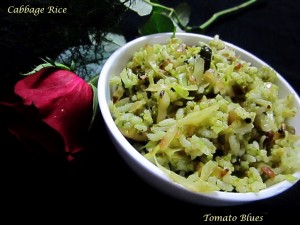 Finally, garnish with cilantro and serve with tomato ketchup. No dont make faces. You have to believe me on this one. It tastes amazing with ketchup.
P.S If you are wondering about the rose in the pic, that was given by Mr. P dearest for the Valentines.
P.P.S See the notes section on my previous post of Red Bell Pepper Rice for some tweaks about any lunchbox recipes.
And check out what my co blog marathoners are doing here.
Blogging Marathon page for the other Blogging Marathoners doing BM#12