I cant believe time has flown by so quickly. Its 6 months since i started blogging and i ve met some wonderful gourmets across the globe thru blogging and
Radhika s Blog Hop
. We ve had a wonderful hop in the first version and now we are in the second. This week i ve been paired with
Archana of the Mad Scientist s Kitchen
. Hopping through her blog was a complete hoopla for me. Some unique recipes find a place in her blog. Her
Kokum Sherbet
and
Pumpkin Salad
caught my attention. Bookmarked them. I picked the
Cabbage Fritters
for the blog hop and oh my !!! What a sensation it was. We loved every bit of it. Thanks to Archana. I ve tweaked the recipe a little to suit our taste but the idea of using cabbage itself is very novel.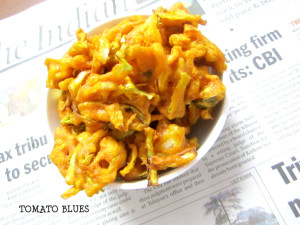 Prep Time: Under 30 mins
Cook Time: Under 20 mins
Source: Archana of the Mad Scientist s Kitchen.
Serves 2


What you need?
Cabbage chopped thinly and long 1and 1/2 cups
For the coating:
Besan 6 tbsp
Rice flour 2 tsp
Red chilli powder 1 tsp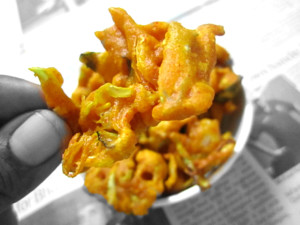 I couldnt resist them at all!!
Jeera powder 1/2 tsp
Dhania powder 1/2 tsp
Turmeric powder 1/2 tsp
Water 1/2 cup
Oil 1 tsp
Salt to taste
Oil for deep frying
How to make it?
In a large mixing bowl, place all the dry ingredients together and combine well.
Add the cabbage to this and combine again.
Let it rest for about 20 mins. Archana recommends resting it for an hour at least. But i dint have the patience.
After 20 mins, add water to the mixture gradually and start binding.
The batter must be a little water than the usual chapathi dough. It should not be runny. Check for seasoning at this stage and adjust accordingly.
Now heat oil in a wok. Make sure the oil is not smoking hot. Heat up the oil just like you would for making Pooris.
Now , drop the coated cabbage in the oil in little lumps. Fry them till golden brown by turning every now and then on a low medium flame.
Enjoy with a cuppa hot tea and a magazine. Trust me, it was sheer bliss.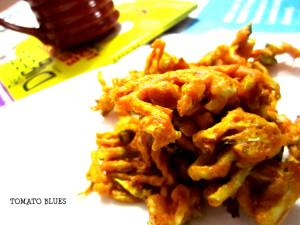 Note: I dint use the cooked dal Archana used. I was not very confident about that .
And they turn soft after they cool down. They taste best when fried just before eating and eaten hot.
And this goes to Blog Hop Wednesdays version 2, New Year New Dish