My relationship with this flat bread goes a long way. Lets say more than 10 years. Butter naan and paneer butter masala. Heavenly combination. Oodles of butter smeared on naan and creamy paneer butter masala.. Hmmm…..Yummy!!! For the sake of that life long… ok almost life long relationship, i made naan at home.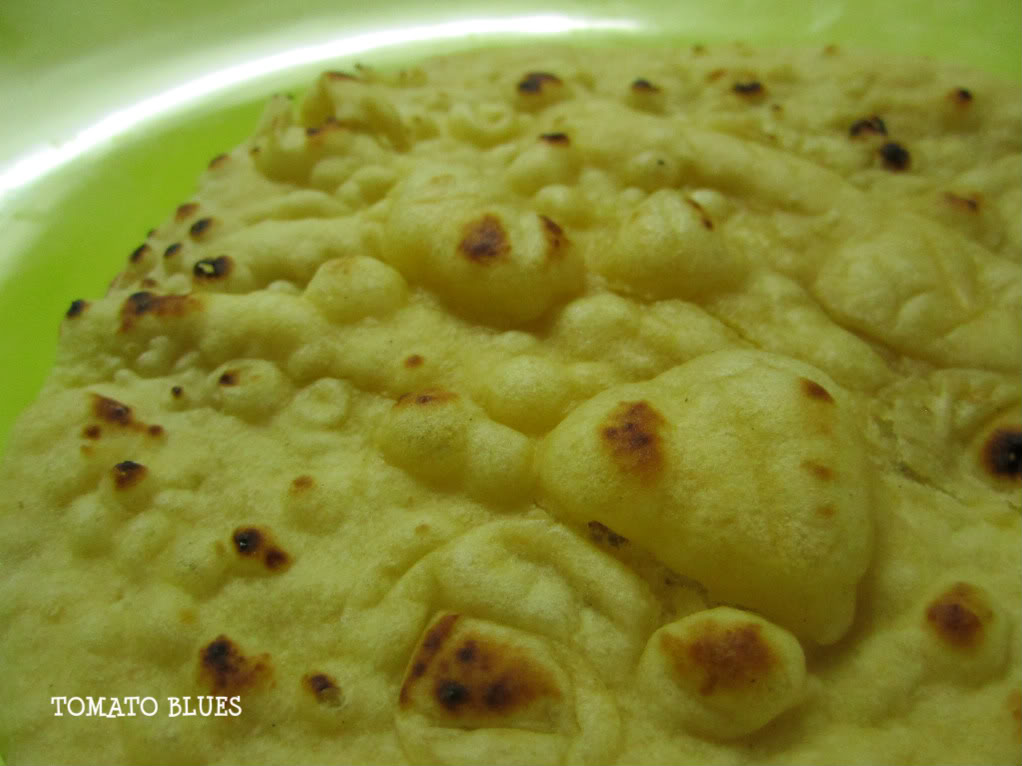 Prep Time: 10 mins
Standing Time: 3 hours without yeast
30 mins with yeast
Cook Time: 5 mins
Yields 5 naans


What you need?
Naan without yeast:
Maida 2 cups
Curd and milk 3/4 cup
Butter 2 tbsp
Baking soda 3/4 tsp
Baking Powder 3/4 tsp
Salt 1 tsp
Sugar 1 tsp
Naan with yeast:
Maida 2 cups
Curd 2 tbsp
Butter or melted ghee 2 tbsp
Yeast 1 and 1/4 tsp
Sugar 1 tsp
Salt 1 tsp
Other:
Flour for dusting
Butter for applying on the naan.
How to make it?
Version 1 without yeast:
This is quite simple.
In a large mixing bowl, sift the flour and all dry ingredients and mix well.
Make a well in the middle of the flour mixture and add all the wet ingredients and start kneading the dough by adding water little by little. It needs around 1 and 1/4 cup of water and not more than that.
Knead for 5 mins until you get a smooth pliable dough. Let it rest for 5 mins, then knead again for 3 to 4 mins.
Let it rest under a wet cloth for 3 hours.
Then, knead for a minute and make even sized balls. Now, roll out into cirlces or oblong shapes and cook.
Version 2 with yeast:
Dissolve the yeast in warm water and keep covered for 5 to 7 mins until frothy.
Now, in a large mixing bowl, add all the ingredients and the yeast. Add water gradually to the mixture and start kneading. Knead for 7 to 8 mins until you get a soft dough.
Let it rest under a wet cloth for 30 to 40 mins or in a warm place.
After resting period, knead again for a minute and make even sized balls. Start rolling out into desired shapes.
How to cook the naan?
It can be cooked in 2 ways.
Method 1:
Cook on a tawa by applying water on one side of the naan till brown spots appear on the surface.
Then, turn the tawa upside down and cook on direct flame for a minute or 2.
Take off from heat, apply butter generously and serve hot.
Method 2:
Grease a pressure cooker lightly.
Stick the naan to the inside of the pressure cooker.
Invert the naan side of the pressure cooker to direct flame and cook until brown spots appear.
Take off from heat and apply butter and serve hot.
Serve with any curry of your choice. I served it with kadai paneer.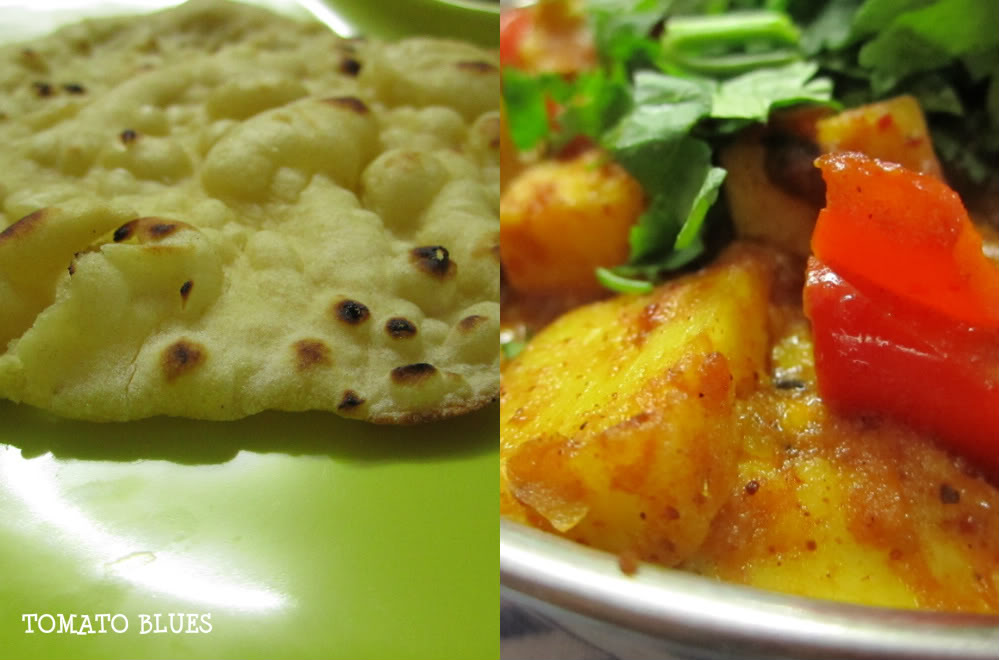 Note:
The taste difference is phenomenal. The one without yeast tastes just like those you get in the restaurants. But if you need the bread quick, then use yeast.
The pressure cooker method needs a lot of patience and practice. So the tawa method works best for beginners.
If the dough is a little sticky while rolling out, use flour for dusting.